Fact Check
Tragic Death Of Pregnant Elephant In Kerala Fuels Bigotry, Disinformation
BOOM found that initial misreporting by news outlets and wave of anger on social media fuelled disinformation around the tragic incident.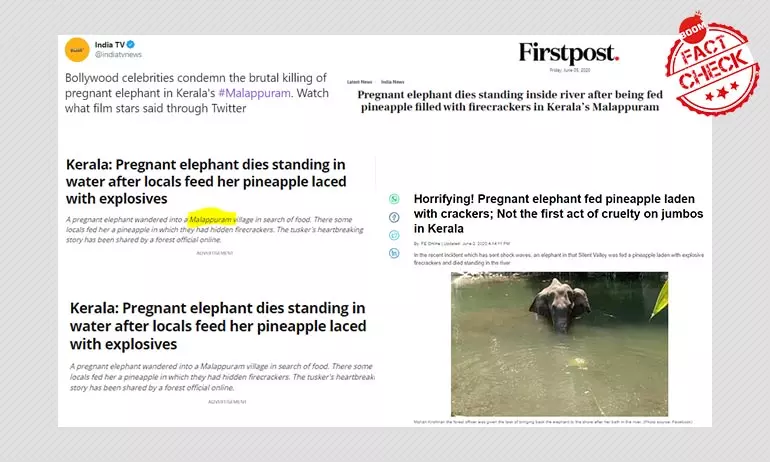 The tragic death of a pregnant elephant in Kerala's forests has turned into a disinformation campaign against the communist-party ruled state and the Muslim community, driven by erroneous reporting and social media speculation.
BOOM found that initial news reports in English that said the elephant was 'fed' a pineapple with firecrackers and that the incident took place in Kerala's Malappuram district, were incorrect.

The detail about the animal being 'fed' is important as it suggested that act was intentional. Additionally, several Bharatiya Janata Party (BJP) leaders and supporters, highlighted Malappuram in their remarks online falsely linking the district's Muslim population to the incident.

BOOM spoke to forest officials to piece together what happened and learnt that the animal most likely died after accidentally eating something with an explosive - that was set up as a snare to keep wild boars away from banana and pineapple plantations in the area.
The incident took place in Palakkad district and not Malappuram as was earlier reported.
One suspect was arrested, at the time of publishing the article. News reports say that Kerala Forest Department arrested P Wilson in connection with the case. (Read more here) BOOM independently confirmed the details of the arrest.
On June 6, a senior officer from Kerala police confirmed to BOOM that two more suspects - Abdul and Riyazuddin - are absconding. The officer requesting anonymity said, "They are the father and son who own the plantation. A team is looking for them."
Heartbreaking images of the elephant standing in a river where it eventually died have sparked widespread outrage drawing condemnation not just from animal rights activist but also from politicians, heads of industry, sportsperson and Bollywood celebrities.

Kerala Chief Minister Pinarayi Vijayan too tweeted about the unfortunate incident.
In a tragic incident in Palakkad dist, a pregnant elephant has lost its life. Many of you have reached out to us. We want to assure you that your concerns will not go in vain. Justice will prevail.

— Pinarayi Vijayan (@vijayanpinarayi) June 4, 2020
However, Vijayan also said that some had used the tragedy to unleash a 'hate campaign'.
Having said that, we are saddened by the fact some have used this tragedy to unleash a hate campaign. Lies built upon inaccurate descriptions and half truths were employed to obliterate the truth. Some even tried to import bigotry into the narrative. Wrong priorities.

— Pinarayi Vijayan (@vijayanpinarayi) June 4, 2020
Timeline Of Events

The elephant, estimated to be around 15-years old, died in Manarkkad in Palakkad district on May 27, 2020. A forest official told BOOM that the foetus was a month old.
On May 30, Mohan Krishnan, section forest officer with the Kerala Forest Department shared a set of images and an emotional post in Malayalam on his Facebook page. The post went viral in the first week of June and caught the attention of the national media.
On June 2, 2020 mainstream news outlets notably NDTV
misreported
that the animal was fed a pineapple laced with explosives. Other news outlets including India Today,
Hindustan Times
(
tweet
)
,
ANI
(
tweet
)
,
Republic
,
Times Now
,
Financial Express
and
DNA
also misreported the same.

What Really Happened

BOOM spoke to four officials concerned with the incident and drew a timeline of the events leading to the pregnant elephant's death.
Divisional Forest Officer of the Mannarkkad division told BOOM that the elephant had died on May 27, 2020. The animal had been spotted by the locals about a week before that and they had tried to chase it back into the forest area. However, it came back a few days later.
BOOM then contacted Ashique Ali, Range Forest Officer Mannarkkad. Ali told us that the incident had taken place at Ambalappara village in Palakkad, located on the borders of Palakkad and Malappuram districts. He added that the elephant had been spotted by the locals around mid May when it had strayed out from the Silent Valley National Park into the banana and pineapple plantations in the buffer zone.
"It (the elephant) was coming out of the forest frequently. There are lot of plantations - banana and pineapple - in the area. The locals first chased it back but it came again. We found it again later some six days ago with its tongue and lower jaw shattered. It might have eaten one of the explosive fruits locals keep in their fields to scare wild boars away," he said.
The RFO added that setting up 'panni padakkam' or snares to keep wild boars off plantation areas is a common tactic used by locals. They put crackers inside fruits - mostly pineapples - and once an animal applies pressure on it, the fruit explodes scaring them away. However, the forest officer added, there had not been any reported cases of animal injury in last five years.
"We found the elephant standing in a tributary of Velliyar river in Manarkkad on May 23, 2020. It was in pain and we needed to perform an operation but for that we first needed to bring it out of the water. Since we could not tranquilize it, we brought in two Kumkis (trained captive elephants) to bring the elephant out of the river," Ali said, adding, "It died in the river itself."
Postmortem Report

As per the postmortem report of the elephant accessed by The News Minute, the mouth and the oral cavity of the elephant had suffered severe damage most likely because of an explosive blast. This resulted in a septic infection which made the animal unable to eat or drink water for two weeks making it severely malnourished. The elephant had been standing in water and the report states the cause of death as lung failure due to water filling the lungs.
Man Vs. Wild

The human-animal conflict is quite common in these areas as several farmers cultivate their crops in the buffer zones, DFO Mannarkkad told BOOM. They use bonfires, dig up trenches to keep the animals away, he added. However, the forest department officials regularly patrol the area and clears the trenches etc, the DFO added.
Mohan Krishnan, who was a part of the response team which was pressed into action to rescue the animal also told BOOM that locals use firecracker-stuffed fruits to frighten wild animals. "But that is mainly done to keep wild boars away which inflict heavy losses on farmers," he said.
The Silent Valley National Park, from where the elephant is said to have strayed out, is located around 20 km from Mannarkkad. The officials told us that elephants often stray into buffer zones several kilometres away from their habitat in forests in search of fruits like bananas and pineapple as the smell attracts them.
(Note: The map does not show the path taken by the the elephant after straying away from the national park. It only measures the walking distance between the two locations)
Attempts To Communalise The Incident

Union Minister Prakash Javadekar incorrectly stated that the incident took place in Malappuram. Javadekar also said that no stone would be unturned to 'nab the culprit(s)'.

Central Government has taken a very serious note of the killing of an elephant in Mallapuram, #Kerala. We will not leave any stone unturned to investigate properly and nab the culprit(s). This is not an Indian culture to feed fire crackers and kill.@moefcc @PIB_India @PIBHindi

— Prakash Javadekar (@PrakashJavdekar) June 4, 2020
BJP leader and animal rights activist Maneka Gandhi, while speaking to wire agency ANI, mentioned the high number of 'communal clashes' in Malappuram.
She also demanded action from Congress leader Rahul Gandhi claiming 'he is from that area'. Gandhi is a member of parliament from Wayanad and not Malappuram.
This narrative linking the incident to Malappuram permeated through social media. BOOM found a number of tweets and Facebook posts which repeated the false claim.

A Facebook post showing a cartoon depicting cruelty against the elephant was shared with a Hindi caption claiming 'Malappuram, where a pregnant elephant was killed, has 70 per cent peaceful population. Hindus are being tortured there. Since Hindus worship Lord Ganesha, so an elephant named Uma was killed. Malappuram is a bastion of IS and Muslim League wants to establish another state including 9 other districts along with Malappuram'.

(The word peaceful is often used as a sarcastic reference for Muslims.)
Similar posts are also viral on Twitter.
You may be a left-liberal if you want no dog to feel scared with the sounds of Diwali crackers but you go into a hiding when a pregnant elephant is fed crackers and killed in Kerala's Mallapuram.

— Sonam Mahajan (@AsYouNotWish) June 4, 2020
The atrocity of feeding a pregnant elephant with pineapple full of firecrackers & killing her, took place in the Mallapuram district of India's Kerala State. The district is the only Muslim-majority district of the state with an over 70% Muslim population.

What are the chances? pic.twitter.com/JWg7DUWizm

— Tarek Fatah (@TarekFatah) June 2, 2020
Victim card triggered.
Is it because Mallapuram where this incident happened has 70% M population and its highly possible that the perpetrator of this act maybe from the peaceful community. pic.twitter.com/wvfoE7Z5fv

— Tweeple Twitdom (@TweepleTwitdom) June 4, 2020
Between left and right, Hindu and Muslim humanity is nowhere to be seen. Can't believe young Indians have lost the capacity to think beyond divisive propaganda. An Elephant lost her life due to some monster and the lady is busy peddling Hindu-Muslim theory.#India #ElephantDeath pic.twitter.com/1qC7oNbxYz

— Durgesh (@DurgeshAgrahari) June 3, 2020
Your kind Nistula. NDTV published it. Must be muslims. Who else with such kind of barbaric mentality!

— Wolf Like Me 🚩🔱🕉️🛕🇮🇳 (@AsstRegnalMngr) June 2, 2020
BOOM contacted Warkad Yogesh Nilakanth Divisional Forest Officer (DFO) of Nilambur (North) Forest Division in Mallapurram district who said that the incident had taken place in the Mannarkkad forest division in Palakkad district of the state.
The DFO told BOOM that Malappurram district has two forest ranges - Nilambur North and South divisions. However, the elephant had strayed out from Silent Valley National Park and died in the Mannaarkkad forest division, both situated in Palakkad district.
"However, the person who posted it on Facebook hails from Nilambur and maybe that led to the confusion," he said.
(The story has been updated with details of two suspects absconding from the police)

Claim :
An elephant was fed a pineapple laced with firecrackers in Malappuram, Kerala
Claimed By :
Social media posts
Do you always want to share the authentic news with your friends?
Subscribed Successfully...
Enter Valid Email Id