Fact Check
Public Execution Of Rape Accused In Yemen Viral As Dubai
BOOM found that the video was originally shot in Yemen, where a man was executed for rape and murder of a child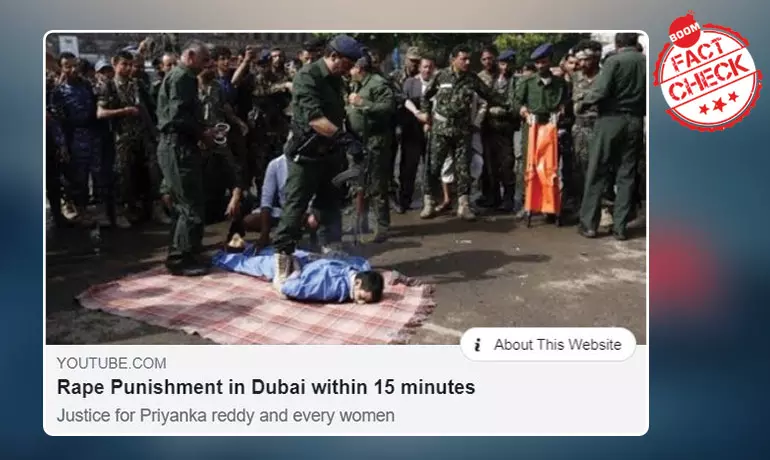 A disturbing video of a man being publicly executed for raping a minor in Yemen is doing the rounds on social media with claims that the incident happened in Dubai, where the judiciary punished the rapist with death moments after committing the crime.
The video is viral in the wake of the rape and murder of a 26-year-old veterinarian of Hyderabad, that has sparked outrage in the country, bringing questions of women's safety to the forefront. In a gruesome incident, a Hyderabad based veterinary doctor was gang-raped by four men, murdered and later her body was burnt on November 28.

The 1 minute 42 second video shows the accused being shot at from a point blank range by policemen. Amidst protests, his corpse is tied and hung from atop a crane. The video has been captioned as, "5 year old was raped in Dubai...Within 15 minutes of this rape incident, the judiciary ordered the police to shoot the rapist in public view..."
BOOM has not included the video in the story, given its violent nature.
The video is viral on Facebook and Twitter since 2018 with a similar narrative.

Fact Check
We broke the video into its key frames and ran a reverse image search. We were directed to the same video that was uploaded to YouTube with a caption in Portuguese. The video has been described to be an incident from Yemen's capital Sana'a.
Below is the screenshot of the same.
Upon relevant keyword searches, we were directed to multiple news articles which reported about the incident, where a Yemeni man was publicly executed for the rape and murder of a minor. Snapshots from the incident was uploaded to The Star Online, a Malay news portal on July, 2017 .
The claim that the accused was executed within 15 minutes of committing the crime could not be corroborated with the news reports.
The incident happened in Yemen where the accused, identified as, Muhammad Al Maghrabi, was executed in Yemeni capital of Sana'a in front of hundreds of onlookers on July 31. Maghrabi was convicted of raping and murdering a three year old girl.
A news article published by Independent titled, 'Yemen man convicted of raping and murdering three year old girl executed with machine gun' reported that the execution was held according to the Islamic Sharia law, where murder is punishable by death sentence and the law does not specify how the sentence to be carried out. Read the article here.
According to a report in News 18, the father of the minor girl, Yahya al-Matari said that he felt like he had "been reborn and relieved after the execution."
Claim :
Video showing rape accused publicly executed in Dubai within 15 minutes of committing the crime.
Claimed By :
Social media posts
Do you always want to share the authentic news with your friends?
Subscribed Successfully...
Enter Valid Email Id