Photos Of Bangladesh Domestic Abuse Victim Viral With Communal Spin As Kerala
BOOM found that viral images are of a woman from Dhaka, Bangladesh who alleged domestic violence.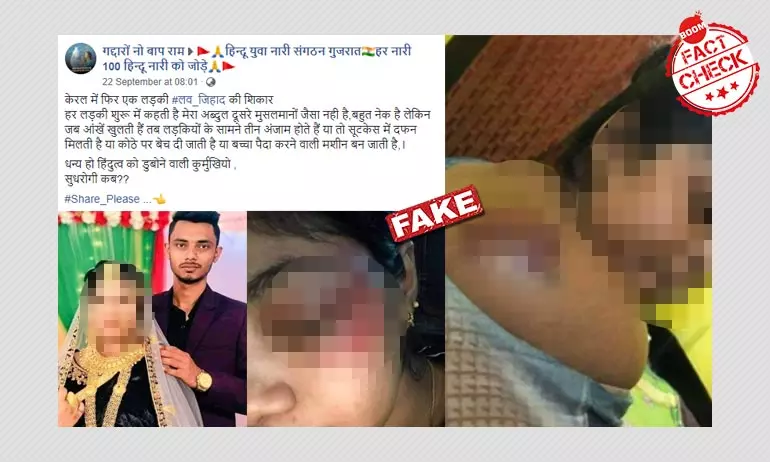 A set of photos of a domestic violence survivor from Bangladesh is viral claiming it is from Kerala, India with an added false communal spin.
The first photo show a married couple, and the other two photos show the same woman with bruises on her face and back.
The caption in Hindi falsely claims the photos are from an incident in Kerala and adds that the woman is a Hindu who married a Muslim man.
The caption when translated reads, "Every girl says in the beginning, my Abdul is not like other Muslims, it is very noble, but when the eyes are open, there are three consequences in front of the girls, either buried in a suitcase or sold on the brothel, or a baby machine."
(Photos can be disturbing in nature. Viewer discretion is advised)
Click here to view, and here for an archive.

(In Hindi - केरल में फिर एक लड़की #लव_जिहाद की शिकार. हर लड़की शुरू में कहती है मेरा अब्दुल दूसरे मुसलमानों जैसा नही है,बहुत नेक है लेकिन जब आंखें खुलती हैं तब लड़कियों के सामने तीन अंजाम होते हैं या तो सूटकेस में दफन मिलती है या कोठे पर बेच दी जाती है या बच्चा पैदा करने वाली मशीन बन जाती है,।)
Also Read: Photos Of Inter-Faith Couple Peddled With False Murder Claim

FACT-CHECK
BOOM found that the set of photos show a female survivor of domestic violence from Bangladesh and not from Kerala as being claimed.
A reverse image search using Google showed local news reports dated June 26, 2020, where the woman was identified as a Sumaiya Hasan. The reports said that Hasan had taken to Facebook to detail the alleged torture and harassment by her husband and his family. According to the local media stories, the Facebook post by Hasan also carried photos of bruises on her body.
Following this, the Dhaka Tribune reported that the Dhaka Police took her husband, Jahid Hasan into custody.

Dhaka Tribune had then quoted the Shahbagh Police officer-in-charge Abul Hasan who said that while the husband was in custody, the victim had yet to file a police complaint against him. The report further stated that the victim had previously lodged a complaint with the police but it was later resolved.
On can see the same viral photo in the article above, and in this report by Dhaka Tribune dated June 27, 2020, the second photo of her bruised face can be seen which has been attributed to her now deleted Facebook post.
A day after posting about the incident, Hasan in another Facebook post stated that after seeing her Facebook post, the Shahbagh Police had asked her to file a case against her husband, but she did not go ahead with the same.
BOOM has previously debunked fake news surrounding 'Love Jihad', when images of an inter-faith couple were shared along with a photo of a dead body falsely claiming that she was murdered by her Muslim husband after their wedding and a murder victim's photo was falsely shared with an unrelated wedding card of an inter-faith couple
Also Read: Murder Victim's Photo Viral With Unrelated Wedding Card Of Inter-Faith Couple
Claim :
Photos show a case of love jihad where a woman from Kerala was beaten by her husband
Claimed By :
Facebook Posts