Fact Check
No, This Is Not An Image Of The Shivling Found At Ayodhya
BOOM found that the viral image is nearly four years old and was shot during the renovation of a temple at Farrukhabad, Uttar Pradesh.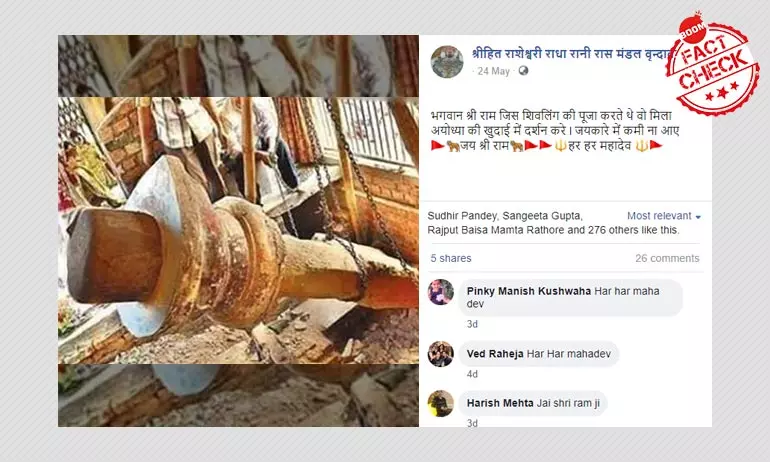 A nearly four-year-old image of a Shivling being dug out from a temple at Farrukhabad, Uttar Pradesh is being shared as a recent finding reported during ground leveling work at the Ram temple site at Ayodhya.

Champat Rai, general secretary of the Ram Temple Trust - the body overseeing the construction of the temple at Ayodhya confirmed to BOOM that the viral image is not of the Shivling reported to have been found recently.
The viral image has been shared with different Hindi captions claiming that the Shivling dates back to the Ramayana era and was found during ground leveling work which began at Ayodhya on May 11, 2020.
Several artifacts including a five-foot Shivlinga, seven pillars of black touchstone, six pillars of red sandstone, structures of flowers and broken idols of deities were reported to have been found at the Ram temple site during recent excavations in Ayodhya. Read more about it here. BOOM cannot independently verify the same.

Also read Gujarat: Minor Girl Publicly Thrashed For Eloping, Video Goes Viral
However, the image circulating on social media is from Farrukhabad and not Ayodhya and is not recent.

The tweet in Hindi, when translated, reads 'A 4 feet 11 inches tall Shivling found during excavation works at Ram Mandir in Ayodhya. Hopefully Mandal Udita Raj won't start claiming this to be a Bauddha Pillar too. With every passing day of excavation, stories of the atrocities and sins of Babar and his lineage is coming out in the open. Jai Shri Ram'. (Archive)

अयोध्या में राममंदिर की खुदाई के दौरान
4'11 इंच का शिवलिंग मिला है

मण्डल उदित राज इसे भी बौद्ध स्तम्भ न बताने लग जाए

जैसे जैसे मंदिर की खुदाई हो रही है वैसे बाबर और बाबर के वंशजों के अत्याचार और पाप की कहानी निकल रही है

जय श्री राम pic.twitter.com/24xBr9HKdm

— Dr. Richa Rajpoot (@DoctorRichaBjp) May 23, 2020
The same image is viral from Facebook with a Hindi caption which translates to 'The Shivling which Lord Shri Ram used to pay obeisance to has been found during excavation in Ayodhya. Have a look and keep chanting Jai Shri am, Har Har Mahadev'.
(Hindi: भगवान श्री राम जिस शिवलिंग की पूजा करते थे वो मिला अयोध्या की खुदाई में दर्शन करे l जयकारे में कमी ना आए जय श्री राम हर हर महादेव )
Also read 2017 Image From Rajasthan Peddled As Hindu Family Killed In Pakistan

Fact Check
BOOM did a reverse image search on the picture and found an article published in Hindi daily Amar Ujala on July 27, 2016 carrying the same image.
According to the report (archive), the temple priest had claimed that the Shivling had always been a part of the 250-year-old temple. However, during renovation works being carried in 2016, the entire Shivling was dug out as a part of it was buried under ground.

Also read Video Of Uddhav Thackeray Asking Christians To Pray To Jesus Is Cropped
BOOM also checked several news reports which had published the images of artifacts and idols of deities found during the excavation at Ayodhya but found none matching the Shivling in the viral image. Read more about the excavations here.
Claim :
Photo shows Shivling found during recent excavation works at Ram temple site in Ayodhya
Claimed By :
Social media
Do you always want to share the authentic news with your friends?
Subscribed Successfully...
Enter Valid Email Id