Fact Check
No Locust Swarms In Mumbai, BMC Refutes Viral Social Media Claims
BOOM spoke to Rajan Naringrekar, insecticide officer of the BMC who confirmed that there had been no reports of a locust swarm attack in the city.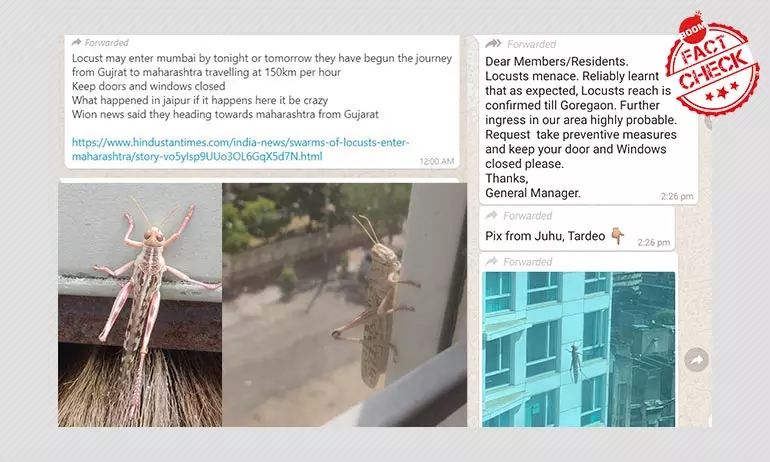 The Brihanmumbai Municipal Corporation (BMC) dismissed claims of the presence of locust swarm in the city after social media posts went viral through the day.
BOOM contacted Rajan Naringrekar, insecticide officer of the Brihanmumbai Municipal Corporation (BMC) who confirmed that there have been no cases of locust attacks in the city's wards. Naringrekar said that on cross-checking the locations mentioned in the viral posts, no locust swarms were found.
"There have been no locust attacks as mentioned in the places on social media in the city. There were rumours of attacks in Girgaon Chowpatty, Chembur, Goregaon and Ward officers of the areas mentioned cross-checked on the ground and did not find any such case as claimed online."
"It is highly unlikely for locusts to arrive in Mumbai as wind flow is from seashore to eastside as we are in the southwest monsoon winds. They might not even come to Mumbai as there is a lack of food for them as they feed on crops," added Naringrekar.
The Locust Warning Organisation (LWO), which functions under the Union agriculture ministry, also clarified on Thursday that there is no swarm of insects heading to Mumbai, reported The Hindustan Times.
Other experts have also dismissed the claims of locust swarms in the city. "Locusts move around in a group and if there is an attack they will be in a swarm and their numbers would just build up. They are a grasshopper only bigger, however, they differ as that they have the ability to change their behavior and habits and can migrate over large distances," said Dr. Shubhalaxmi Vaylure, an entomologist and environmental conservationist to BOOM.
The videos and pictures claiming to show locusts had stated that the predatory insects were found in different locations of the city like Juhu, Vikhroli, Colaba, Goregaon. These social media posts warned people to shut their windows to prevent the locusts from entering their houses.

Locusts are migratory pests that resemble grasshoppers but differ from them in their ability to form swarms and migrate great distances. The posts went viral in the backdrop of locust swarms that reportedly destroyed crops in 18 districts of Rajasthan and almost a dozen districts of Madhya Pradesh. Locusts have also been reported in Nagpur, Amravati, and Wardha in Maharashtra.
Also Read: Desert Locust Swarms Attack Indian Farmlands: All You Need To Know
'Locust Attacks' on WhatsApp Forwards

BOOM received several photos on our WhatsApp helpline number (7700906111) inquiring about whether there had been a locust attack.
These forwards had several locations claiming that the images were taken from there.
Viral on Twitter

Columnist and novelist Shobhaa De tweeted a photo of an insect that looked like a locust claiming that they have arrived in the city. However, De never clarified if the picture was of an actual locust found in Mumbai.
Click here to view, and here for an archive.
Click here to view, and here for an archive.
We also reached out to people living in the areas mentioned in the viral forwards who stated that they had not seen any locust swarms in their area. Several users on social media also pointed out that there were no locusts outside their window as being claimed.
Claim :
Photos show locust swarms attack at different places in Mumbai
Claimed By :
Social Media
Do you always want to share the authentic news with your friends?
Subscribed Successfully...
Enter Valid Email Id