Fake Claims Promising Free ₹5,000 Lockdown Funds Viral On WhatsApp
BOOM found that a website promising free ₹5,000 lockdown funds as a limited time offer is fake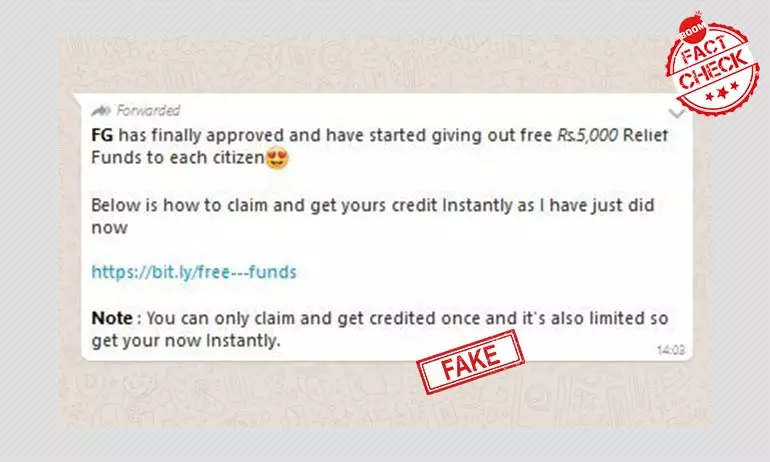 A WhatsApp message, promising 'free' ₹5,000 in relief funds from the government as a limited time offer, is fake. BOOM found that the message redirects one to a questionable website with many red flags which in no way is associated with the government. BOOM also found that the same message and similar website is viral on Kenyan social media offering these claimed lockdown benefits in Kenyan shillings instead of Indian rupees.
The message reads 'FG [federal government] has finally approved and have started giving out free Rs.5,000 Relief Funds to each citizen. Below is how to claim and get yours credit Instantly as I have just did now
https://bit.ly/free---funds
Note : You can only claim and get credited once and it's also limited so get your now Instantly.'
The message comes with a link which, according to claim, activates the benefits. Check the archived link here.

BOOM also received the message on its WhatsApp helpline (7700906111).
Several Twitter users have also shared the message asking the authorities about its authenticity.
Please look into this viral message being spread on whatsapp

— Meeti Kapadia (@meetikapadia) May 24, 2020
*FG* has finally approved and have started giving out free _Rs.5,000_ Relief Funds to each citizen😍

Below is how to claim and get yours credit Instantly as I have just did nowhttps://t.co/lVoXkKjPUl

*Note* : You can only claim and get credited once and it's also limited so.

— Mahi (@Mahi45761135) May 23, 2020
The message is being circulated at a time when the lives and businesses of several stakeholders in the economy have taken a hit due to the lockdown restrictions imposed by the government to control the COVID-19 pandemic. People have started demanding for relief funds from the government.
Fact Check
Here are some sanity checks that BOOM performed to see the legitimacy of such a website.
1. Certain elements on the website never change
Regardless of how many times or when one visits the website, the page will show that there are precisely 1,936 lockdown packages left to be given. This figure never changes.
On navigating through the website, it offers packages of ₹2,000, ₹5,000 and ₹10,000 (according to this website, this is unavailable). However, on selecting any of these options, it always redirects one to a series of options asking what it would do with the previously chosen ₹5,000.
2. Fake Facebook comments section

After finishing the survey, the website displays a number of comments - resembling a Facebook comments sections - stating that the users have received the benefits being offered by the website. However, regardless of the number of times one visits the website, the name of the 'beneficiaries' and timestamp in the comments - always set at 'just now' for all and '2 mins ago' for one comment - never changes. Even the number of likes, set at '204,208 and the number of comments '173,330' never changes no matter how many times the survey is taken.
3. A questionable URL
The URL of this website states that it is hosted on fund.ramaphosafoundation.com. Even though message carrying the link claims to be from the government, the URL is not associated with the government. This foundation has little online presence. However, there is a Cyril Ramaphosa Foundation, which primarily operates in South Africa, and its chairman is the current president of South Africa, Cyril Ramaphosa.
4. Share the survey on WhatsApp
At the tail end of the survey, the website asks users to share the website on 7 WhatsApp groups as a precondition to get the benefits. It is unlikely for a government to include such such a step in its beneficiary schemes.
Also viral in Kenya

BOOM used relevant keyword searches and found that the content of this message is also viral in Kenya. While the Indian version of this message is offering ₹5,000, the Kenyan version offers 10,000 Kenyan shillings (equivalent to approximately ₹7,100, according to data from XE on May 24, 3pm).
The link as given in the post above directs one to a website that is similar in every respect to the website going viral in India, except the supposed lockdown packages is denominated in Kenyan shillings instead of Indian rupees. The entire website has been repurposed to show the content in Indian rupees. An archived version of the Kenyan links can be found here.
Has India made arrangements for lockdown funds?

Yes, and many of these announcements were made by Finance Minister Nirmala Sitharaman on March 26 as part of the 'Pradhan Mantri Gareeb Kalyan Yojana' (now subsumed under giant 'Aatmanirbhar Bharat Abhiyaan').
Examples of these benefits includes
Ex-gratia one time amounts of ₹500 to women Jan Dhan holder per month for three months
One time ₹1,000 to poor widows, pensioners and divyang to be paid in two installments
Expediated payments to farmers under the PM Kisaan Samman Nidhi
A hike in MGNREGA wages from ₹182 per day to ₹202
This website makes no mention of these things, and neither is it associated with the government in any way.
Also Read: Cash Transfer, Free LPG, Grains: ₹1.7 Trillion COVID-19 Relief Package
Previously, BOOM has debunked a viral message with a questionable claim promising free Netflix and Amazon Prime streaming during the ongoing lockdown.
Updated On:
2020-05-26T12:31:11+05:30
Claim Review :
Viral post claims that the government is giving ₹5,000 as relief funds as a limited time offer
Claimed By :
Messages on WhatsApp and social media