Fake News: How Gauri Lankesh Became Gauri Lankesh 'Patrick'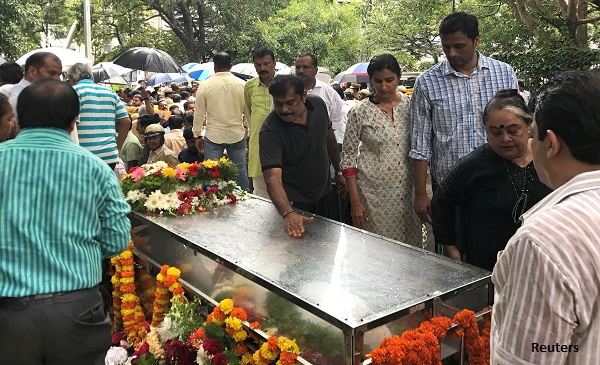 A man touches the casket containing the body of Gauri Lankesh
The entire fake news machinery in is overdrive to whip up a narrative that slain journalist Gauri Lankesh was a Christian and that her real name was 'Gauri Lankesh Patrick.'
Barely 48 hours after the firebrand journalist was shot dead outside her home by unidentified assailants in Bengaluru, malicious messages about her religious faith and actual name started making the rounds of Twitter, Facebook and WhatsApp.
However, those spreading the propaganda failed to realise that Gauri's full name is 'Gauri Lankesh' and that her weekly publication was called 'Gauri Lankesh Patrike'. Patrike like the Hindi word 'Patrika' means journal or paper in Kannada. Her father P Lankesh started Lankesh Patrike in 1980.
The viral messages, which claim a conspiracy by mainstream media to hide her true identity, are abhorrent because they imply that being a Christian in India is a crime.
The divisive messages also maliciously cast aspersions on the patriotism of Indian Christians with unjustified allegations of them acting as 'missionary agents' of the Vatican.
Like BOOM, SM Hoaxslayer a Twitter handle that is dedicated to debunking fake news also shared some of the messages that are doing the rounds on social media.
It reached WhatsApp too.

From Patrike (पत्रिके) to Patrick, then to theories & fictions. #TheUsualTrick

Last time it was Pranav CBI Raid pic.twitter.com/Oqx4Kx0fEz

— SM Hoax Slayer (@SMHoaxSlayer) September 7, 2017
Sample the below Facebook posts that anyone can find with a simple search of 'Gauri Lankesh Patrick.'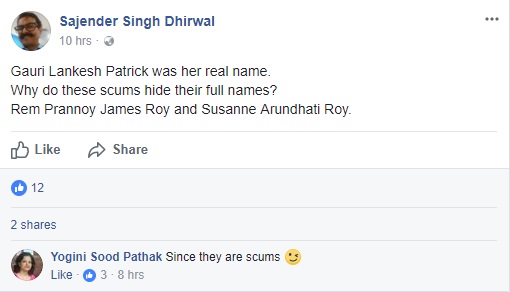 #GauriLankeshGauri Lankesh Patrick was her real name. Why do these scums hide names?

— ASHOK KARNANI (@ASHOKKARNANI1) September 7, 2017
Gauri Lankesh, an unapologetic and fierce critic of the right-wing, was buried on Wednesday with state honours. The fact that she was buried and not cremated provided an opportunity for those spreading fake news to spin a Christian faith narrative.
"Gauri Lankesh was buried on Wednesday without any religious rites in honour of her beliefs. Her brother, Indrajit, announced ahead of the burial that there will be no rituals during Gauri's final journey," The News Minute reported. In death as in life, Gauri Lankesh the rationalist: Funeral conducted without religious rites
But not everyone from the politically right spectrum was quick to jump the gun. Rupa Murthy in a Facebook posts wrote that Gauri Lankesh was born in a Lingayat family, a caste that usually bury their dead.
Watch a VideoFactCheck on the same.
Also Read: How Gauri Lankesh's Last Tweets Helped In Building The Naxal Conspiracy Narrative
If you value our work, we have an ask:
Our journalists work with TruthSeekers like you to publish fact-checks, explainers, ground reports and media literacy content. Much of this work involves using investigative methods and forensic tools. Our work is resource-intensive, and we rely on our readers to fund our work. Support us so we can continue our work of decluttering the information landscape.
BECOME A MEMBER