How Gauri Lankesh's Last Tweets Helped In Building The Naxal Conspiracy Narrative
Republic's Arnab Goswami and right wing Twitteratis twist Gauri Lankesh's last tweets out of context to build naxal conspiracy narrative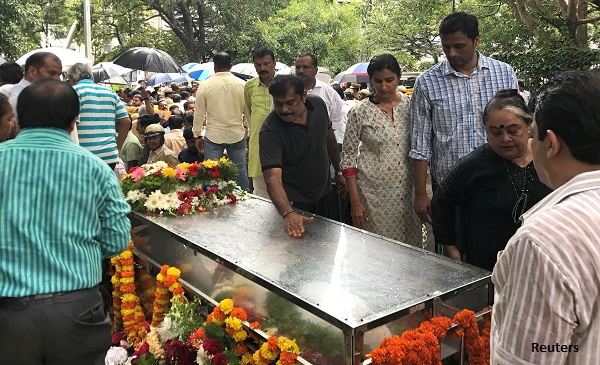 A man touches the casket containing the body of Gauri Lankesh,  at Ravindra Kalakshetra in Bengaluru, India, September 6, 2017. REUTERS/Nivedita Bhattacharjee 
Who killed Gauri Lankesh, firebrand journalist and the editor of eponymous Lankesh Patrike, a magazine known for its strong "anti-establishment" views? Lankesh was shot seven times as she reached her home in Bengaluru on Tuesday evening, resulting in her death immediately.
Within minutes of the news breaking, several journalists, activists and political leaders took to Twitter to express their shock, outrage and anger over what they the felt was a move to silence dissenting voices in the country. Expectedly, since Lankesh was known to be severely critical of the right wing groups in Karnataka and had expressed her views without any fear, speculations arose connecting her murder with right-wing extremism even as local police remained tight lipped about any possible leads in the case.
Protests scheduled tomorrow against the assassination of senior journalist #GauriLankesh who has been exposing the BJP, RSS #IamGauri

— Shehla Rashid (@Shehla_Rashid) September 5, 2017
The cold-blooded murder of Gauri Lankesh is reprehensible. Dabholkar, Pansare, Kalburgi – such murderous violence has an eerie pattern. https://t.co/4m0fBtMa4F

— Sitaram Yechury (@SitaramYechury) September 5, 2017
Those leaning to the right started on a more cautious note. But in a few hours, all gloves were off as they started building a narrative of her murder being linked to her work among the naxals.
So, Commy Gauri Lankesh has been murdered mercilessly. Your deeds always come back to haunt you, they say. Amen.#Bengaluru#GauriLankesh

— Jagrati Shukla (@JagratiShukla29) September 5, 2017
its not like, only RW calling #GauriLankesh a Naxal Sympathizer. Gauri's brother Indrajit said his sister Pro Naxal stand affecting tabloid. pic.twitter.com/Qw1oWKZqgT

— Anshul Saxena (@AskAnshul) September 5, 2017
Strangely, Gauri Lankesh's last tweets posted about 16 hours before her killing were used to drive the naxal narrative further.
Ok some of us commit mistakes like sharing fake posts. let us warn each other then. and not try to expose each other. peace… comrades

— Gauri Lankesh (@gaurilankesh) September 4, 2017
why do i feel that some of `us' are fighting between ourselves? we all know our "biggest enemy". can we all please concentrate on that?

— Gauri Lankesh (@gaurilankesh) September 4, 2017
These tweets were enough for Republic's Arnab Goswami to conclude that there could be a naxal link to her murder. Picking up lines from her tweet selectively, Goswami tries to conclude that she was worried about infighting within the left-wing groups. A reporter from a local news channel Suvarna,  tried to explain the context of her tweets (as can be seen from the video below). But Goswami had clearly made up his mind that the tweets needed to be investigated for naxal links.
#GauriLankeshMurder
So Comrades were fightig & #GauriLankesh warned not2expose each other. Wht if…?
Is it reason4 "blame RW" overdrive? pic.twitter.com/ZSz99j21DJ

— Debjani Chatterjee (@devyanidilli) September 5, 2017
It is very clear from Gauri's tweets that she was only urging her friends and followers to avoid "fighting between ourselves" and to concentrate on their "biggest enemy" – in what looked those aligned to hardcore Hindutva politics,  as she was publicly known for her strong anti-right wing stance. Her concern about fake news could also be gauged by the fact that her last editorial published in her magazine that went on stands today was titled "In the times of fake news". Lankesh mentions BOOM alongwith other fact checking websites and towards the end of that editorial, cites her own example of how she fell victim to fake news a week ago. Given below is an Hindi translation of her editorial in Kannada, published by NDTV India's Ravish Kumar.
Hindi translation of Gauri Lankesh's last editorial. Courtesy: NDTV India
Also Read: Fake News: How Gauri Lankesh Became Gauri Lankesh 'Patrick'
In building this naxal narrative, Republic had good company. Fake news website Postcard News also known for its ultra rightwing articles published this story within hours of her death by gun shots.
It is not clear which part of her two tweets made Postcard think that "her life was in danger from her own people?".
There were others also who chose to link her work among the naxals to her brutal death.
This's what #GauriLankesh was tweeting at 3 AM today morning. Which infighting she was referring to? Is that y police is probing naxal link? pic.twitter.com/d9Mnfb0ds1

— Sonam Mahajan (@AsYouNotWish) September 5, 2017
But Sonam Mahajan also looked confused on Twitter- naxal conspiracy or Congress conspiracy to silence the journalist as she was all set to expose corruption by the Karnataka state government?
Sorry but she was last working on exposing Congress's corruption in Karnataka. Has she been killed for doing that job? #GauriLankeshMurder https://t.co/o3p4tU8jXw

— Sonam Mahajan (@AsYouNotWish) September 6, 2017
While there is no doubt that the slain editor was part of a state government initiative to bring back naxals into the mainstream, there is no evidence yet of any threats received from extremist naxal outfits in the past.
Lankesh was buried on Wednesday evening with full state honours at a cemetery in Bengaluru's Chamarajpet.