Fake News About Banks Being Shut For 6 Days In September And Other News You Almost Believed
In this week's Fake News You Almost Believed, we bring to you all the rumours that were going viral on social media
Here's a round-up of this week's News You Almost Believed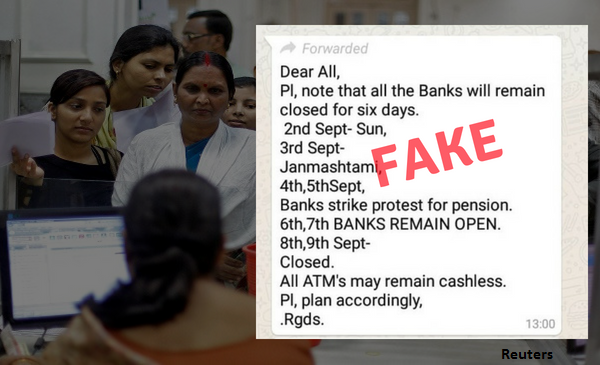 A viral WhatsApp message claimed that the banks will remain closed for six days in the first week of September. The message got traction after news emerged of the Reserve Bank Of India employees calling for a strike and confusion over a holiday due to the festival of Janmashtami. The Finance Ministry clarified that the banks will not be shut for six days of the first week of September. Read the full story here.
A collage of two unrelated images went viral with the claim that a woman from Gonda, Uttar Pradesh was raped by a Muslim politician from the Indian National Congress party. The message further claims that the Hindu woman considered the man, a Muslim to be her brother. However, the image of the injured woman is from a 2016 deadly train accident near Kanpur, which killed scores. BOOM reached out to Gonda police who confirmed that no such incident had taken place. Read the full story here.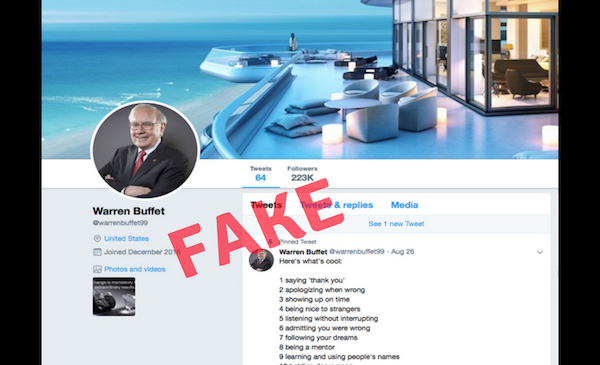 A fake Twitter handle impersonating Berkshire Hathaway's Chairman and CEO Warren Buffett was tweeting folksy wisdom through inspirational quotes found on the Internet last week. The fake account @warrenbuffet99 spelled Buffett with a single 't' and was created on December 15, 2016. The account did not bear Twitter's verified blue tick symbol nor did it contain a disclaimer of being a fan account. Later, the account was suspended. Read the full story here.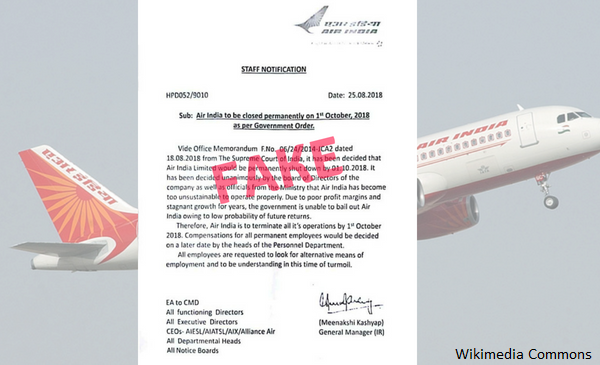 A fake letter purporting to be from Air India was circulated on WhatsApp and social media, claiming that the airline will shut down permanently on October 1, 2018. The fake notification published on a letterhead announcing the shutdown and asking employees to look for other jobs, surfaced as the airline is already facing a huge debt crisis. The airline quickly countered this on Twitter by alerting customers and employees against the false letter. Air India slammed the letter as 'false propaganda' to destabilize the company. Read the full story here.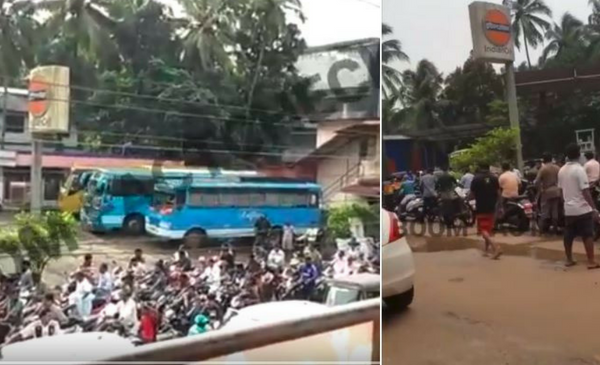 A video of a long queue of men on scooters in Kerala claiming that they were waiting to purchase alcohol, once the flood waters receded was viral on social media. BOOM examined all the sign boards and bill boards in the video to check for the locality and found clues through which we got to know that the video is from Edappal, Malappuram. BOOM also contacted shops whose signboards were noticeable in the video and through this we received videos which established that the queue led to a petrol pump. For more details about the video click here.