Fake Image Goes Viral As That Of Godhra Train Burning In 2002
The image is not from Godhra burning incident in 2002. The image was traced to an explosion that took place in the eastern Democratic Republic of Congo in 2010, killing around 230 people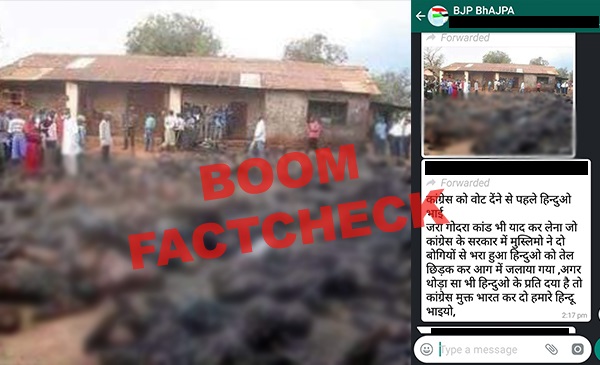 A horrific image of burnt bodies lying on a ground with people standing around them is being shared on social media with a text asking the people to be careful if they plan to vote for the Congress Party. The forward claims that the conspiracy to burn Hindus in the train at Godhra in the year 2002 were hatched by Muslims close to the Congress government.
Text with the image in Hindi says, "कांग्रेस को वोट देंने से पहले हिन्दुओं भाई जरा गोदरा कांड भी याद कर लेना जो कांग्रेस के सरकार में मुस्लिमों ने दो। बोगियों से भरा हुआ हिन्दुओ को तेल छिड़क कर आग में जलाया गया,अगर थोड़ा सा भी हिन्दुओ के प्रति दया है तो कांग्रेस मुक्त भारत कर दो हमारे हिन्दू | भाइयो" which loosely translates to, "Before voting for Congress Hindu brothers, remember the Godhra case where Muslims of the Congress Government burnt 2 bogies of a train filled with Hindus on fire. If there is even a bit of pity towards the Hindus of the nation, make the country Congress free."
BOOM got to know about this image and the text going viral on WhatsApp when we received a screenshot. The WhatsApp screenshot shows a group by the name BJP BhAJPA sharing the image and the text with it against the Congress Government.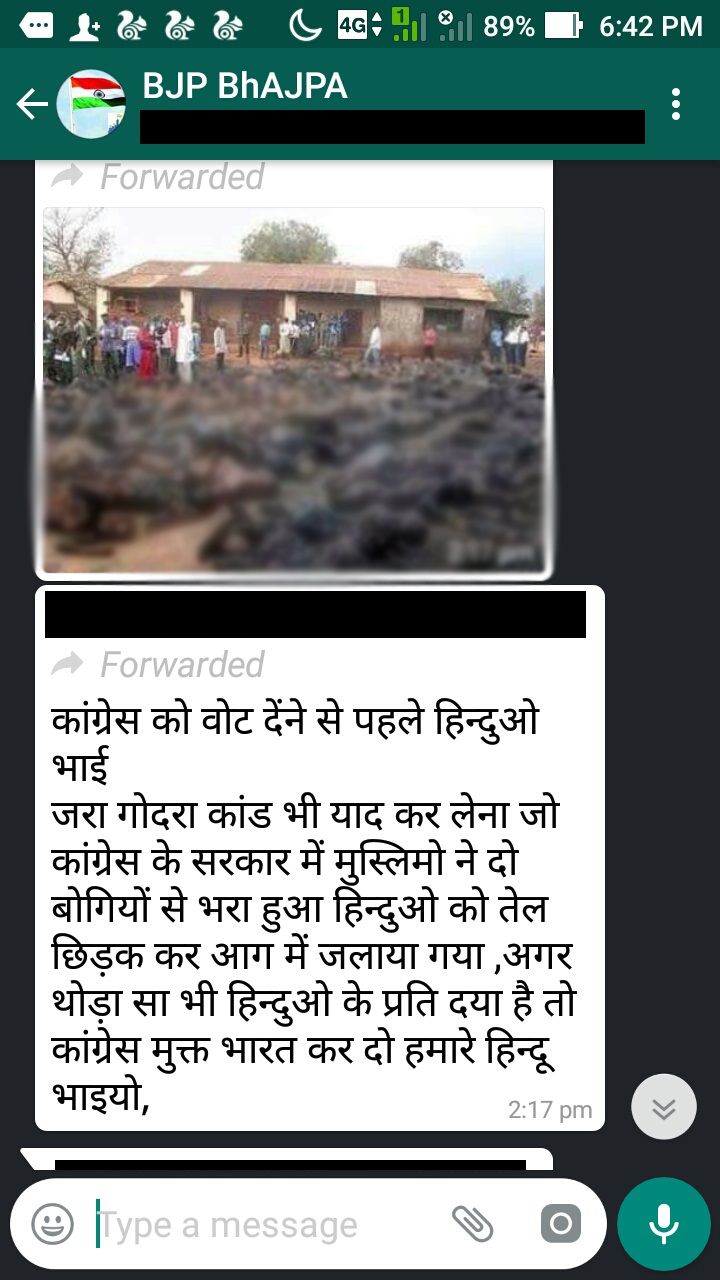 BOOM searched for the image on Facebook with the same text and found that the text and the image are going viral with two more images from the Godhra incident. The post got around 2.5K shares and around 1,000 reactions.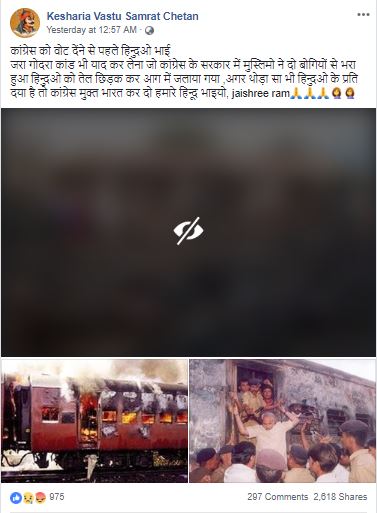 Click here to view the archived version of the post.
The image also went viral earlier with a completely different narrative claiming that Christians were burnt alive by Sunni Muslims in Nigeria. The post also asks people to share the news with others.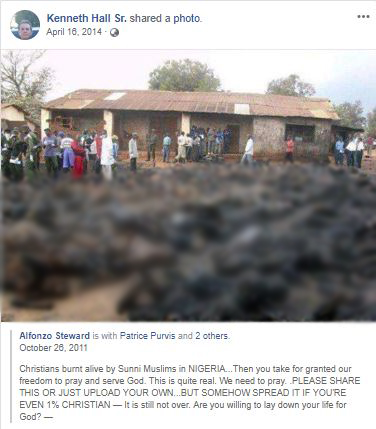 Click here to view the archived version of the post.
Factchecking website Snopes debunked this claim in 2016 and said, " Confusion about the nature of the image began almost immediately after it was initially published.
Truth Behind The Image
The image is actually from an explosion that happened in the eastern Democratic Republic of Congo in 2010, killing around 230 people. "a fuel tanker overturned and exploded unleashing a fire ball that tore through homes and cinemas packed with people watching World Cup soccer," reported Reuters.
The report also mentioned, "some people died as they were trying to steal fuel from leaking from the tanker while most were killed at home or watching World Cup soccer in cinemas."
Also, while the post claims that the Congress party were in government at the time the incident took place, it is not true. The Bharatiya Janata party (BJP) was in power, both at the state and the centre in 2002. Narendra Modi was the chief minister in Gujarat while Atal Behari Vajpayee was the prime minister of India.
Claim Review :
Image Of Godhra Train Burning
Claimed By :
Social Media