Mumbai Lockdown 4.0: What Is Allowed & Not Allowed
Maharashtra Chief Minister Uddhav Thackeray said that restrictions will not be eased in Mumbai for lockdown 4.0.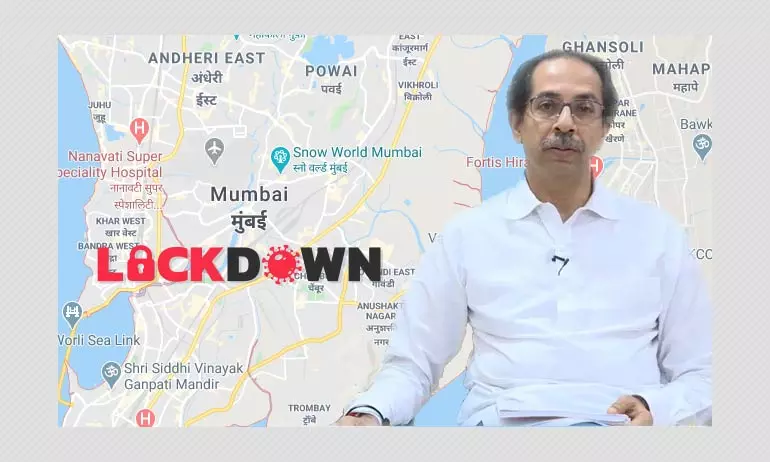 On Sunday, CM Uddhav Thackeray announced an extension of the COVID-19 lockdown in the state until May 31. The extension is the fourth of the lockdown which was first implemented on March 24.
Addressing the state on Monday, CM Thackeray spoke about the challenges faced by Maharashtra in fighting COVID-19 and asked every citizen to cooperate with the government in combating the novel coronavirus.
The Ministry of Home Affairs had issued a revised set of guidelines on Sunday and had also empowered states and union territories to revise the guidelines accordingly. Speaking on Monday, CM Thackeray said that red zones like the Mumbai Metropolitan Region won't see a relaxation of guidelines.
In a tweet on Monday, Param Bir Singh, the Commissioner of Mumbai Police also stated that Mumbai won't see any relaxation in the guidelines under lockdown 4.0.
Gentle Reminder Mumbaikars

Mumbai being a RED ZONE,is yet to see any relaxations from earlier rules, under Lockdown 4.0

Vehicles travelling without valid permission or for non-emergency, DAY or NIGHT,will be impounded & driver to face strict action. It's for your safety first

— CP Mumbai Police (@CPMumbaiPolice) May 18, 2020
Here is what you need to know about the guidelines for Mumbai.
What is not allowed in Mumbai?
1. Schools, colleges, educational/ training/ coaching institutions etc will remain closed.
2. Hotels and restaurants other than those used for housing health/ police/ Government officials/ healthcare workers, stranded persons including tourists, and those used for quarantine facilities will remain closed.
3. Barbershops, spas and salons will remain closed.
4. Cinema halls, shopping malls, gyms, sports complexes, swimming pools, entertainment parks, theatres, bars, auditoriums, assembly halls will remain closed.
5. All social, political, sports, entertainment, academic, cultural, religious functions and other gatherings will not be allowed.
6. All religious places and places of worship will remain closed.
7. People over the age of 65, children under the age of 10, pregnant women and people with pre-existing conditions not allowed to get out of their homes.
8. Cycle rickshaws, autorickshaws, taxis and cab aggregators will not be allowed to operate.
9. Intra-district and inter-district buses will not be allowed to operate.
10. In Containment Zones, Out-Patient Departments (OPDs) and Medical clinics shall not be permitted to operate. However, these may be permitted to operate in Red, Orange and Green Zones, with social distancing norms and other safety precautions.
11. Industrial establishments will remain closed.
12. Private and public offices will remain closed and work from home. However, Defence and Security services, Health and Family Welfare, Police, Prisons, Home Guards, Civil Defence, Fire and Emergency Services, Disaster management and related services, NIC, Customs, FCI, NCC, NY K and Municipal services shall function without any restrictions.
13. Liquor shops will remain closed. Online delivery of alcohol is also prohibited.
14. Delivery of non-essential products will also be prohibited.
What is allowed in Mumbai?
1. Private vehicles can used only for permitted activities. Four-wheeler vehicles will have a maximum of two passengers besides the vehicle driver; for two-wheelers, a pillion rider is not allowed.
2. Construction activities can restart but transporting labourers from outside will be prohibited.
3. Standalone electrical and hardware shops can function as long as there is only one shop open per street.

4. All pre-monsoon related works including the protection of building, shuttering, water-proofing, flood protection, propping and structural repairs of the building, demolition of unsafe buildings is allowed. Pre-monsoon works related to Metro works and any other such works permitted by the Municipal Commissioner of Municipal Corporation of Greater Mumbai (MCGM), all Municipal Corporations in Mumbai Metropolitan Region (MMR), Pune Municipal Corporation (PMC) and the Pimpri-Chinchwad Municipal Corporation (PCMC) is allowed.
5. A maximum of 50 guests will be allowed for marriages. Social distancing has to be maintained.
6. Funerals can be conducted with no more than 20 people present. Social distancing has to be maintained.
Sealing of buildings after a COVID-19 positive test
The Brihanmumbai Municipal Corporation (BMC) on Monday revised it's protocols for sealing buildings stating that if a resident tests positive for COVID-19, only that particular floor will be sealed and not the entire building or housing society.
Updated On:
2020-05-19T17:19:35+05:30