Lockdown 4.0 In Ahmedabad: List Of Activities Allowed, Not Allowed
Gujarat CM Vijay Rupani issued new guidelines for lockdown 4, includes special guidelines for Ahmedabad.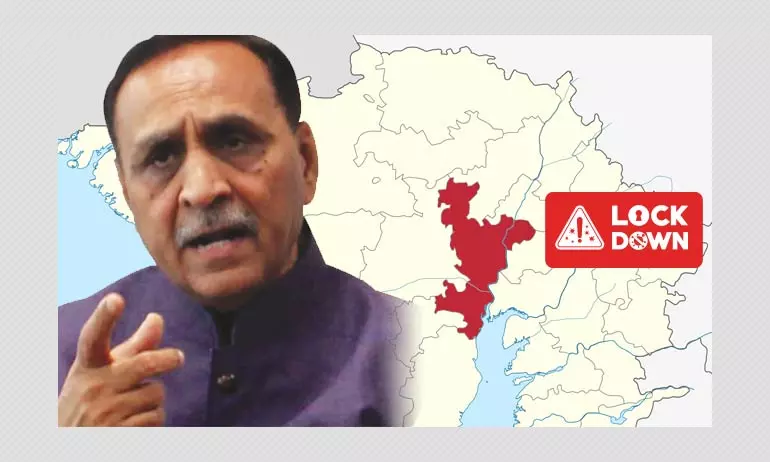 Vijay Rupani, Chief Minister of Gujarat announced a revised set of guidelines for Gujarat, and specific guidelines for Ahmedabad since it's a containment zone. The new set of rules imposed will come into effect on 19 May. Ahmedabad in Gujarat has one of the highest cases in Gujarat, accounting for 67% of COVID-19 cases in the state. This follows the central government's decision to extend the lockdown to May 31.
Here's what you need to know:

-Gujarat is divided into containment zones and non-containment zones. But the status of the containment zones will be reviewed according to the number of new cases coming out.
-There will be a curfew from 7 pm to 7 am according to the national guidelines.
-School, coaching class, garden, gym, swimming, shopping malls, theatres, entertainment zones will not be allowed to reopen.
-Not wearing a mask in public will get you a Rs 200 fine, and spitting in public will be fined at Rs 200 as well.
-Good transport trucks are allowed for interstate travel.
Containment zones
-Only essential services will be allowed to function. Shops offering essential services like groceries, milk, medicines will be allowed to operate between 8 am to 3 pm. This is an extension of 3 hours since shops could only open between 8 am to 12 pm in lockdown 3.0 in containment zones.
-Vendors, city buses, private buses, not allowed in containment zones.
-Private cars, and private taxis will not be allowed to function.
Ahmedabad specific rules
-Rickshaws, private cabs, and ST buses are still not allowed to function.
-The part of Ahmedabad that lies west of the Sabarmati river can have financial enterprises working according to odd and even days.
-These activities are not allowed in the part of Ahmedabad that lies to the east of the Sabarmati river since cases are high there.
Non-containment zone
-Shops are allowed to be open from 8am to 4pm if they follow an even-odd day roster. Only 5 people will be allowed in a shop at a time.
-Rickshaws are allowed to function with only two passengers and the driver. Private taxis are allowed to function with two passengers and the driver.
-Weddings can not have more than 50 guests, that too they must adhere to the norms of social distancing.
-Funerals can have maximum 20 people who adhere to social distancing.
-Barber's shops, beauty salons are open if they adhere to social distancing norms.
-Public libraries allowed to function 60% capacity.
-Hotels allowed home delivery if the delivery boys undergo a regular health check.
-Highway restaurants can re-open.
-Private offices can open at 33% capacity.
-Surat textile markets and diamond markets allowed to function with odd-even numbers.