World
Old Photo Of Injured Syrian Child Falsely Shared As Ukraine
BOOM found that the photo is from Syria and shows an injured child being treated at a hospital after a bombing in 2018.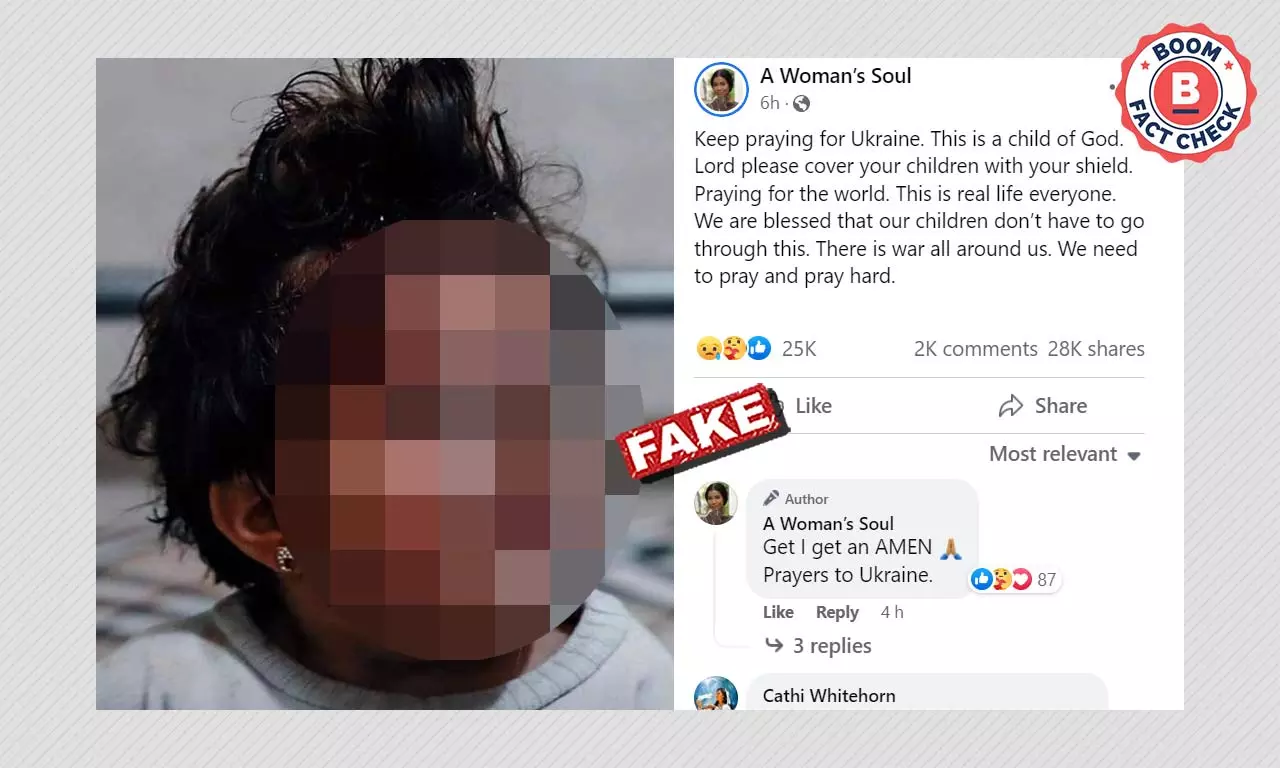 An old photo from Syria of a child injured after a bombing in 2018 is being shared with a false claim that it is from Ukraine after Russia started an invasion and launched air strikes in many parts of the country.
Russian President Vladimir Putin on February 24, 2022 announced his decision to conduct a military operation on Ukraine after weeks of military build-up on the country's border. Putin said that Russia has no goal to occupy Ukraine and claimed that said the action was aimed to ensure demilitarisation of Ukraine. US President Joe Biden and several other world leaders have condemned the attack.
The caption with the viral photo reads, "Keep praying for Ukraine. This is a child of God. Lord please cover your children with your shield. Praying for the world. This is real life everyone. We are blessed that our children don't have to go through this. There is war all around us. We need to pray and pray hard."
Click here to view the post.
Click here to view the post.

Also Read: Mathrubhumi Shares Clip From Video Game ARMA 3 As Russia-Ukraine Conflict
Fact Check
BOOM found that the photo dates back to 2018 and shows a child injured in a bombing in the Eastern Ghouta region of Syria.
An initial reverse image search showed the same picture uploaded on an advertisement website's article published on November 9, 2018. The article said the advertising agency, Barkod Ads & Brands, carried the picture featuring other wounded children's images and uploaded it under 'awareness campaign' category titled, "This is not a Halloween mask".
We ran a further search for the photo on TinEye, a reverse image search engine and found that it was published by the Malayalam news site of One India on March 2, 2018. A translation of the photo story said that the photos showed those injured in a bombing in the Eastern Ghouta region of Syria.
Taking that as a cue, we ran a reverse image search on Google and found the same picture in a BBC news story published on January 6, 2018, about Syrian hospitals being targetted. The BBC story carried the same photo of the injured child and spoke about bombings and air strikes on the Eastern Ghouta region in 2018.
The caption with the photo was generic and spoke about the number of civilian casualties in the area. We noticed that the picture was credited to photo wire agency EPA - European Pressphoto Agency.

We then ran a search on the EPA site using the keywords 'hospital Eastern Ghouta' and found the same photo published with the details crediting Mohammed Badra as the photojournalist and the date as January 3, 2018.
The caption reads, "A young girl is treated at a hospital after a bombing in Mesraba, Eastern al-Ghouta, Syria, 03 January 2018. At least 19 people were killed in airstrikes on the cities of Erbeen and Mesraba by forces loyal to the Syrian government"

We found one more photo of the same injured child uploaded on EPA.
According to media reports from 2018, twenty-five civilians including several aid workers and children were reported to have been killed in air strikes on two towns in the rebel-held Eastern Ghouta area outside Syria's capital, Damascus. The BBC had then reported, that, "nine women and two children were among the 18 people killed, it said, adding that the number might rise because some of the injured were in a critical condition. The Syria Civil Defence said two children and two women were among the six people killed in the air strikes on Arbin, and that another three civilians were killed by government shellfire in Beit Sawa."
Editor's Note: A previous version of this story incorrectly stated the image was from an ad campaign. The error is deeply regretted

Claim :
Photo shows a child victim of recent Russia Ukraine conflict.
Claimed By :
Social Media Users
Do you always want to share the authentic news with your friends?
Subscribed Successfully...
Enter Valid Email Id