Politics
No, This Video Does Not Show FM Nirmala Sitharaman Meeting Her Father
The video shows Nirmala Sitharaman meeting KV Krishnan in Varanasi, Uttar Pradesh on December 3, 2022.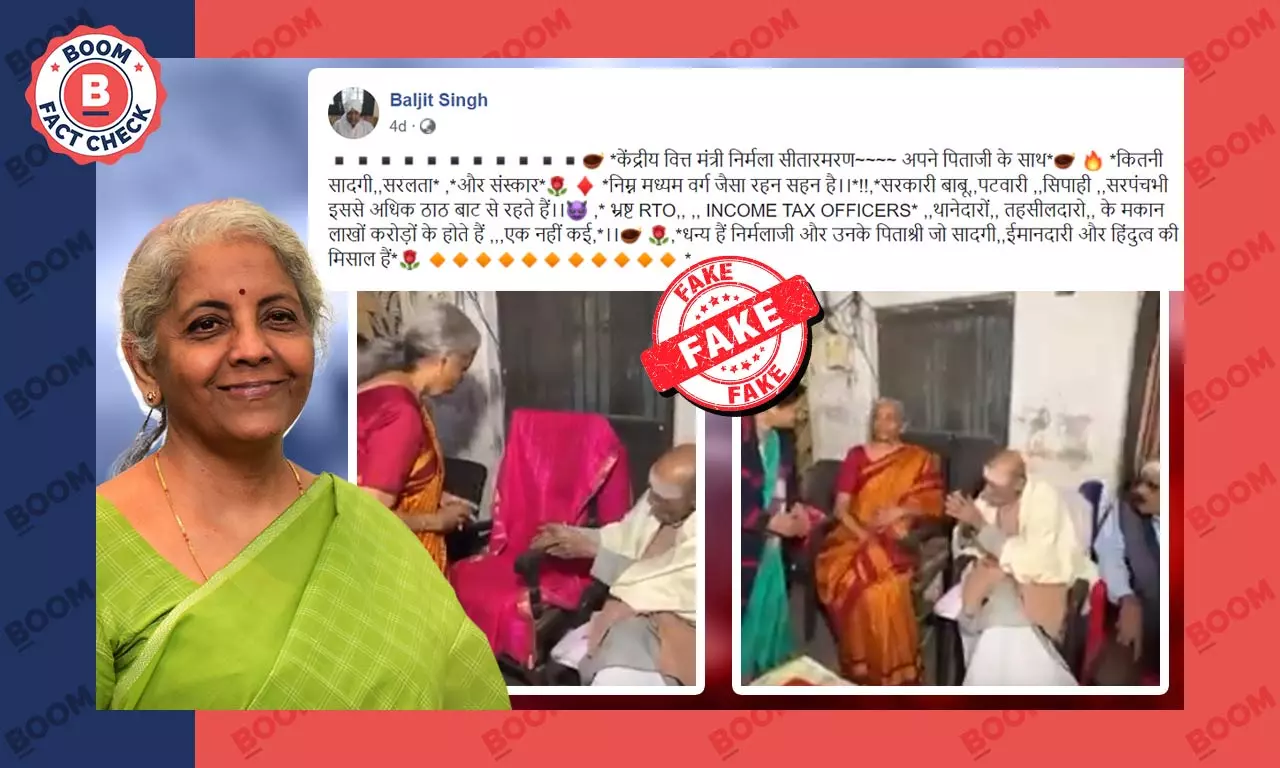 A video of Union Finance Minister Nirmala Sitharaman meeting an elderly man is circulating on social media with false claims misidentifying him as Sitharaman's father, Narayanan Sitharaman. The claims further state that Sitharaman and her father have been leading a very simple life.

BOOM found that the viral video shows Nirmala Sitharaman visiting K. V. Krishnan in Varanasi, Uttar Pradesh on December 3, 2022. K. V. Krishnan is the great nephew of Subramania Bharathiyar, a revolutionary Tamil poet from the colonial era.
The video has been shared with a caption in Hindi, "Central Finance Minister Nirmala Sitharaman with her father. How much simplicity, innocence and culture in them. (They are) living like lower middle class ! Government employees, patwari, soldiers, sarpanch also live their lives in a more luxurious way. Corrupt RTO, Income Tax officers, police officers, tehsildars have houses worth millions, not one but many. Nirmala ji and her father are blessed and they are an example of simplicity, honesty and Hindutva."

(Original text in Hindi: केंद्रीय वित्त मंत्री निर्मला सीतारमरण अपने पिताजी के साथ, कितनी सादगी, सरलता और संस्कार। निम्न मध्यम वर्ग जैसा रहन सहन है! सरकारी बाबू ,पटवारी, सिपाही, सरपंचभी इससे अधिक ठाठ बाट से रहते हैं। भ्रष्ट RTO,INCOME TAX OFFICERS, थानेदारों, तहसीलदारो, के मकान लाखों करोड़ों के होते हैं, एक नहीं कई। धन्य हैं निर्मलाजी और उनके पिताश्री जो सादगी, ईमानदारी और हिंदुत्व की मिसाल हैं।)
The video is also viral on Facebook with the same claim.
Fact Check
BOOM ran a reverse image search on keyframes from the video on Google and found a month old Reddit thread which stated that the video shows Nirmala Sitharaman with 96-year -old nephew of Subramaniya Bharathiya, a colonial era revolutionary poet from Tamil Nadu.

We also found the video on a Facebook post by Sitharaman's verified page on December 3, 2022; The video was captioned as "Siva Madam is the place where Mahakavi Bharathiyar stayed during his visit to Varanasi in1900s. #KashiTamilSangamam"
On December 4, 2022 the same video was posted on Sitharaman's Instagram account. The post was captioned as, "Visited Siva Madam in Varanasi yesterday and interacted with the family members of Mahakavi Bharathiyar, including his 96-year-old great nephew Shri K. V. Krishnan. #KashiTamilSangamam"

On December 3, Sitharaman's official Twitter handle posted the video and images from the same visit where the person has been identified as K. V. Krishnan.
A press release by Press Information Bureau on December 2, also stated that the finance minister planned to visit key Tamil influence places in Varanasi including Siva Madam on December 3.

Read Tamil outlets Maalaimar's report about Sitharaman's visit here.
Mahakavi Subramania, also known as Mahakavi Bharathiyar, is a stalwart Tamil literary figure, revolutionary poet, activist and journalist; he stayed in Siva Madam during his visits to Varanasi in1900s. In November 2022, Union Education Minister Dharmendra Pradhan also met K V Krishnan in Varanasi, Uttar Pradesh and tweeted about it.
Claim :
Video shows Indian Finance Minister Nirmala Sitharaman meeting her father Narayanan Sitharaman
Claimed By :
Facebook Posts
Do you always want to share the authentic news with your friends?
Subscribed Successfully...
Enter Valid Email Id