Fact Check
Photo Of Woman With Amit Shah Falsely Linked To WB Poll Violence
BOOM was able to identify the woman in the photograph with Amit Shah. We reached out to her father Bibhishan Hansda, who said they are safe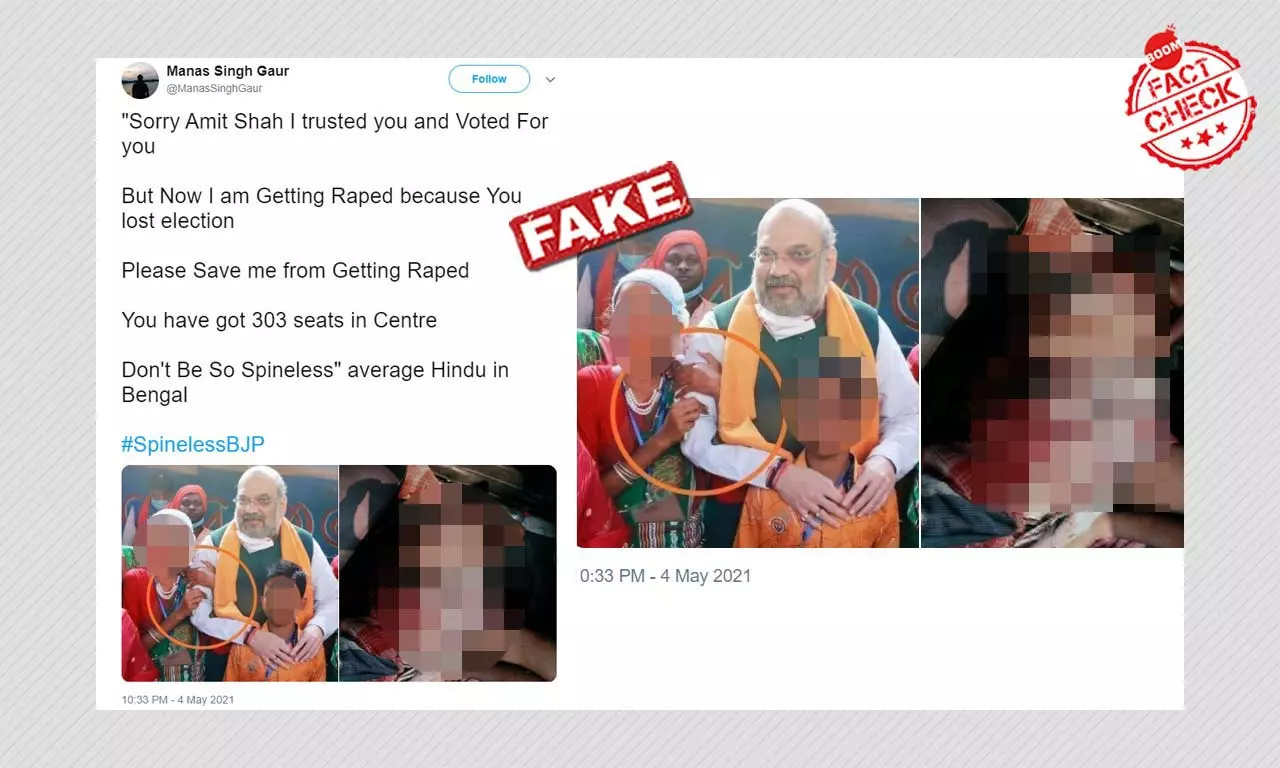 A set of two images - one showing young woman pictured with Home Minister Amit Shah, and the other - a disturbing photo of a woman's lifeless body drenched in blood, are viral with claims that the girl pictured with Shah was raped and killed during the violence that broke out following Trinamool Congress' victory in West Bengal.
The set of images is doing the rounds on social media after West Bengal erupted in post poll violence after the results of the Assembly elections were announced on May 2. As many as 14 have lost their lives in clashes between the political parties. Meanwhile, several unrelated photographs and videos are viral on social media with misleading claims. The West Bengal Police has called out tweets claiming that two Bharatiya Janata Party women were gangraped and many molested in Birbhum.

The image has been captioned as, "Sorry Amit Shah I trusted you and Voted For you But Now I am Getting Raped because You lost election Please Save me from Getting Raped You have got 303 seats in Centre Don't Be So Spineless" average Hindu in Bengal #SpinelessBJP".
The set of two images is also viral with a Hindi text which reads, "Prime Minister, Home Minister...the party workers who are being killed in Bengal right now, they fought for you/your political gain. Be indebted to them. If you cannot save their lives, then, in the name of god, you will be accused of cowardice. I won't call you coward but I'll definitely say that if you don't do anything then one day you will be surely left alone in the political battle. Centre should immediately look into the ongoing matters in Bengal. No more statements. Strict action. Thank you"
(Original text in Hindi: श्रीमान @narendramodi @amitshahofficial प्रधानमंत्री, गृहमंत्री... वह कार्यकर्ता जो बंगाल में मारे जा रहे हैं, वह आपकी सत्ता के लिए लड़े थे. उनके ऋणी हो सभी लोग. यदि उनके जीवन की रक्षा नहीं कर सकते तो ईश्वर के ही शब्दों में कायरता का आरोप लगेगा. मैं कायर तो नहीं कहूँगा लेकिन इतना अवश्य है यदि कुछ नहीं किया तो राजनीतिक युद्ध में एक दिन आप सभी अकेले पड़ जायेंगे. बंगाल में केंद्र का प्रभाव हस्तक्षेप तत्काल होना चाहिये. वक्तव्य नहीं. कठोर कार्यवाई. साभार)
The tweet is archived here.
Fact Check
BOOM ran a reverse search and found that the image was published in a report on Economic Times on November 6, 2020. The image was captioned as, "Shah, who is on a two-day tour to the state, arrived in Bankura this morning to take stock of the party's organisation in the district". We also found the same image in a Bengal Post article on November 25, 2020.
BOOM found that the image was clicked in Chaturdihi village (under Andharthole block) of Bankura district in West Bengal on November 5, 2020. Home Minster Amit Shah went to a party worker Bibhishan Hansda's home and had lunch there. Shah's image with Hansda's family was clicked during his visit. Read more reports here and here.
We reached out to Bibhishan Hansda who said that reports of his daughter being assaulted are fake. Hansda told BOOM, "Both my family and my daughter are safe. There was no post poll violence in our area. The viral reports with my daughter's image are fake." Hansda's daughter, a class 12 student, is a diabetic patient.
BOOM spoke to a tribal community leader Amulya Hansda who stays in the same village as Bibhishan Hansda. Amulya also rubbished claims about Bibhishan's daughter being assaulted.
While BOOM was unable to verify the image showing a woman's body, it is clear that it does not belong to the woman seen in the photograph with Shah.
Also Read: No, This Video Is Not Linked To Political Violence In West Bengal
Claim :
Image claims girl raped in post poll violence whom Amit Shah visited last year
Claimed By :
Twitter Users
Do you always want to share the authentic news with your friends?
Subscribed Successfully...
Enter Valid Email Id