Fact Check
No, Saudi Arabia Has Not Banned Loudspeakers in Mosques
BOOM found that Saudi Arabia had not imposed a ban on loudspeakers, rather issued guidelines a few months ago to keep the volume minimal.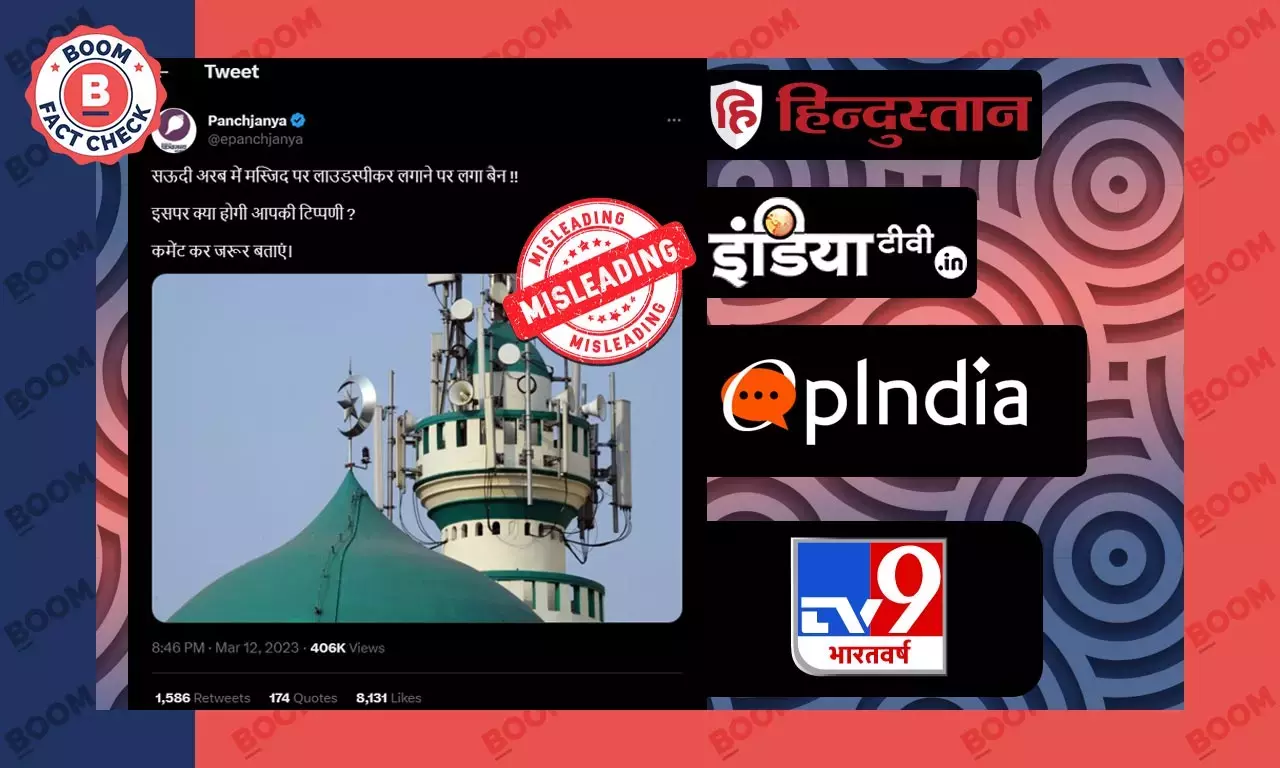 Ahead of Ramzan, several news outlets including News18, TV 9 and OpIndia have claimed that Saudi Arabia has banned the use of loudspeakers. BOOM found that the claims are misleading, and that the government of the country has merely issued guidelines to ensure the sound remains minimal.
Social media users are also claiming that if the Saudi Arabian government can ban loudspeakers then India can as well.
It is important to note that last year, the use of loudspeakers during Ramzan was a controversial and widely debated topic. Raj Thackeray, leader of Maharashtra Navnirman Sena, had threateningly said that loudspeakers should not be used in mosques, and if they are, then the Hanuman Chalisa will be read aloud outside mosques. Apart from this, Goa, Karnataka, Uttar Pradesh, and other states saw protests from Hindu groups regarding the usage of loudspeakers during Ramzan.
Live Hindustan, News18, India TV, TV 9 Bharatvarsh, Zee News, among other outlets carried the news of Saudi Arabia 'banning' loudspeakers during Ramzan.
Rohit Ranjan, anchor of Zee News' show DNA, took the example of Saudi Arabia to target Indian muslims and said that this was a 'lesson' for India.
On the other hand, in one story, ABP News reported on the the ban by Saudi Arabia for Ramzan and in another story, did a fact-check regarding the ban.
Right-wing website OpIndia reported that according to these regulations, the use of loudspeakers is banned in Saudi Arabia.
The mouthpiece of the RSS, Panchjanya, also posted about this on Twitter with the caption, "Saudi Arabia bans loudspeakers in mosques!! What are your thoughts on this? Comment below"
(Original text in Hindi: "सऊदी अरब में मस्जिद पर लाउडस्पीकर लगाने पर लगा बैन !! इसपर क्या होगी आपकी टिप्पणी ? कमेंट कर जरूर बताएं।")
Click here for an archive.
The claim is widely circulating on Facebook as well.
Click here to view.
FACT-CHECK
BOOM first accessed the guidelines of the Saudi Arabian government regarding loudspeaker ban, which have been quoted in media reports.
We found a tweet dated March 3, 2023, from Saudi Arabia's Ministry of Islamic Affairs in which guidelines related to Ramzan had been released.
In these guidelines, the instructions related to the prohibition of Taraweeh Namaz, Iftar, the Imam of the mosque, photography and broadcast have been mentioned only in the month of Ramzan.
Nowhere could we find any instructions about banning loudspeakers in mosques during the month of Ramzan.
The Arabic version of the guidelines issued by the Ministry of Islamic Affairs can be found here.
During our search, we found a report by Gulf News, which states that Saudi Arabia has limited the number of loudspeakers to 4 in all mosques to offer prayers.
According to this report published on January 19, Sheikh Dr. Abdul Latif bin Abdul Aziz Al Sheikh, Minister of Islamic Affairs, issued instructions two months before the start of Ramzan, establishing the number of loudspeakers outside mosques. According to these instructions, there were only 4 loudspeakers to be used to offer prayers in mosques.
He has instructed all imams to remove excess loudspeakers from mosques and keep them in a warehouse for later use or give them to mosques that do not have enough.
According to the Gulf News report, this is not the first time such guidelines have been issued ahead of Ramzan.
Last year too, the ministry had directed to keep the volume of loudspeakers in mosques low during the month of Ramzan. The use of speakers for additional prayers beyond the five-time prayer was also prohibited and all forms of media were banned from broadcasting live prayers from mosques.
Furthermore, we tried to search for reports with the help of various keywords regarding guidelies on banning loudspeakers in mosques during Ramzan, but could not find any such reports.
BOOM has reached out to Saudi Arabia's Ministry of Islamic Affairs for more details on the matter. This story will be updated if they respond.
Claim :
Saudi Arabia recently banned the use of loudspeakers in mosques.
Claimed By :
News18, India TV, TV9, OP India
Do you always want to share the authentic news with your friends?
Subscribed Successfully...
Enter Valid Email Id