Economy
Viral Message Claiming Hindenburg Research Banned In The US Is False
While evidence shows that Hindenburg Research was subpoenaed by the Department of Justice, they aren't banned in the US.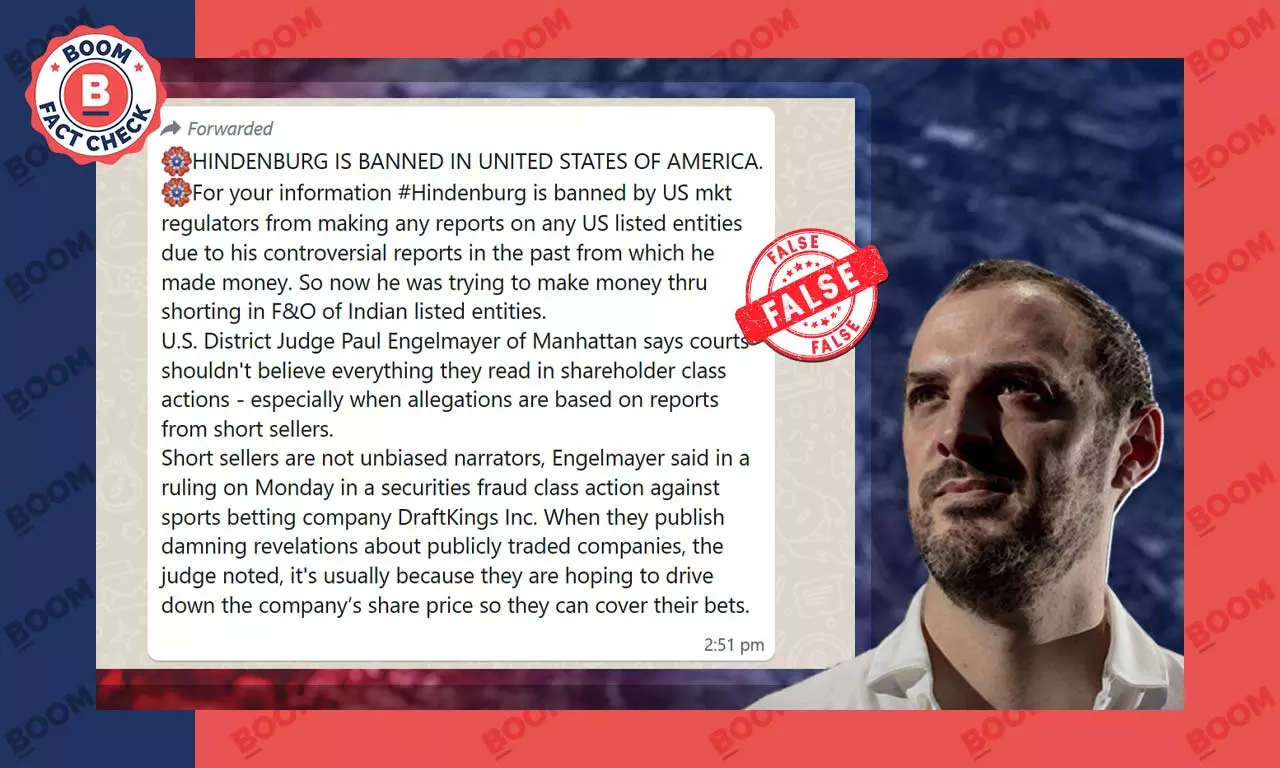 Hindenburg Research - the activist short-selling firm that has targeted the Adani Group causing a massive meltdown in its stocks on the exchanges has not been banned from putting out research on United States (US)-based firms, as claimed by a viral message in India. The firm's founder, Nate Anderson, also took to Twitter to clarify that the claims on social media are not true.
While the short seller was subpoenaed by the Department of Justice in early 2022 as part of a broader investigation into potential trading abuse, there is no evidence to show that this matter led to legal action or to an outright ban on its trading activities or on publishing research. A subpoena is a legal order to appear before a court or legal authority, or to mandatorily submit documents or evidence.
After March 2022, Hindenburg Research put out nine research reports where they revealed trading interests (through short selling and even long investments) pertaining to companies trading in the United States.
BOOM received the viral message on its WhatsApp helpline (7700906588). It can be seen below.
The claims made in the message can be divided into two parts:
The first paragraph of the message says that it is targeting companies outside the US due to this supposed ban - India in this instance - case in point being the Adani Group.
The next two paragraphs of the message copy the first two paragraphs of a Reuters story verbatim. The story reports on a court ruling in the US that states that reports by short-sellers alone do not prove fraud or misconduct committed by a company. It has been added to lend credence to the first part. The Reuters story is about a totally different case, and was published on January 12, 2023 and has nothing to do with the Hindenburg - Adani saga.
What is Short-selling?

Short-selling is a practice where a trader stands to profit when the value of a security falls. Through the "short", the trader speculates that the price of a security will crash which may be bought later at a lower price and the difference is profited. The short-selling community is deemed to be a controversial bunch in the world of finance. While its critics say that they will resort to low-blow tactics with the aim of profiting, some consider them to be vital to keep over-valued asset prices in check.
The Anderson-led firm specifically takes aim at companies which it believes "man-made disasters floating around in the market" according to their website. Since it took a short position against companies of the Adani Group through a research report first published on January 25, pandemonium has prevailed in the stocks of the group.
Stocks of the Adani Group have lost more than $100 billion in combined valuation over the last 20 days. They have faced regulatory heat too as debt issued by them are no longer considered to be valid collateral by three prominent investment banks – Credit Suisse, Standard Chartered and Citibank. MSCI - a firm keeping track on the performance of global equity markets - and services to investors, cut the free-float (weights) of Adani Group stocks. Ratings agency Moody's cut the outlook for the stocks of eight Adani Group companies.
Also Read: Adani Group Sees Around $100 Billion Erased In Market Cap
FactCheck
1. Is Hindenburg banned in the US?

There is no evidence to say so, as the first paragraph of the viral message claims.
Hindenburg was subpoenaed by the DoJ in the aftermath of the so-called 'meme-stock' rally or the 'Reddit Revolution' along with nearly two-dozen shortselling- focused firms like Melvin Capital, Citron Capital and Muddy Waters. The meme-stock rally took place during the COVID-19 pandemic when stocks like Gamestop, AMC and Nokia were purchased in heavy volumes by a group of retail buyers as they had been shorted by prominent financial firms and hedge funds. As a result, these firms had to cover their positions and take losses against them.

The DoJ and the Securities and Exchange Commission (SEC) – the market watchdog in the US, were investigating trading fraud and abuse.
This subpoena was broad in scope over alleged trading abuses and sought information from two dozen companies, according to the Financial Times.
Reporting by Bloomberg corroborated these findings, stating that information pertaining to calendars, communications and several records of nearly 30 firms were requested.
Most source-based reporting on the issue state that there are no charges or any formal investigations taking place. No legal proceedings have been levelled against them by regulators.

Stories from the Financial Times and Bloomberg indicate that these subpoenas and requests for information did not mean that these companies were accused of wrongdoing or were facing charges.
"The investigation is still in its early stages and may never lead to any action, legal experts said. Subpoenas went out in the autumn but many of the funds and research outfits on the list said they have not been contacted by authorities and have no reason to believe they are the focus of any investigation", the Financial Times has said.
Bloomberg's report states, "No one has been accused of wrongdoing, and in many cases, the opening of a probe doesn't lead to anyone facing charges.".
2. Has Hindenburg published on US securities or companies recently.?

Yes, on several occasions, even after early 2022 after the DoJ subpoenas took place.
Hindenburg's website shows that they put out nine research reports since March 2022.
The most popular position it took last year was something contrarian to its position: a long position or betting that shares will go higher instead of lower. In July 2022, Hindenburg took this position in favour of Twitter, as they predicted that Elon Musk would not be able to back out from his offer to make Twitter private and would be forced to do so by the courts in what did end up being a tumultuous and hasty takeover of the micro-blogging platform.
Among them, the other prominent cases are:
In December 2022, Hindenburg Research announced that they were taking a short position in Welltower Inc., a provider of the senior housing facilities in the US, with interests in Canada and the United Kingdom. They announced the short position of the company that trades on the New York Stock Exchange (NYSE) through a research report similar to that of the Adani Group.
In October, they released evidence against Establishment Labs, a manufacturer of silicon breast implants in Costa Rica with business interests in Latin America, Europe and Asia. It too trades on the NYSE.
The firm published research on Enochian Biosciences, a biotech company, and shorted it on the NYSE, accusing the company of lying about their vaccine efficacy and the credentials of its Turkish founder Serhat Gumrucku.
3. What about the court ruling?
The last two paragraphs of the message on the court ruling has been taken from the first two paragraphs of this Reuters story verbatim.
The story is from January 12, 2023, before the Hindenburg Research report was first released (on January 25) and has nothing to do with the Adani Group.
The Reuters story reports on a law firm - Robbins Geller Rudman & Dowd - who were shareholders in a sports betting company DraftKings; sued the company for fraud based on the report by Hindenburg.
Hindenburg took a short position against DraftKings in June 2021.
The US District Judge Paul Engelmayer rejected the charges against DraftKings, stating that a report from a shortseller alone did not constitute proof of fraud. "When they publish damning revelations about publicly traded companies, the judge noted, it's usually because they are hoping to drive down the company's share price so they can cover their bets", the story says.
Engelmeyer noted that the report itself was based on unsourced information or information attained from anonymous sources. This case was his third in which a report by a shortseller was part of the trove of evidence and he had to decide how much credibility to give to it.

Claim :
Hindenburg has been banned in the United States from publishing research
Claimed By :
Users of social media
Do you always want to share the authentic news with your friends?
Subscribed Successfully...
Enter Valid Email Id