Explainers
Nupur Sharma, Salman Khan: Who Can Get A Gun License In India?
In India, owning a firearm is a legal right. BOOM explains who can get a gun license in India, the process and rules attached to it.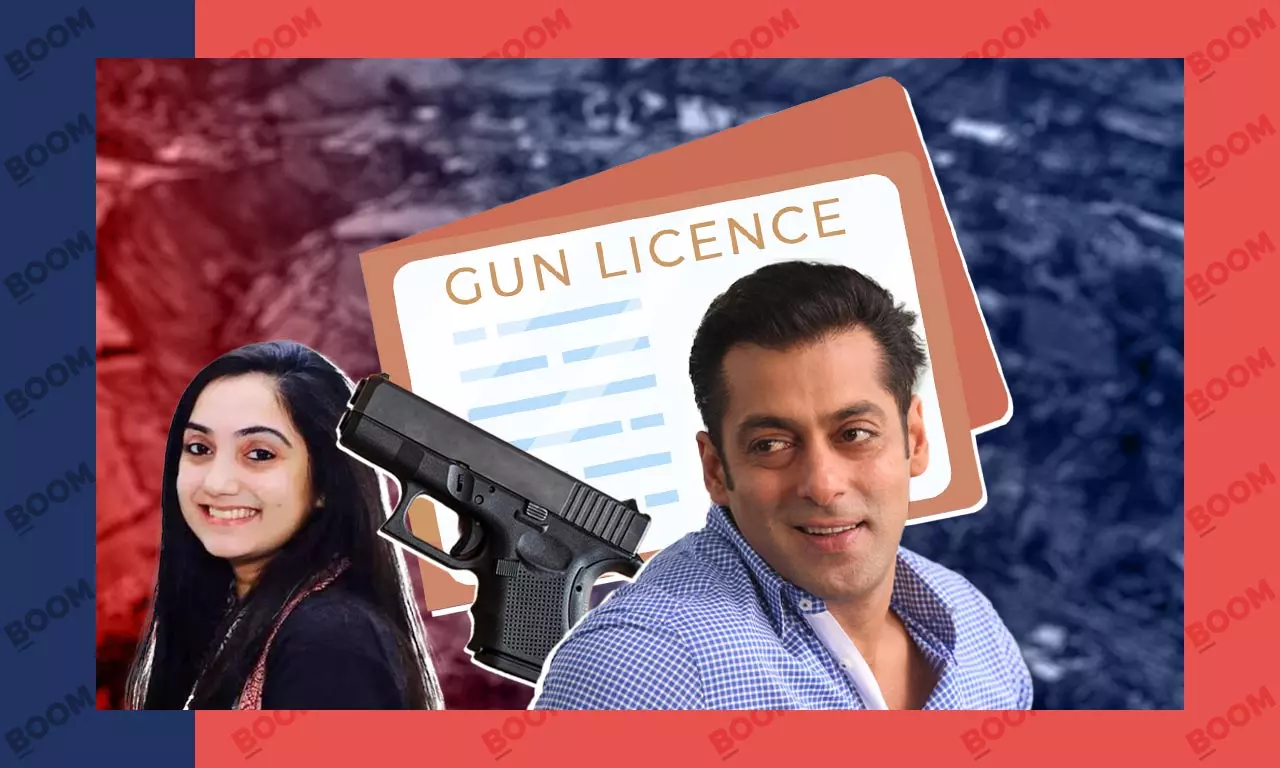 On January 12, Delhi Police granted a gun license to former Bharatiya Janata Party (BJP) spokesperson Nupur Sharma, who was suspended by the party for her alleged derogatory comment against Prophet Mohammad.

In India, owning a firearm is a legal right. The chapter II and III of Arms Act 1959 reads that all civilians can apply for possession of Non-Prohibited Bore (NPB) guns. However, it is heavily regulated by the government. In order to obtain a gun license, individuals must go through a stringent application process and meet certain eligibility criteria.

BOOM explains who can get a gun license in India, the process and rules attached to it.

Who can get a gun in India?
The 1959 Arms act states that a person who wants to apply for a gun license has to prove that she/he or their family members are in danger and need protection. The person should be 21-years-old, without any mental illness, and should not have any criminal convictions.

A person can also get the gun license for two more reasons – sport shooting or wildlife management.

India had passed the Arms Act with an aim to control the possession and sale of arms and ammunition. One can carry or possess a firearm or weapon in India only with a license issued by the concerned district authorities.

In 2016, the Arms Act was amended and it stressed that a person applying for arms license is required to undergo arms and ammunition safety training courses.

The former BJP spokesperson had applied for a gun license after she claimed that she had been receiving life threats following her remarks against Prophet Mohammad. She has been allowed to carry a gun for her safety, Delhi police said.

Sharma's remark on the Prophet during a TV debate had triggered protests across the country and drew sharp reactions from various sections of society. Several FIR's were logged against her across the country.

What is the process?
The first step in obtaining a gun license is to fill out an application form, which they can obtain from the local police station or online. Along with the application form, an individual must submit certain documents such as identity proof, address proof, and photographs.

Once the form is submitted, the local police will verify the information provided in the application form and conduct a background check to ensure the individual is eligible for a gun license.

The police may also conduct an interview with the applicant to understand their reasons for wanting a gun license and to assess their suitability.

How long can you keep a gun?
According to the act, a person is eligible by law for a gun license for three years and after that they have to renew it if they want to carry it further.

The act states that the number of firearms that can be owned is limited.

Carrying a gun in public places is prohibited unless the individual has a valid reason and has obtained the permissions from the authorities. It has to be kept in a safe and secure place.

Bollywood actor Sanjay Dutt was arrested under Arms act for not acquiring a license. He was holding a set of weapons without a license after he and his father allegedly received life threats.

The weapons found in Dutt's possession were: three AK-56 rifles, a 9 mm pistol, and 25 hand grenades. He ended up being convicted under provisions of the Arms Act for possessing illegal weapons.

India's guns: What do the numbers say?
In December 2016, the Home Ministry released data stating that India has a total of 33,69,444 active gun licenses.

Uttar Pradesh topped the list where 12,77,914 people were holding legal weapons, most of which were taken after citing reasons of personal security. Jammu and Kashmir was in second place with 3,69,191 people having gun licenses followed by Punjab where 3,59,349 people are having active gun licenses.
Are there exceptions to who can carry guns?
Obtaining a gun license in India is a rigorous process however, there are some exceptions that were given under arms act's section 42 to certain communities like Kodavas and Jamma, an ethnolinguistic group from Coorg in Karnataka. Under this section, the community was allowed to carry guns without a license. The reason to provide them this exception was because carrying a gun was seen as part of their culture like Kirpan by Sikhs. However, in June 2018, 41-year-old Captain Chethan YK (retired) filed a PIL in Karnataka High Court, questioning why only one Kodavas's and Jamma's are given exemption.
In 2019, the Karnataka High Court in response upheld the arms act exemption granted to the community. They have rightly been granted exemption for a period of ten years – 2029, with certain terms and conditions. It was issued after the High Court, in an earlier round of litigation, had asked the Centre to review its 1966 notification of indefinite grant of exemption from securing license.
In August 2022, Bollywood actor Salman Khan was given license to hold a gun after the actor was fighting a case of hunting under wildlife protection law and the Arms act. The license was provided after the actor and his father – Salim Khan, allegedly received life threats via letters he had received last year.

Do you always want to share the authentic news with your friends?
Subscribed Successfully...
Enter Valid Email Id