Explainers
What Anurag Thakur Said On Boycott Bollywood Trends Amid 'Pathaan' Success
Shah Rukh Khan-starrer 'Pathaan' released earlier this week to historic box office success, despite facing calls to boycott the film.
Anurag Thakur, India's Minister of Information and Broadcasting, spoke out against the 'boycott culture' targeting India's film industry during the launching of the Shanghai Cooperation Organisation (SCO) film festival on January 27 in Mumbai. Thakur said that such trends send "a wrong message and corrupts the atmosphere when Indian films are making waves across the globe".
"If someone has a complaint, they can take it up with the Department. It is then taken up with the concerned Producer and Director. But sometimes, people make comments without complete knowledge just to vitiate the atmosphere. It causes a loss, it shouldn't happen," Thakur said.
His remarks come against the backdrop of the historic box office success of Shah Rukh Khan's film 'Pathaan', which released earlier this week despite calls from Hindutva organisations to ban and boycott the film.
Furthermore, social media trends calling for the boycott of the film were viral throughout 2022 and continued to thrive even as advance ticket sales for the film opened up earlier this week.

What Is #BoycottBollywood?
Over the past few years, several Bollywood films and actors have been the target of calls for boycotts, making hashtags like #BoycottBollywood trend on platforms like Twitter.
While no definitive links have been drawn between such trends and the commercial performance of the films, they have drawn protests from several members of the industry.
Uttar Pradesh Chief Minister Yogi Adityanath had a meeting with members of the film industry earlier this month in Mumbai, during which actor Sunil Shetty expressed concerns about the boycott trends and urged Adityanath to speak out against it.
In 2022 alone, several major releases were the target of this 'boycott culture'.
Aamir Khan-starrer 'Laal Singh Chaddha', Ranbir Kapoor-starrer 'Brahmastra' and 'Pathaan' were targeted with sustained boycott campaigns. Widespread use of disinformation was made to further these trends, as reported by BOOM in 2022.
Khan is not new to such backlash either. Following a high-profile raid at a luxury cruise ship off the coast of Mumbai, which led to the detention of his son Aryan Khan, calls to boycott the actor and the brands he endorsed were rampant on the internet.
His 'Pathaan' costar Deepika Padukone has also been a consistent target of the boycott culture. Her 2018 film 'Padmaavat' sparked massive protests by Hindu and Rajput organsations who claimed their sentiments had been hurt by the film.
Boycott calls against Padukone's film 'Chhapaak' went viral in January 2020 when the actor visited the Jawaharlal Nehru University (JNU) to express solidarity with students who had been attacked by masked individuals. This was during the massive anti-Citizenship (Amendment) Act protests across the country and on the JNU campus.
In August 2021, actor Radhika Apte was also targeted by right-leaning social media users, including members of the ruling Bharatiya Janata Party, for her role in Leena Yadav's film 'Parched', which released six years prior.
However, the recent calls to boycott Bollywood films have come primarily from right-leaning Hindutva organisations and their members - groups that are integral support bases for Thakur's party, the BJP.

Why Calls To Boycott Pathaan?
BJP members themselves have been party to many such trends, which include calls to boycott 'Pathaan'.
In December 2022, BJP workers gathered at Prayagraj to protest against the release of the film. They argued that one of the songs of the film, 'Besharam Rang', which was released ahead of the film, hurt Hindu sentiments as it showed Padukone dancing in a saffron bikini, with saffron being closely associated with the Hindutva movement.
Similar protests were held in Madhya Pradesh, where a Hindutva outfit burnt effigies of Khan and Padukone, while calling for the boycott of the film. Several BJP leaders, including state home minister Narottam Mishra, joined in on the outrage. Mishra had warned that the film would be banned in the state if the scenes in the song were not changed. He had said, "The film 'Pathaan' is full of faults and based on toxic mentality. Lyrics of song 'Besharam Rang' and saffron and green clothes worn in the song need to be corrected or else we will take a decision on whether to let the film's screening happen in MP or not."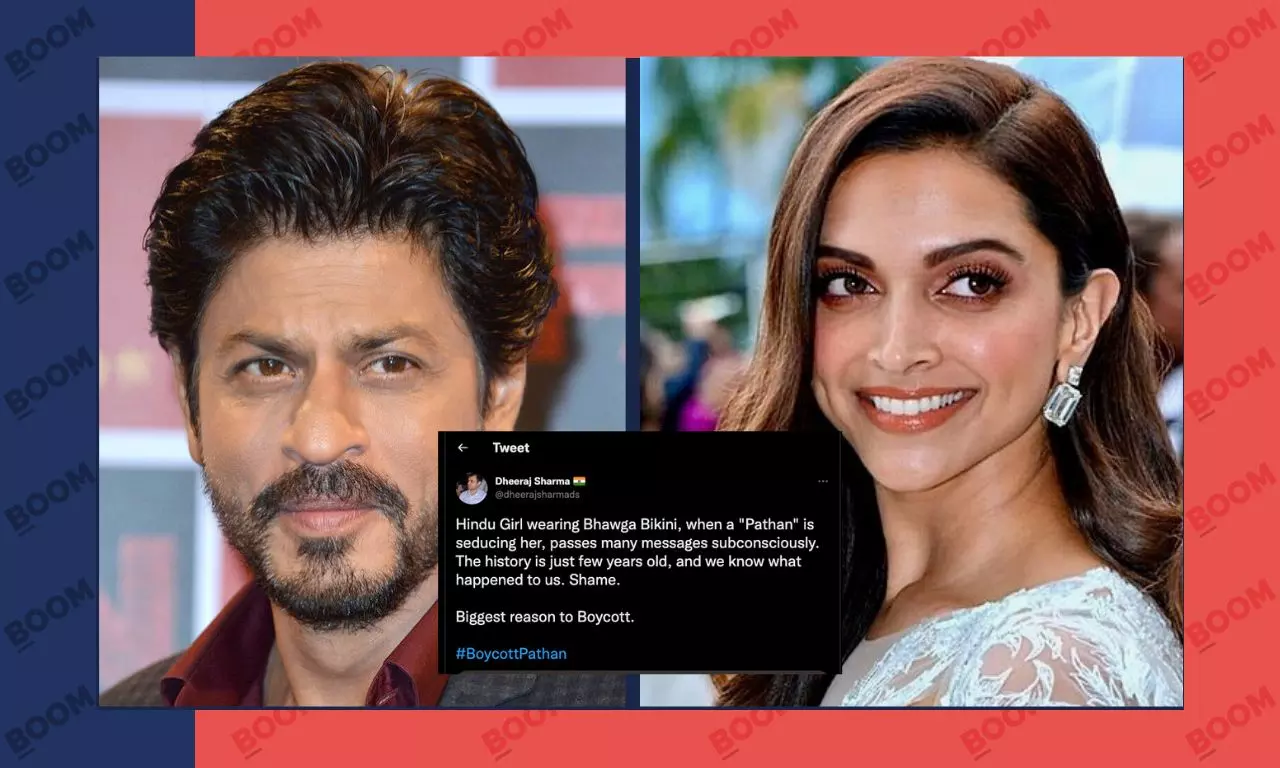 Also Read:#BoycottPathan Trends, MP Sees Protest: What Led To Outrage Over 'Besharam Rang' Song?

However, the #BoycottPathan trend started long before the song had been released. BOOM has fact-checked several false claims against the film and Khan which contained this hashtag, since 2020.
Despite such efforts, as of January 27, 'Pathaan' has collected over Rs. 219 crore globally according to Yash Raj Films, making the film a huge commercial success.
Do you always want to share the authentic news with your friends?
Subscribed Successfully...
Enter Valid Email Id