Did PM Modi's Pro-Growth Reforms Lift 300 Mn People Out Of Poverty As Claimed By President Trump?
India's poverty reduction from 2006 - 2016 was among the fastest and the most equal measured, lifting 271 million people out of poverty, shows UN and Oxford data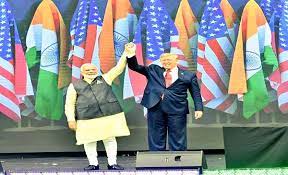 United States President Donald Trump said on Sunday that India had lifted almost 300 million people out of poverty in a decade with the help of Prime Minister Narendra Modi's pro-growth reforms. This statement came as Trump mentioned a number of India's achievements while addressing the Indian-American community at Prime Minister Narendra Modi's 'Howdy, Modi' rally in Houston.
President Donald Trump said,
In a single decade with the help of Modi's pro-growth reforms, India has lifted nearly 300 million people out of poverty and that is an incredible number.
Also Read: President Trump To Attend 'Howdy Modi' Rally In Houston: What We Know
While the numbers are true, President Trump's attempt to give credit solely to Prime Minister Narendra Modi's pro-growth reforms can be termed as misleading. While Modi came to power in May 2014, the numbers are for the period 2005-2006 to 2015-2016, with a large part of that period being under Congress led coalition government's rule. Here's all you need to know about these numbers.
Where did President Trump get this data from?
These numbers are from the 2019 Global Multidimensional Poverty Index released by the United Nations Development Program and the University of Oxford. It can be found here.

What did the UN report study?
The report studied poverty across 101 countries - 31 low income, 68 middle income and 2 high income - covering 76% of the global population.
The study also grouped 10 particular countries in low, lower-middle and upper-middle income categories - whose combined population is 2 billion, to illustrate shifts in poverty levels.
These countries are Bangladesh, Democratic Republic of Congo, India, Nigeria, Pakistan, Peru, Pakistan, Cambodia, Ethiopia and Haiti.
What was the aim of report?
The study not only measured absolute shifts in the number of people coming out of poverty, but also how countries performed across 10 developmental measures which encompass health, education and standard of living.
They are nutrition, child mortality, years of schooling, sanitation, electricity, school attendance, drinking water, housing, cooking fuel and assets.
Some salient features of the report
There are 23% people in multi-dimensional poverty between 2006 -2016. This equals around 1.3 billion people.
Two-thirds of the multi-dimensionally poor people are found in middle-income countries.
Half of these people are under the age of 18. A third are under the age of 10.
What are the primary findings on India?
In India, in 2005 - 2006, there were 640 million people below the poverty line, or around 55.1% of the population. This number was reduced to 369 million people in 2015 - 2016, or to around 27.9%. This reduction measures around 271 million people.
The report further said that in India, the rural-poor grew out of poverty faster than their urban counterparts. Further, India has shown significant improvement in all the 10 development metrics covered in the report.
In the 10 countries highlighted to illustrate poverty reduction, India and Cambodia reduced poverty the fastest. Further, both these countries did not leave the poorest of groups behind.
The report also states that the Indian state of Jharkhand reduced the multi-dimensional poor the fastest - from almost 75% in 2005 - 2006 to 46.5% in 2015-2016.
Claim Review :
India helped 300 million people come out of poverty in a decade due to Modis pro-growth policies
Claimed By :
Donald Trump