Did Mani Ratnam Sign A Letter Protesting Mob Lynchings? A FactCheck
News outlets cited unverified sources to claim that Mani Ratnam denied signing any such letter and that his signature was forged.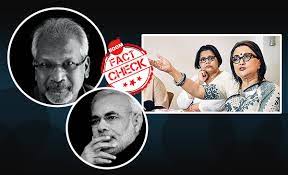 News reports claiming that filmmaker Mani Ratnam has denied that he was signatory to an open letter sent to Prime Minister Narendra Modi on the issue of mob lynchings and growing religious hate crime, are false. Mani Ratnam's aide confirmed that the filmmaker signed the letter and any claims that his signature was forged are baseless.
Ratnam is among the 49 celebrities who signed a letter addressed to Modi, raising concerns about the recent cases of lynchings in the country and demanded strict action. Other signatories include Aparna Sen, Anurag Kashyap, Shyam Benegal, Adoor Gopalakrishnan and Ramchandra Guha, among others.
Multiple mainstream news outlets cited unverified sources to claim that Ratnam denied signing any such letter and that his signature was forged.
BOOM spoke to Siva Ananth, Ratnam's aide, who confirmed the latter's participation in signing the open letter to Modi. He said, "Mani Ratnam did sign the letter. Though he doesn't want to elaborate about his solidarity with the cause, there is 'cent percent' truth about his signature."
An article, published by Aaj Tak on July 24, quoted Ratnam's team as saying, "In fact famous filmmaker Mani Ratnam's team has rubbished reports which suggest that even Mani Ratnam has signed the letter. According to the team, Mani Ratnam is busy with the pre production of his forthcoming film. Neither has he signed any such letter nor has he been asked to lend support to any such cause."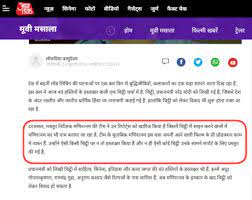 The article then goes on to mention how Mani Ratnam's denial could stir up a controversy about this letter, that has been signed by the liberals of the country.
BOOM reached out to Siva Ananth to know if Ratnam has a separate team handling his media interactions. Anant said, "We speak to press only about our films through our PRO. We don't speak otherwise."
The same was corroborated by scribes who reached out to Ratnam's office to clarify.
Social media and websites fall for misinformation
Right wing propaganda website Swarajya published an article based on a report by News18, that had in turn credited the news to the above Aaj Tak story.
Interestingly, another right wing propaganda website OpIndia had earlier published the same article with the headline, 'Mani Ratnam denies signing the letter sent to PM Modi peddling the fake narrative of increased hate crime.' It deleted the same later. BOOM was able to access an archive of the article.
In fact, verified Twitter users also fell for the same piece of fake news.
ALSO READ: No Reason Strong Enough To Leave India: Javed Akhtar On Fake Quote
Shabana Azmi Calls Out Fake Communal Quote Regarding Navratri
Claim Review :
Mani Ratnam denies having signed a letter addressed to PM Modi
Claimed By :
News Portals