Entertainment
Shabana Azmi Calls Out Fake Communal Quote Regarding Navratri
BOOM observed that Azmi's false quote had an uncanny similarity with Ranaut's, that was debunked earlier.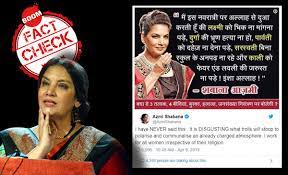 Veteran actor Shabana Azmi, on Tuesday, called out trolls, for falsely attributing a polarizing religious quote to her. This comes a day after BOOM debunked a fake anti-Islamic rant against Azmi that was falsely attributed to actress Kangana Ranaut. Azmi took to Twitter to announce that she has never said anything that is as polarizing and communalizing against women, as it had been described in the quote.
The quote, which has an image of Azmi greeting, mentions in Hindi, "This Navratri, I pray to Allah that Lakshmi doesn't have to beg. Durga shouldn't be subjected to female feticide. Parvati should not give dowry. Saraswati should not remain uneducated because of lack of schools and Kali should not need Fair and Lovely. Insh Allah." The image then poses a question to Azmi, "Will she speak about triple talaaq, four wives, burkha, halala and population control?"
You can view the image below.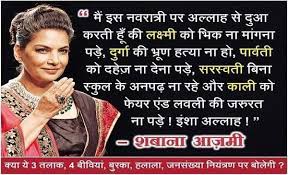 Azmi took to Twitter on Tuesday morning to call out on the fake quote. She wrote, "I have never said this. It is disgusting what trolls will stoop to polarise and communalise an already charged atmosphere. I work for all women irrespective of their religion."
BOOM has reached out to the actress, who is currently in London, with a set of questions. The article will be updated as soon as she sends us a reply.
Case of 'Putting Words In the Mouth'
BOOM discovered that the quote that has been falsely credited to Azmi is an example of 'misquoting' a person. On Navratri, 2017, Azmi tweeted a text image about what Durga Ashtami should really imply and how it should empower women in the country. The text image challenged stereotypes related to women and in no way was restricted to Hindu women as such.
The tweet can be viewed here.
Furthermore, it cannot be presumed that the text in the image was Azmi's own words, since the text had been posted by others on multiple social media platforms.
Several Facebook users used the same message to wish on Durga Puja, 2017.
Uncanny similarities with Ranaut's fake quote
BOOM observed that Azmi's false quote had an uncanny similarity with Ranaut's, that was debunked earlier. This in turn was a major rip off from several replies to Azmi's original tweet of September, 2017.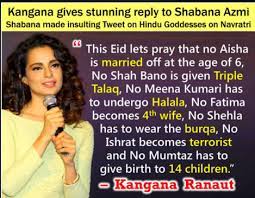 Do you always want to share the authentic news with your friends?
Subscribed Successfully...
Enter Valid Email Id