Did Chetan Bhagat Earlier Support Not Bursting Firecrackers During Diwali?
Twitter has gone ballistic over a 2016 Facebook post allegedly by Chetan Bhagat against bursting firecrackers during Diwali. But is it true?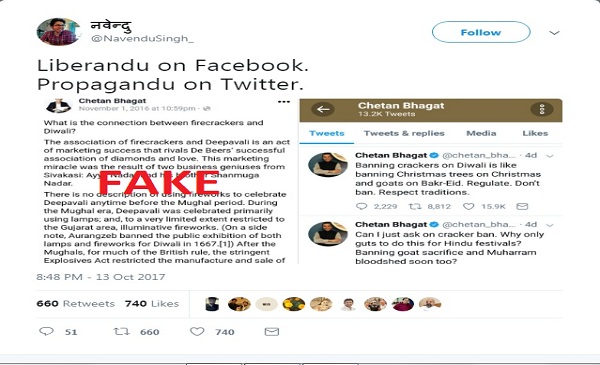 CLAIM:  A Facebook post from November 2016 allegedly by author Chetan Bhagat says there is no pride, honour or spiritual reward in bursting firecrackers on Diwali. The post has resurfaced on Twitter claiming to expose Bhagat's hypocrisy on the issue as he recently lashed out on the micro blogging platform against a Supreme Court ruling banning the sale of firecrackers in the Delhi-NCR region till November 1st.
RATING:  False
FACT: The post is from an unverified page. Bhagat has a verified fan page on Facebook. Moreover, the entire post seems to be lifted from a post on Quora written earlier in October 2016.
"His official account is verified by Facebook. He just has one account which he operates. This is a spam!",  a spokesperson for Bhagat told BOOM in an email.
Chetan Bhagat did not do a 180 degree turn on firecrackers in the last one year. The post below is from an unverified page. More astonishingly 187,559 follow the page on Facebook.
However, the unverified page does not provide any disclaimer that it is either a parody or a fan account.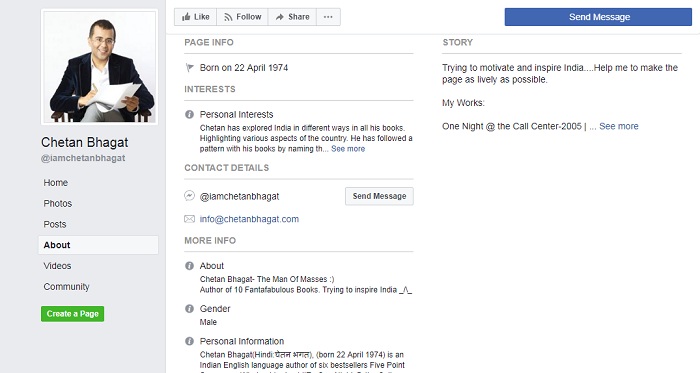 The fake page has even plagiarized an entire post from Quora. Ajit Narayanan's post from October 2016, written before the facebook post, received 3,600 'Upvotes'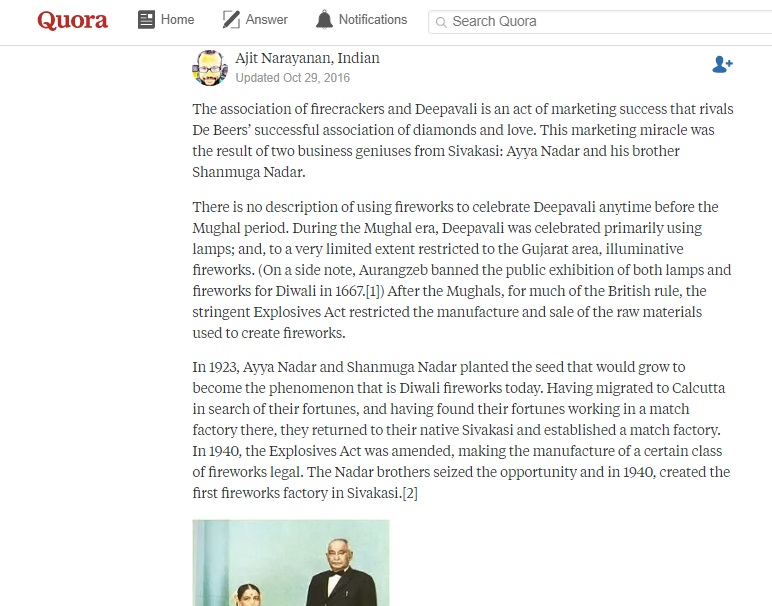 Narayanan's post details the history of firecrackers and how they came to be synonymous with the festival of Diwali. He called it a marketing gimmick similar to De Beer's association of diamonds and love. The strategy to associate firecrackers to Diwali Narayanan said was the brainchild of two brothers from Sivakasi Ayya Nadar and Shanmuga Nadar.
"Deepavali is the festival of lights; and lighting a few lamps is all the celebration that is needed for this amazing festival. When you buy and burst crackers on this day, all you are doing is proclaiming to the world that you, too, have been successfully conned by the scam orchestrated in 1940 by the Nadar brothers. There is no pride, honor or spiritual reward in that."
Read the entire post here. BOOM has not verified the accuracy of the post. 
Chetan Bhagat's official fan page (@chetanbhagat.fanpage) has over 6.5 million Likes and has a blue tick symbol indicating that it is a page that is verified by Facebook.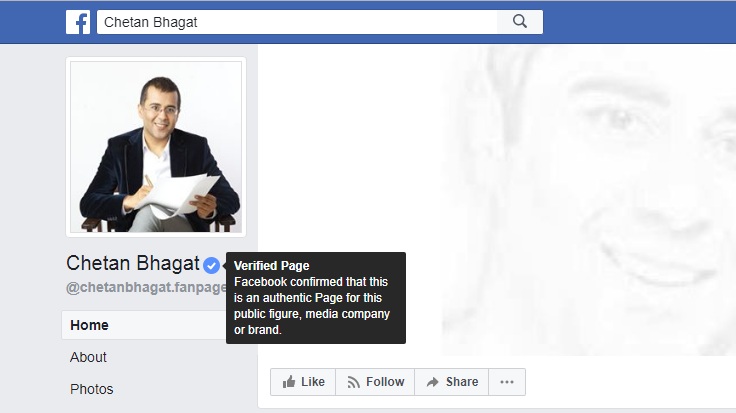 On October 9th, Bhagat went on an angry tweeting spree, attacking the Supreme Court's decision to ban the sale of firecrackers around Delhi-NCR region till November 1st as an experiment to test whether Diwali minus firecrackers would have a positive effect on the health of citizens in Delhi.
The court had reasoned that particulate matter (PM) levels had risen to alarming levels because of the burning of firecrackers during Diwali last year making Delhi the world's most polluted city as far as air pollution goes.
The order divided social media where many applauded the move while others like Chetan Bhagat called it an attack on a Hindu festival.
SC bans fireworks on Diwali? A full ban? What's Diwali for children without crackers?

— Chetan Bhagat (@chetan_bhagat) October 9, 2017
Can I just ask on cracker ban. Why only guts to do this for Hindu festivals? Banning goat sacrifice and Muharram bloodshed soon too?

— Chetan Bhagat (@chetan_bhagat) October 9, 2017
Banning crackers on Diwali is like banning Christmas trees on Christmas and goats on Bakr-Eid. Regulate. Don't ban. Respect traditions.

— Chetan Bhagat (@chetan_bhagat) October 9, 2017
It is in the context of the above tweets and the reaction each one of them received that the fake Facebook post has gone viral with many mistaking it for a U-turn on the issue by Bhagat.