Battle For Recognition: Why It's So Difficult To Get Transgender IDs
A leading cause for delays in processing comes from the digital divide that exists where applicants from rural areas either don't have access to the internet or technical know-how.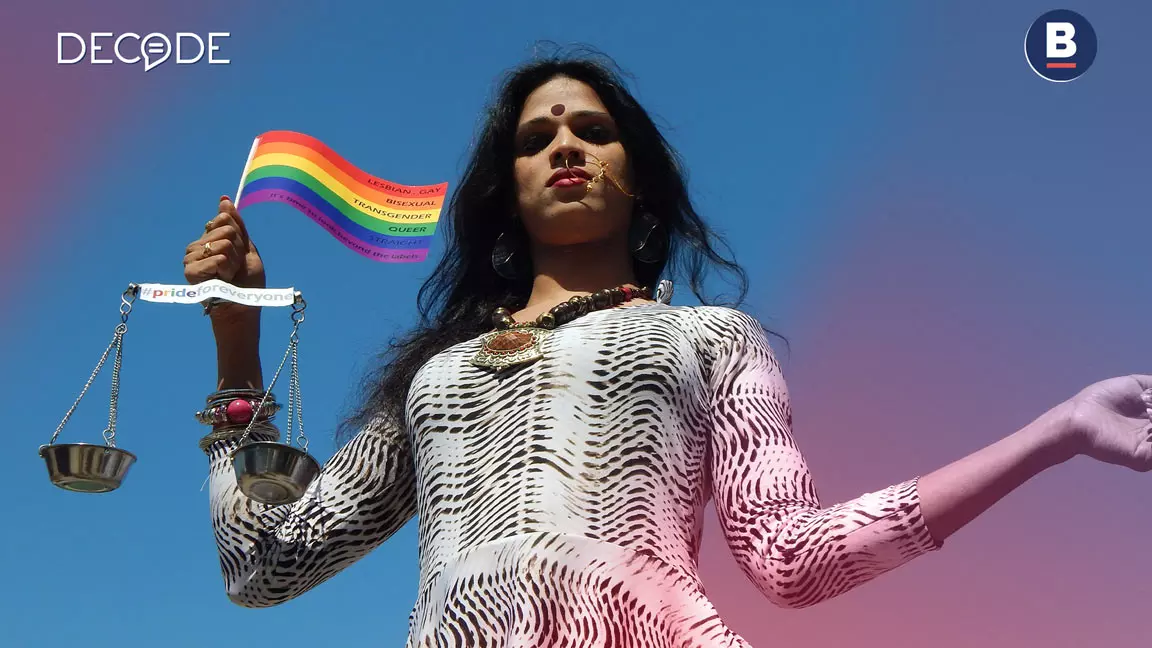 Seven months have passed since Ranjita registered on the National Portal for Transgender Persons for a transgender identity card.
"To have to carry the burden of the name you were given at birth or your dead name is a harrowing experience. I have spent many sleepless nights praying for the day when I would be allowed to call myself as I feel," said Ranjita, as she stared away with a forlorn look on her face.
It was in the first few days of moving to Delhi that she decided to apply, thinking within a few weeks, she would have a new identity and a fresh start in life. Instead, it transpired into a long-drawn battle with bureaucracy.
Decode spoke to several transgender persons who complained about severe administrative delays in the process of getting a transgender (TG) ID. Most pointed out the lack of Standard Operating Procedures in District Magistrates' offices, stigmatised dialogue and rampant transphobia as reasons. What is notified by law as only a 30-day waiting period, has spilled over to months and years on end. Moreover, some stipulations of the Act are even deliberately misunderstood or twisted, breaching the applicant's right to privacy and exposing them to more hostilities and community ousting.
In 2020, Union Minister for Social Justice & Empowerment Shri Thaawarchand Gehlot launched a 'National Portal for Transgender Persons' where people from the transgender community could apply for an identity card. This was done within two months of passing the Transgender Persons (Protection of Rights) Rules, 2020.
This TG certificate is provided by the Ministry of Social Justice and Empowerment and is a necessary form of recognition for transgender persons, in order to be eligible for welfare schemes under the SMILE (Support for Marginalised Individuals for Livelihood and Enterprise) scheme. Once received, the certificate is put on record for all the official documents of the person.
In fact, under TPPR Act and as per SMILE, the Centre last year collaborated with Ayushman Bharat promising Rs 5 Lakh per annum insurance to transgender persons with an ID. Through this comprehensive package, an individual will be eligible to get any kind of treatment under the AB PM-JAY-picked hospitals across the country, including Sex Reassignment Surgery (SRS). Alongside this, transgender persons can apply for scholarships and grants for skill development post-certification.
However, getting certified as a transperson through this portal has proven to be a nightmarish fight for some.
Procedural Problems within the System
After decades of fighting to be included in the mainstream, the Supreme Court brought a law with the National Legal Services Authority (NALSA) judgment of 2014. The landmark verdict declared transgender people as a 'third gender', affirming that the fundamental rights in the Constitution of India must be equally applicable to them, including the right to self-identify their gender.
Following this, the Transgender Persons (Protection of Rights) Act was enacted in 2019, allowing transgender people to self-identify as such by applying to a District Magistrate. The Act guarantees a turnaround time of 30 days from the date of application. In fact, according to the Social Justice and Welfare Ministry, the portal shows the status of an application so it can "ensure transparency without any necessary delays or the need for face-to-face interaction".
Rajiv Dua, Chief Executive of India HIV/AIDS Alliance said, "The portal was meant to ease the signup process for a TG ID. The process is straightforward–some documents need to be attached and an affidavit is required, after which the DM approves the application."
However, several applicants across India complain that District Magistrates do not adhere to the deadline or follow the procedure laid out in the TPPRA.
Sonam, a transwoman and banker from Raipur recalled the time when she approached the DM's office after 45 days of registering to the portal and was humiliated for not carrying a sex reassignment certificate. "NALSA clearly states that no proof of medical intervention is required for self-identification. But the DM was insistent on a letter from the Chief Medical Officer to confirm that I am in fact a transwoman."
Koyel Saha, another applicant from Kolkata, echoed a similar experience where the DM refused to entertain her complaint until she was forced to have her lawyer accompany her with a copy of the TPPR Act. "We have to undergo painful treatments and surgical procedures. It's a deeply personal and terrifying experience, to begin with. In that, when I was asked to "prove" my identity, I felt shattered," Koyel continued. "In the end, I requested a lawyer friend to accompany me and only after a long verbal altercation with the authorities, was I able to make a follow-up request for my application," she added.
Kanmani R, a Chennai-based Lawyer and trans woman, points to an obvious disconnect between the legislation of the Act and those who implement it on-ground. "DMs who do not have an understanding of gender identities, demand a medical surgery certificate." A transgender person might undergo a plethora of surgical procedures–all extremely personal medical decisions. "However, DMs demanding surgery certificates don't understand the nature or range of surgeries available, so they might find one document viable and another not," Kanmani R argues.

In another incident, Allahabad's Chanda M talked about making an application using her family home as address proof (required by the portal). A few days later, an official from the DM's office arrived home looking for her. "I had not come out as a transgender woman to my family yet. One day an officer showed up at my parents' house for address verification. That was how I was outed for the first time. I eventually had to leave home and have now restarted the process in Noida, months later."
Practices like these can prove to be dangerous for the lives and livelihoods of trans identities already at the behest of exclusionary attitudes and abuse. "If I go back home, my parents won't accept me and force me to get married. My father even threatened to kill me the day they found out," Chanda M said as her voice broke.
Currently, no advisory on Standard Operating Procedures for implementing the Act, or directions on how to approach each application is provided to the DM offices, creating an obvious gap in their knowledge.
Rajiv Dua said, "Social justice is as much a state subject as the Union's. The Centre can create a structure but the implementation has to be done by the State." So how the Act is interpreted varies from state to state, leading to delays in applications in some states more than others. "It is necessary for the Centre to issue circulars to DMs and organise Transgender Summits. If we bring on state officials, they can learn from each other's procedural conduct."
Pushpa Maai, a Jaipur Garima Greh's Project Coordinator and a Rajasthan Transgender Welfare Board Member reiterated, "The creation of the portal was a step in the right direction. But DMs of rural areas make inconsistent demands not stipulated in the Act, and there is no proper assistance on the ground regarding technical aspects."
Transgender persons report having similar experiences in other authorities as well. Dilip, a trans man recounted, "I was refused re-entry to an Aadhar centre after I protested against their refusal to accept my TG application as proof to alter my Aadhar status." Although the 2019 Act states that a Transgender card is enough to switch status on other databases, the ground reality is incongruent. "Officials function as they feel and claim they either have not received proper notification or are waiting for more clarity from higher-ups," Dilip added.
Anuprabha, Co-Founder of Antar and Programme Manager at Prantakatha Kolkata said, "You expect authorities to have an understanding of the laws. But more often than not, the onus falls on the transgender person to make a case for being heard. And to do this, while simultaneously being at the receiving end of transphobic attitudes, makes for painful experiences in the process of achieving recognition."
Digital Divide in Applicants Not Factored
The other leading cause for delays in processing comes from the digital divide that exists between applicants with digital literacy as opposed to applicants from rural areas who either don't have access to the internet or technical know-how.
Kalki Subramaniam, founder of Sahodari Foundation highlighted that most applicants from villages either don't have email accounts or knowledge of Captcha codes. "It's good that the government wants to give cards, but most trans-persons are not digitally literate. The portal requires us to have an email address, to which the certificate is sent. The verification is done through OTPs and Captcha codes–ideas that are not easily understood by all." Hence, Sahodari Foundation has organised multiple registration camps for transgender persons in Tamil Nadu.
The portal does not include any technical assistance beyond a User Manual in English and a helpline number that sometimes rings through. So the only option applicants have is to reach out to independent activists and organisations. According to Pushpa Maai, "The portal opens from 9 am to 5 pm. But the digitisation complicates the registration process for some applicants. I myself had to wait for a year for my ID, and even still the picture wasn't clear."
Rajiv Dua's Alliance India has organised several workshops for transgender persons to facilitate the registration process. "Basic assumption is that every person is digitally literate. But not everyone who has a smartphone is able to follow the complications within the form."
The other complication is that not all transgender persons are aware of the laws or benefits they are eligible for. "We tried to abolish the myth that this is just another card. So we made them aware of the benefits," said Dua. He believes that more signups encourage the government to also have an idea of numbers and how much to invest, in turn aiding the push for policies for the community.
Alongside this, there is no process for feedback or follow-up on the portal. "There is only a way of tracking, but no system to explain why it has not been processed." To an applicant with limited digital literacy, this could prove difficult. Kanmani R said, "At a fundamental level, in a city DM's office might be accessible. But in a village, the trans person has to give up their daily wage, to consistently follow up with the delays and visit the DM's office, is not feasible."
For others, the back and forth and other horrifying memories of transphobia while addressing the authorities triggers them and deters them from chasing up.
According to Shashipal Dabas, SDM Mehrauli, South Delhi, "Sometimes we have to wait to compile all applications together and then pass it on to assigned officials. But if there is incomplete documentation, all applications might get delayed." On the other hand, the ADM General of Purulia, WB, Mufti Samim Sawkat says the numbers are low because very few applications come from rural areas where people aren't aware of what the law entails.
Activists Push for Sensitisation
According to the National Portal for Transgender Persons, only 11,159 transgender IDs have been issued as of 7 March 2023 – a tiny percentage of the total trans population which is likely to exceed the 1.9 million estimated in a 2011 survey, and short of half a million estimated in the 2011 Census.
Although elated at having a chance at enjoying more rights, most transgender persons believe there is still a long way to go to guarantee social protection. Activists agree that the portal should have a committee of resource persons in each district, with a magistrate, a psychologist and transgender activists who can bring their problems to the forefront. Subramaniam says, "Meetings between transgender activists and governments must include lower-level officials and sensitisation actions must be state-specific."
Although more welfare schemes are being created, implementation needs a stronger push. "Recognition as a tool to negotiate on-ground, not as a guarantee of protection. Gender non-conforming attitudes are still not tolerated. So there is still much to be done," Subramaniam says.
Smritirupa, a banker and trans woman from Behala agrees that times have changed. "I remember rejoicing at the launch of the portal. It gave me an alternative from having to face heckling at DM's offices." Insulting and abusive remarks about their body were hurled at Smritirupa only a few year's ago when they visited a local Collector's office to challenge the rejection of their application. "No one can ever understand what it means to live with an identity you have no affection for. We need more support from the government and society to ease an already difficult transition," they added.

"Court acceptance has not translated into social acceptance. Every day is a battle when you're living this life. But the journey to achieving recognition for who we are should be a joyous and promising one, not ridden with fear of more prejudice and longer waits," Ranjita says.

Do you always want to share the authentic news with your friends?
Subscribed Successfully...
Enter Valid Email Id
---