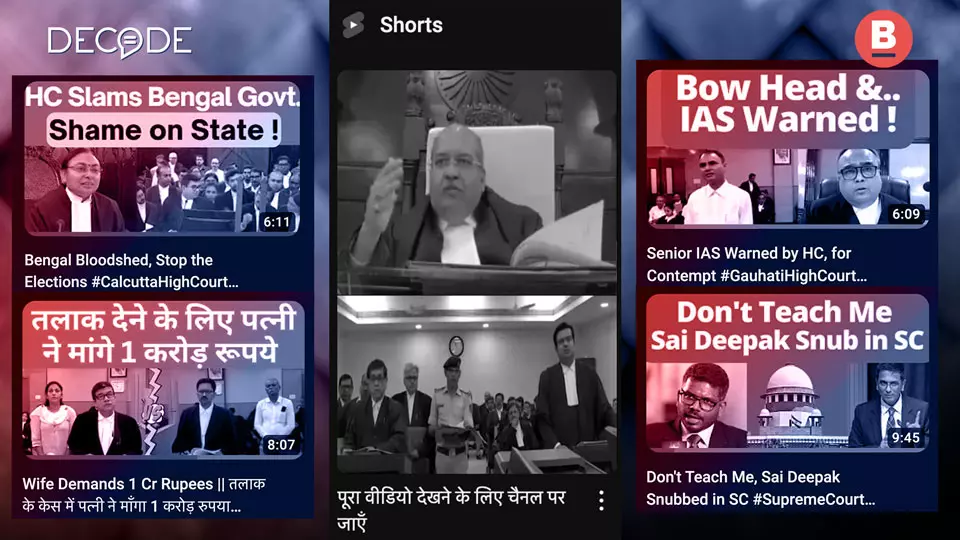 The petitions seeking recognition of same-sex marriage had reached their ninth day of hearing in the Supreme Court. The case, being a matter of constitutional importance, was being live-streamed on YouTube.
The petitioners had already made their arguments as to why the court should recognise the LGBT community's demand for recognition of their marriage in India and now, it was the opposing parties' turn to argue.

The clock struck 12:30 in the afternoon, when J Sai Deepak, a lawyer with 14 years of legal experience, rose to make his submission in opposition to the petitions.

In his brief 15-minute submission before the five-judge bench of the Supreme Court, Deepak argued that a 2014 judgment that recognised the rights of transgender persons as a third gender should not be relied upon while deciding the ongoing case.

Justice Ravindra Bhat from the bench told Deepak, "I think we are perhaps aware [of] how to read this judgment. We don't need to be taught. We understand that it [the 2014 judgement] is in context, but whether its analogies are in context [in the present case] is up to us."

Two days later, a video titled "Don't Teach Me, Sai Deepak Snubbed in SC" appeared on YouTube. The 9-minute-long edited video was uploaded by Law Chakra, a well-recognised YouTube channel created in April 2022 that uploads courtroom proceedings of the Supreme Court and other state High Courts.
For a while now since the live-streaming of court proceedings was initiated, clips of judges and lawyers have been made viral often turning them into memes on social media platforms. A number of YouTube channels take a part of the court proceedings, give it a clickbait headline and share them.
In the Sai Deepak video, many commented that the title is misleading.

"..using the word 'snubbed' is totally uncalled for and is intentionally negative", read one comment by a user named 'andanagoudapatil3477'.

The video has garnered 2.8 million views and more than 9300 comments, both an unusually high number for the channel that usually gets close to 100k-400k views and 400-700 comments on average. This may partly be because Deepak has a loyal fan following both on Twitter and YouTube.

"The title of the video is indeed unfortunately misleading and does not reflect the true nature of what happened," Deepak told Decode.

"First, the hearing was before a constitution bench of five judges, so to claim that the momentary reaction of one Hon'ble Member [Justice Bhat] of the bench is a "snub by the Supreme Court" is a complete exaggeration. Second, anyone who has some experience with the courtroom will tell you that a back and forth between the bar and the bench is natural during the course of a hearing," Deepak said.

Such videos have the potential to depict an inaccurate picture of a case, subject judges to unscrupulous comments, and could potentially ruin a young lawyer's professional practice. Besides, some feel it affects the administration of justice.
And social media platforms, especially YouTube, are filled with such instances of misleading, sensational titles and thumbnails of courtroom proceedings (here, here, here, here).
Experts Decode spoke to fear that with mushrooming courtroom content on social media platforms, the judiciary may turn into a form of entertainment. Concerns surrounding courts live-streaming their day-to-day proceedings are simmering.
The 2018 judgment—unintended consequences
In 2018, the Supreme Court acting on four public interest petitions filed by individuals, including a law student Swapnil Tripathi, allowed the live streaming of court hearings. It held that such a move would bring transparency and accountability to the courtroom process and asked the High Courts to devise their own rules and guidelines for live-streaming.
"I believe the judgment has been revolutionary," Tripathi told Decode. "It has taken the court to the homes of the people. It has broken people's stereotype about the workings of courts," he said.
It was not until four years later, in September 2022, that the Supreme Court finally implemented its own judgement and opened up its courts—albeit for only specific cases—for the public to watch on the internet. It currently live-streams only select cases of constitutional importance on YouTube.
As far as High Courts go, only seven—Gujarat, Jharkhand, Gauhati, Karnataka, Madhya Pradesh, Orissa, and Patna High Courts—out of the 25 have started streaming their court proceedings in some form.
Though live streaming was widely hailed as a progressive move by the court, some were weary of its misuse for commercial gains.
During the course of this reporting, a YouTube channel this reporter had reached out to, offered a full-time job where the role would be to "post news related to law", with a salary of 25% of the channel's revenue.
Many experts fear this commercialisation of court content.
"Honestly, while filing the petition," Tripathi said, "I was hopeful that live-streaming would be used responsibly and for its intended purpose".
"During the hearings, the court and the parties deliberated the possibility of misuse and hence, suggestions to curb such practices were given. It was hoped that the court's guidelines would address them," he said.

However, Tripathi regrets that YouTube channels are not just misleading viewers but also going against the spirit of the judgment and the live-streaming guidelines issued thereafter.

"There was a bar on the editing of such videos and their use for commercial purposes. I believe such YouTube channels are attempting to elicit commercial gains from the live stream, and hence, their videos have catchy and misleading titles, which attracts eyeballs and more views," Tripathi told Decode.

Editing and misleading titling of courtroom proceedings is apparent on YouTube.
This reporter reached out to Law Chakra, the YouTube channel that uploaded Deepak's video, and nine other YouTube channels to understand their work. Only Law Chakra responded.

Law Chakra: "Stay tuned for legal fun here"
A little more than one year since its operation, Law Chakra, the YouTube channel, has garnered a massive subscriber base of 2,07,000 as of 30 June 2023. As per Social Blade, the channel has had close to 8.1 million video views in the past 30 days and gained 23,000 subscribers.

Cumulatively, it has received a total of 45 million views on its channel, testimony to its popularity on YouTube.

Founder Ravitosh Dubey and his team of 3 other individuals, operating out of Patna in Bihar, credit the phenomenal rise of the channel to the "increasing popularity of online education".

"The idea for Law Chakra originated from my passion for law and my desire to make legal education accessible to a wider audience," Dubey told Decode.

Noticing a lack of "comprehensive and engaging" legal content on YouTube and other online platforms, coupled with the increasing popularity of online education, Dubey was inspired to start Law Chakra.

He claims that the channel has helped many in their law studies, exam preparation, and understanding of complex legal concepts.

"With the advent of live streaming", Dubey said, "viewers now have the opportunity to observe court proceedings in real-time and share their observations, opinions, and questions".

This dynamic engagement has created a sense of virtual courtroom experience and has fostered a deeper connection between viewers and the legal system, he claims.

But not everyone agrees.
"Oral arguments before the courts, as we see now on YouTube channels, form only 3%-5% of the actual work of an advocate," Hamza Lakdawala, a practicing advocate in the Bombay High Court told Decode. "The real work is in the pleadings and everything that goes before the stage of oral arguments. Live streaming misses this part."

Lakdawala is of the opinion that a person cannot learn litigation by watching something. "What we are rather seeing is the judiciary becoming a circus."

Sensationalising court proceedings
"Will rip you apart, Judge warns", "Don't hide facts madam, Judge warns", "For Hindi, Lawyer Fights Judge", "Bow Head &... IAS Warned", and "Fake Lawyer, 10 Lakh fine" are some of the thumbnails and titles of videos of court proceedings one can find on YouTube.
A common disclaimer found across such channels that Decode analysed: 'Only for education purposes'. This is possibly done to show compliance with the courts' live-streaming guidelines that do not allow commercial use of the videos but only allow its use for training, academic, and educational purposes.
"You will see many videos of High Court judges screaming at IAS and IPS officers. What educational or journalistic value do they hold?" Lakdawala pondered.
In one video, a judge is seen scolding a bureaucrat and calling him "possibly corrupt" and "belonging to a gang of cheaters". The title of the video read: 'DM, IAS Called Corrupt Director Angers Judge'.

In the 62 comments of this sensationally titled video, comments hailing the judiciary and the judge are plenty. "Wounderful. 🙏🙏 If every Justice behaves like you. The Juducial system will be rested by common man. Sir, Hats off to you.dhanyavaadaalu. 🙏🙏🙏", read one comment.

Some even called the YouTube channel a "stressbuster for the common man".

Lakdawala feels such titling of the video and selective reproduction of parts of a complicated case will lead to formation of "personality cults".

"There is a judge in a High Court who is very famous on YouTube. His videos have comments like 'great judge' and 'aag laga di' (set fire), etc. This may lead the judge to not only be more self-conscious about how they conduct their court but may also result in the formation of preconceived notions about the judge in the public's mind," Lakdawala said.

And it is not just the sensational titling of the video that is the problem. Courtroom proceedings are also edited to show only the parts that have some sort of action—usually, someone lashing out— so as to keep a viewer hooked to the video and garner views.

For example, in this 6-minute video titled "Bengal Bloodshed, Stop the Elections", the video lacks coherence as it abruptly starts in the middle of the hearing and selectively fast-forwarded to the most sensational segments, like when the judge says "It's a shame for the state", referring to the political violence before local-level elections in West Bengal.

The video also ends abruptly just as the judge begins to dictate the detailed court order, depriving viewers of the opportunity to grasp the entire context and comprehend the matter in its entirety.

And such edited videos of judges expressing their preliminary or final views or asking questions are being circulated widely with the intention of demonising them, as we saw during the Supreme Court's consideration of same-sex marriage petitions.

The availability of multiple camera angles in live-streamed court sessions makes it easier to create seamless edits, resembling immersive movies, sometimes even incorporating background music.

"Such videos, often accompanied by defamatory captions, take advantage of the fact that many social media users are unfamiliar with video editing techniques and may not recognise the manipulative edits," Lakdawala said.

"If this trend persists, our courts are likely to be vulnerable to these malicious efforts, leading to a loss of public trust and faith in their judgments. This, in turn, could result in reduced access to justice and diminished respect for the judicial system."

Not only do the channels upload long-form edited courtroom videos, but they also create YouTube shorts that have a maximum length of 60 seconds (here, here). Experts fear this strips away the seriousness attached to a courtroom proceeding.

Law Chakra said that they exercise "great caution and responsibility" when selecting and discussing cases to upload on their channel.

"Before featuring any case on our channel, we conduct thorough research and due diligence to ensure the accuracy of our information and respect the privacy of individuals involved," Dubey said.

When asked how they decide a case is worth uploading, Dubey said that they rely on multiple sources to gather information about "noteworthy cases".

"These sources include news reports, legal publications, official court records, and discussions with legal professionals. Additionally, we focus on specific High Courts and courtrooms that handle significant cases and have a wide impact on legal matters," he said.

Price too big for transparency? The need for stricter guidelines
Experts have expressed concern that the proliferation of courtroom content on social media may have a detrimental impact on the administration of justice.

"The day the judge realises that so many people are watching him, he will start questioning himself. A judge has to play the 'devils advocate' in order to extract the best arguments from both the supporting and the opposing parties. But when he realises that he is being watched and his questions may be mistaken as his final view, there could be self-censorship," Lakdawala said.

This, Lakdawala thinks, could negatively affect the justice administration.

"A judge may ask a silly question here and there because he may not be an expert in all fields of law, like tax, matrimonial, constitutional, or criminal. But he may have to sit to hear all such cases at some point in time due to various reasons like shortage of judges, etc," he said.

"What happens in such cases is that the judge, realising that so many people are watching him, may not ask such questions and fail to get to the bottom of the issue. As a result, he may pass a poor quality judgement. This is the price we pay for transparency and it's a price too big," Lakdawala said.

A lawyer, especially a young lawyer just starting out in their career may even face difficulties in their professional life if headlines are misleading.

"There was a video of a High Court Chief Justice yelling at a young woman lawyer. The judge is highly regarded. But that video was viral. Imagine what kind of impact that would have on the said lawyer's career and self-confidence. I would be terrified if I was in their shoes. The video was later ordered to be taken down," Lakdawala said.

It is not just the lawyers who are at the receiving end.

"Frankly, none is spared in the age of social media and instant gratification," Deepak said referring to judges.

When Law Chakra uploaded Deepak's video with the misleading title, Justice Bhat too wasn't spared. He was subjected to trolling, harsh comments, and taunts.

"The arrogance and sense of superiority that the judges have displayed is really nauseating," read one comment referring to Justice Bhat. "These judges can't tolerate it when someone outsmarts them," read another.
This, many feel, leads to people forming stereotypes against a judge.
"The Hon'ble Judge's [Justice Bhat] vast knowledge and the ability to aptly frame a question of law are an education for any lawyer. I hope the public observes restraint in its language while exercising its right to critique and criticise, and I equally hope that public comments don't yield to anyone pandering to the gallery or grandstanding for posterity," said Deepak.
Lakdawala feels that there is a need, at the very least, for the courts to frame stricter rules and retain copyright over all of its live-streamed videos and disallow its reproduction for social media. "It should be made a punishable offence under the contempt of court law". This, he feels, will help keep a check on its misuse.
Tripathi, the petitioner in the live-streaming litigation too agrees with Lakdawala's view. "I believe there needs to be a deterrence mechanism that prevents commercialisation of proceedings and most importantly, prevents misleading content being circulated," Tripathi said.
A more radical approach, Lakdawala feels, would be to do away with live-streaming itself.
"Once something is made available online, you may not have the control to restrain its reuse. Best would be to do away with it. If the objective of the court is to preserve records, it can be achieved by following the US model".
In the Supreme Court Of The United States (SCOTUS), live streaming or broadcasting of its proceedings is not allowed. However, it does release audio recordings and transcripts of oral arguments after the cases take place. These are made available on the court's official website and other platforms.
The public can access these resources to stay informed about the cases and the arguments presented before the Court.
Traditionally, SCOTUS judges have been resistant to the idea of live streaming (here, here), citing concerns such as maintaining the decorum and dignity of the court, as well as protecting the privacy and security of the participants involved.
"What most American people would see is a 15-second takeout, 30-second takeout from our arguments and that would be uncharacteristic of what we do. The American public would not be educated, but miseducated," said Associate Justice Antonin Scalia, a SCOTUS judge between 1986 to 2016, in a 2012 television interview.
Lakdawala feels that only audio transcripts should be made available to the public. "Archiving and preservation of court proceedings are necessary. But I do not agree with live-streaming," Lakdawala said.
Deepak, however, feels that it is up to the public to discard platforms that sensationalise court proceedings.
"In the era of user-generated content, memes, shorts and reels, how do you hope to censor content unless it crosses a line? While the egregious ones must be made an example of in public interest and in the interest of preserving respect for constitutional organs, in the long run, I hope that sensationalist platforms and channels will be discarded by the public itself," he said.
"That's the best way to teach a lesson, and quite a few mainstream media channels have learned this lesson the hard way."
In October last year, a petition was filed before the Supreme Court seeking directions to preserve the copyright of the court over the video footage of court hearings and prevent its commercial use. The fate of the petition is currently pending.

Do you always want to share the authentic news with your friends?
Subscribed Successfully...
Enter Valid Email Id
---