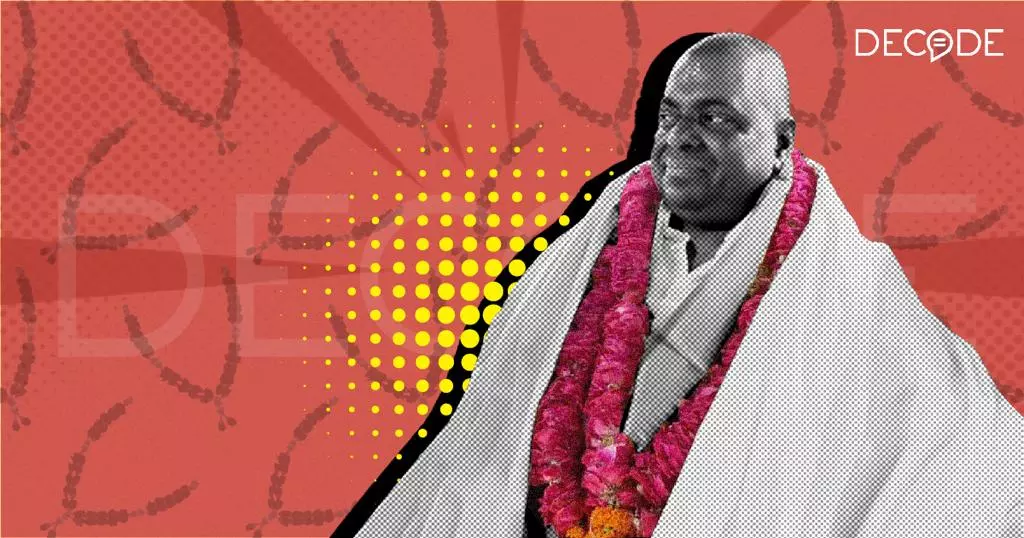 Santosh Singh Bhadoria, popularly known as Karauli Sarkar Baba, claims to have cure for everything— from cancer to short height to the 'disease of homosexuality'. The self-styled godman runs an Ashram in a village in Kanpur, in Uttar Pradesh. He is also sort of a social media influencer with a number of Facebook, YouTube and Instagram pages dedicated to him. Each of his videos get lakhs of views.
In these videos, he claims to raise someone's height in less than 30 seconds, promises a cure for advance cancer, and exorcises the spirit of Bruce Lee.
A website called karaulisarkar.com says that the godman performs all treatments using Vedic learnings but none of what he suggests is backed by science. For example, in one video, upon a woman's request to increase her height, Baba closes his eyes and says, "Add the memory of increasing the height by two and a half inches to three inches." Fifteen seconds later, he asks the woman to move and feel the increased height.
In another video claiming to cure homosexuality with gestures using his hands as if communicating with some divine power and loudly chanting "Shiv," he says, "Change his gender as fast as possible, increase his masculinity, and remove the curses of transgenders."
Fuelled by hits on social media platforms, Santosh Singh Bhadoria made a fortune- going from owning a small clinic to possessing a 14-acre estate in just a few years. He is so popular that all his followers Decode spoke to said they found out about the Baba through his viral videos on Facebook and YouTube.
Baba's Cures
Krishna Gaur first visited Baba three years ago and has been visiting occasionally since then. Gaur, an English tutor and "life coach" by profession, was influenced by Baba after seeing his videos on YouTube where he claimed to treat "complex problems." In a Quora post, Gaur claimed that his life changed after visiting Bhadoria and opting for a 9-day treatment process that cost Rs 65,000. "I used to live in a rented house but now I have my own house. I had many enemies, now I am surrounded by friends only. Every day there used to be 100 fights in the house, today everyone lives with love and there is no peace without seeing each other," he wrote.

From 1992 to 1995, many cases were registered against the godman which includes charges of murder. Bhadoria, the godman, was also charged under the National Security Act, according to reports. Reportedly a Shiv Sena member before becoming a member of a farmers' union in 2010, Bhadoria went to Kerala to learn different types of therapies.
Upon returning, he set up a clinic in Civil Lines of Kanpur where he used to claim to treat diseases using Ayurveda, before setting up a 14-acre estate around 15 kilometers away from Kanpur in Pipar Gawan.
Baba's estate is kind of a small city where all facilities are available, including places to stay, groceries, and other basic amenities. "Those who opt for the 9-day process have to stay in or around the Ashram only. Facilities for food and lodging are available around the Ashram," Krishna Gaur who travelled to the Ashram from Bharatpur in Rajasthan told Decode.
Also Read | Indians Are Willing To Pay To 'Manifest' A Baby, Especially A 'Boy'
Sumit Tyagi, a salon owner from Nagpur said he was influenced by Baba after watching his videos on Facebook, in which he treated terminal illnesses. He took his mother to the Ashram to treat her chronic knee pain, which he claims was cured after performing a Hawan (a Hindu ritual of burning Himalayan Cedarwood). It cost him Rs 1.5 lakhs.
On Facebook, the various pages dedicated to the godman would collectively have a million followers. One of the two biggest pages on Facebook is 'Karauli Sarkar Baba ka Bhagat' with 105K followers. The page is full of videos of the godman claiming to treat blindness, brain stroke, mental illness, and 'evil spirits' by uttering words and by performing holy rituals.
In a video posted on the page, a person says that he has visited Baba five times in seven months, but his problem has not been solved. He admits to entering without following due process this time. Bhadoria tells him that he has lost all blessings for lying and that he might even be cursed to death.
Another Facebook page 'SanatanPrahari Mumbai Karauli Sarkar' has 283K followers. The pinned post on this page claims that Bhadoria's blessings have cured fourth-stage cancer of the person in the video.
Other major pages and groups on Facebook that posts videos of the Baba performing quackery is Karauli Shankar Mahadev(32K members) , Karauli Sarkar Darbar(13K members), सनातन प्रहरी करौली शंकर महादेव(91K members), Baba Ka Dhabba Karauli Sarkar(42K members) जय करोली सरकार(10K followers), करौली सरकार सनातन प्रहरी कानपुर (24K members), Shivshakti Karauli Sarkar(54K followers).
On the website of Karauli Sarkar there are three YouTube channels linked— Karauli Sarkar -Ishwariya Chikitsa Vigyan Kendra has 4.4 lakhs subscribers, NWU 24 has 15.5 thousand subscribers and Karauli Shankar Mahadev has 85.2 K subscribers.
In the third most popular video, with 26K views, on the Karauli Shankar Mahadev channel, a man while talking to Baba says that he has come from Canada after watching his videos online. The man in the video says, "My daughter eloped and married a Muslim man 20 years ago, and she lives in London." In response, Baba says, "Your daughter is mentally ill." The video is titled "Canada se aaya hai bhakt, muslaman ne kiya hai vash me (This follower came from Canada, a Muslim has kept her captive)."
The videos show that whenever someone challenges the self-styled godman, he claims that they are against Hinduism and are maligning its glory. Along with performing quackery and claiming to cure terminal illnesses, Baba is also known for getting rid of "Muslim and Arab ghosts" from his followers' bodies.
The Victims
Trixie, a 19-year-old trans woman who was tricked by her parents and taken to Baba's Ashram last month was left traumatised. She did not know the purpose of the family visit to the Ashram, which cost her parents 1.5 lakh rupees, until her mother stood in front of the stage where the Baba sat and complained about Trixie's sexuality at the gathering. She asked the Baba for cure. The whole event was broadcast on YouTube.
Trixie was shocked and the only sentence she could utter was "Parents are not always right."
"Your mind is full of filth. If you keep being this way, you will be beaten by boys, and your mother should pray to cure this 'disease' of homosexuality," the Baba told Trixie.
"Later, I was taken to a black magic session where many others were crying and screaming. I was terrified. I tried to run but was forcefully made to sit there by the two of Baba's men," Trixie told Decode.
The video of Trixie and her family was uploaded on Facebook page- श्री करौली शंकर महादेव. It gained 260,000 views. Although Trixie immediately reported the video on all the platforms to, it was not taken down until it went viral.
In an Instagram post, Trixie shared her experience of her visit to Karauli Baba's ashram. She says, "In front of 400 people and rolling camera being telecasted on YouTube, I was humiliated". She also shared a clip of a 'black magic' session that she claims to have recorded herself from the ashram.
The practice of "conversion therapy" on LGBTQ+ individuals has been found to cause mental trauma and even self-harm, with many cases resulting in suicide. As a result, the Madras High Court has banned this harmful practice in June 2021.

The public bullying and stigmatization of Trixie by the Baba is a violation of the Transgender Protection Act, 2019. Section 18(D) of the act provides for punishment of individuals who cause emotional, verbal, or physical abuse to a transgender person, resulting in harm to their mental well-being. Such offenders can face imprisonment for two years.
The practices of Baba violate at least three laws: laws against quackery, regional laws against black magic and superstition, and precedents set by Madras high court against conversion therapy. They also violate Article 51A(h) of the Indian constitution, which makes it a fundamental duty for Indian citizens to develop scientific temper, humanism, and the spirit of inquiry and reform. While cases related to black magic and superstition can be penalized under some sections of the Indian Penal Code (IPC), there is no particular central law against them. Bihar, Maharashtra, and Karnataka have codified laws against superstition and black magic.
Regarding quackery, Section 34 of The National Medical Commission Act, 2019 stipulates that any individual engaged in quackery shall be penalized with up to one year of imprisonment, a fine of up to five lakh rupees, or both.
Recently, Baba was also in the news when a doctor named Siddarth Choudhary from Noida filed a case against him. Choudhary accused Karauli Baba's associates for attacking him after he challenged Baba's magic cure of uttering 'Om Shiva Balance' that he claimed would solve his family's problems. Choudhary had also found out about Karauli Baba through videos on social media.
In response, Baba had told the media that the case was a conspiracy. "There wasn't any violence against Siddarth, whose conduct was an act of maligning Hinduism and was anti-national," he said.
Who Makes Karauli Baba Viral?
The most viewed video on a YouTube channel called Shiv Shakti Darbar (78.8K followers) is one with a thumbnail that says, "बहुत प्रेत देखिए किस तरह मौलाना लड़की के शरीर में प्रवेश कर मर्दाना आवाज में गाता था।" (See how the ghost of a Muslim priest enters into a girl's body and sings in a masculine voice.) The video has 9.8 lakhs views.
The same video is also uploaded on a YouTube channel called Karauli Sarkar Purvaj Mukti Dham (98.8K subscribers). It has 11 lakh views.
Among the top six popular videos on the channel, five are of Karauli Baba exorcising "Muslim ghosts" that he claims have possessed the bodies of Hindu women.
Exorcism by Baba is not limited to witches and Muslim ghosts only. In one video, Baba claims to have removed the spirit of Bruce Lee, the late American martial artist, and actor, from the body of a girl. When a man from Nepal claimed that his daughter's marriage was not going well, Baba stated that she was under the control of the spirit of Bruce Lee and constantly wanted to fight. He claimed to have removed the spirit of Bruce Lee by saying 'Shiv Balance'.

There was another video in which a urologist from a reputed hospital in Delhi asks the Baba to cure his teenage son's gender inclination. The video was posted by a Facebook account named सनातन प्रहरी एटा (keeper of Hinduism) with 99,000 followers. It had 324,000 views, 30,000 likes, and 1700 shares. The video was captioned "Even this big doctor has come to Karoli Baba from Kanpur for his family's cure."

"My son used to make drawings of beautiful witches in his childhood. When we took him to psychologists and psychiatrists, they told us that he might be suffering from attention deficiency disorder," the urologist explains in the video. "Over time, when he hit puberty, he started showing 'feminine' traits. I know that there isn't any medicine available for this, but it's troubling our family a lot."

The Baba responds, "It's obvious that when some outer force covers you, it'll bring change, and it cannot be cured with medicine."
The whole gathering was live-streamed on YouTube. The Baba tells the doctor's son that the witches have made a girl out of him, and the family has to perform a one-day hawan process to cure this.

The video was removed from Facebook on April 25, this year but has been again uploaded on the same day by another channel. In this video the doctor and his family have been blurred but his identity can still be established from audio only.

"The video was uploaded without my family's consent. It has created problems for me at the hospital. I reported it many times on all the social media platforms as it violated our family's privacy but it was not removed," the doctor told Decode.

The doctor's family visited Santosh Bhadoria again as Baba suggested they visit every two months. This video too reveals the the teenager's face. Uploaded on a channel named Adbhut Gyan aur Chikitsa Snaatan Prahari (Wonderful knowledge and medical science, Guardian of Hinduism), it has 17,000 views.

Karauli Baba also has a Twitter Blue subscription with 696 followers. A video posted on Twitter claims that he has treated depression, autism, 'craziness', unemployment and bone related illness solely through the process of Hawan and his words.
On the Instagram account named Karauli Sarkar Official Account linked to the website, Baba has 3,428 followers, and the content is in line with that of Twitter. Another Instagram account, @radhapalakraman, which is dedicated to Baba's content, has 1,175 followers. After Trixie called out Baba on Instagram, this account commented on her post, trying to gaslight her into believing that she is suffering from a disease of 'being transgender' and that she is calling out Baba because she is ignorant of the values of Hinduism. There are many other accounts in Baba's name with a few hundred followers.
The Telegram account linked to Baba's channel has 701 subscribers. Links to two WhatsApp chats and YouTube channels are provided on this Telegram account. The two WhatsApp chats have 429 and 472 members.
There is an app on the Google Play Store named Karauli Sarkar, which has been downloaded over 5,000 times. The app has been rated 12+. It features videos of quackery and exorcism. It also contains songs that praise Santosh Singh Bhadoria, and provides detailed information on how Hawan can treat people with terminal illnesses, bad luck, and those who are captive to evil spirits.
Despite all the regulations in place, social media platforms have continued to host such pseudo-science content of Karauli Baba. Decode has reached out to YouTube for comment. We will update the story when they respond.


Do you always want to share the authentic news with your friends?
Subscribed Successfully...
Enter Valid Email Id
---