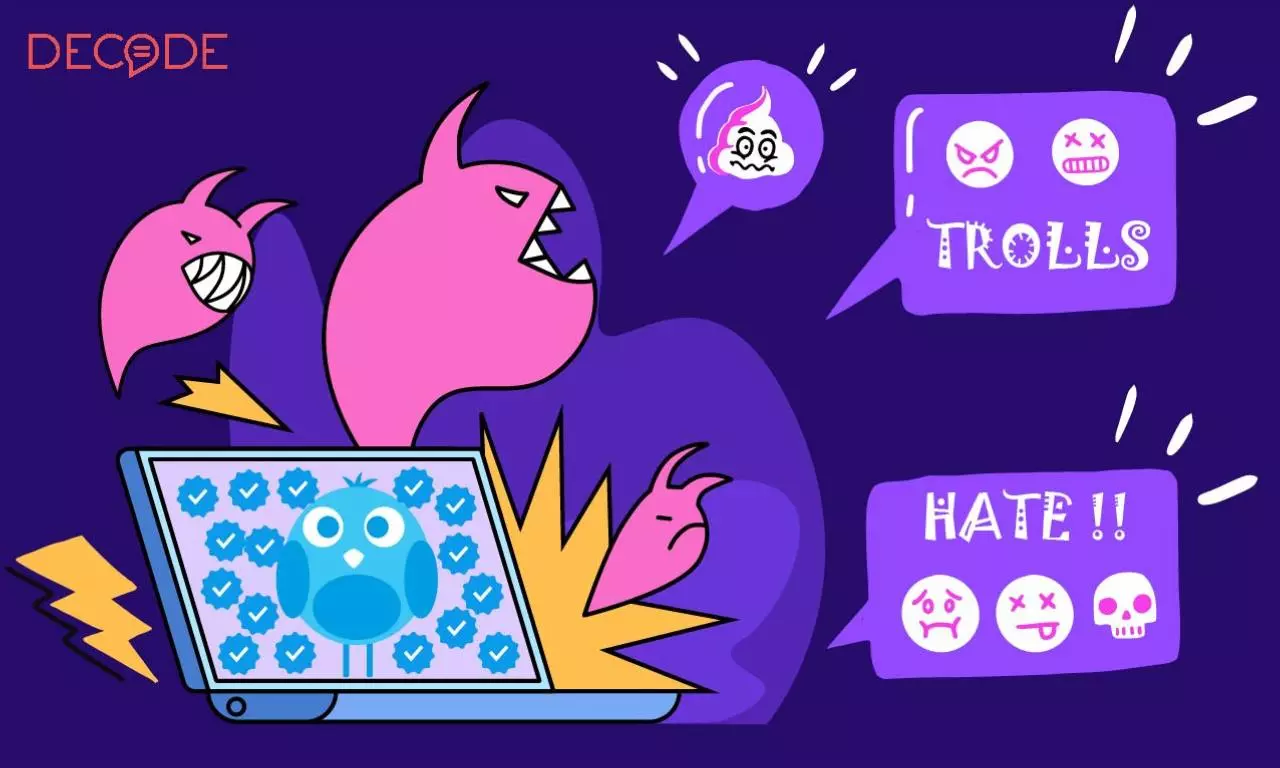 A blue tick next to your Twitter account was once considered a prized asset - a symbol of verification and authenticity - given to only those who reached a certain position of prominence. Now, conspiracy theorists, trolls, misogynists, hate-mongers, and other unverified troublemakers are also sporting a blue tick - all for $8.
Following the highly publicised takeover of the microblogging platform by Elon Musk, one of the most contentious changes proposed by the Tesla CEO was the removal of the legacy verification system, which was aimed at providing a tag of legitimacy to Twitter's power users - political leaders, journalists, celebrities, athletes, influencers and other public figures, and replace them with paid Blue subscribers.

Now, anyone who pays US$8 ($11 for mobile users) can get a blue tick, while organisations have to pay $1000 per month for the gold tick. Furthermore, Musk also announced that starting from April 15, the platform will only promote tweets by paid users in the 'For you' tab, while legacy verification badges will be removed by the platform by the end of the month.
This begs the question - who are these blue tick subscribers in India, who shall soon get priority on your Twitter feed? And what will Twitter look like once that happens?

Trolls, Misogynists And Hate-Mongers In Your Feed
The blue tick on Twitter has been a boon for many prominent users, helping them authenticate their accounts, and avoid impersonation. However, with the introduction of the subscription model, the blue tick simply signifies that the user had coughed up the subscription amount.
In India, where communal and political propaganda and conspiracy theories have plagued social media, we found several accounts - both obscure and prominent - with a history of promoting communal disinformation and conspiracy, now sporting a blue tick.
One such account is @MeghUpdates - an obscure handle that rose to prominence in the past few years, and has been flagged by BOOM several times in the past for spreading communally charged disinformation targetting the Muslim community. The handle is now a Blue subscriber.
In February, the account shared doctored footage to falsely claim that it shows Muslims calling for violence against Hindus in Bihar. In March, it shared a video from the Australian social experimental TV series 'The Swap' to falsely claim that it showed Australian parents angry at the Islamization of schools in the country. It also spread the false rumour that Prime Minister Narendra Modi was one of the front-runners for the Nobel Peace Prize this year, while misquoting a statement from Asle Toje, Norwegian Nobel Committee Deputy Leader.
@KreatelyMedia is yet another prominent Twitter Blue handle, which has consistently posted communal hate posts that target the Muslim community. On several instances, BOOM has fact-checked this handle for spreading communal disinformation, some of which can be read here, here and here.
The posts below exemplify some instances of trolling and hate towards the Muslim community by @KreatelyMedia.
Yet another Twitter Blue account, @UrduwoodExposed, is filled with posts trolling Bollywood celebrities, with Muslim celebrities like Shah Rukh Khan and Amir Khan appearing as frequent targets of trolling and Islamophobic posts. Similar troll accounts @GemsOfBollywood and @Wokeflix_ , which have incessantly trolled the Bollywood film industry for being 'Islamic', along with making transphobic and casteist posts, have also gotten verified.
Ritesh Jha, a far-right content creator who goes by the moniker Liberal Doge, made headlines in 2021 after conducting an live online auction and rating of Pakistani women on YouTube. While the video sharing platform had taken down his channel, Jha is now a Twitter Blue subscriber, and sports a blue tick.
Furthermore, BOOM also discovered other less-prominent accounts that have also engaged in casteism, misogyny and trolling, and are now sporting a blue tick owing to their Twitter Blue subscription.

One such account is @peldijiye, going by the name ठरकी लेहरू, which was found to consistently post content that objectified women, and also ridiculed the Dalit community. Furthermore, troll accounts like @BeingKaafir, @laden_recycle, @VanShar1 and @DakuMemes have persistently posted misogynist and Islamophobic content, and are now endowed with a paid Blue tick.
SSRians Have Blue Ticks Too
SSRians - a term used to describe those who believe and promote the baseless conspiracy theory that late actor Sushant Singh Rajput was murdered, and did not die of suicide as evidence and police investigations have suggested - have also joined the bandwagon.
Twitter handle @HeliPandya_SR, who has added the notoriously infamous SSRian hashtag #JusticeForSushantSinghRajput, is also a Blue subscriber. So is user @PHOENIX21PHOTON, who has the notoriously popular hashtag in his bio too. Neither of these handles discloses the identity of the user but continues to post incessantly on SSRian conspiracy theories.

According to Twitter's new policy, all of these accounts with a history of trolling, spreading hatred, and conspiracy theories, will soon have their posts prioritised on Twitter's curated feed, ahead of all the legacy verified users, including journalists and media outlets, who do not wish to opt-in for the paid subscription.
The Legacy/Blue Divide
Musk's plan to monetize the platform through Blue subscriptions banked heavily on legacy power users opting in for the subscription, with the introduction of some attractive options - ability to edit tweets, write longer posts, and be promoted in Twitter's curated feed, and most importantly, keep the blue tick in their handles.
However, data compiled by researcher Travis Brown, who has been tracking Twitter Blue accounts since January, shows that only a handful of legacy verified users have paid for Twitter Blue. According to Brown's data, only 6,482 out of the 420,000 legacy verified accounts have opted in for Twitter Blue.
The database compiled by Brown also contained a column with free-text self-reported location information.
BOOM used this to filter out all the accounts which had self-reported "India" as their location and came up with a sample size of 9,685 Blue subscribers who self-reported their location as India. It should be noted that this sample size does not signify the total number of actual Blue subscribers in India.
Our analysis of the database shows that only 395 Blue subscribers in India were legacy verified users - suggesting that only 4 per cent of the sample had a legacy verified tick. These include the accounts of Indian Youth Congress, the Dalai Lama, journalist Barkha Dutt, Isha Foundation, and Anmol Ambani (son of industrialist Anil Ambani).
American media outlet The New York Times, was one of the first legacy verified handles to have their blue tick axed - despite being the 24th most followed handle on the platform with over 55 million followers. This came shortly after a company spokesperson stated that the media outlet will not be paying for a gold tick, and will not reimburse its staff for a Blue subscription, "except in rare instances where this status would be essential for reporting purposes".
The White House, with over 8 million followers, also stated that it won't be paying for its Twitter handle, or for its staffers. In an email written to White House staffers last week, White House director of digital strategy Rob Flaherty wrote, "It is our understanding that Twitter Blue does not provide person-level verification as a service. Thus, a blue check mark will now simply serve as a verification that the account is a paid user."
For $8 You Can Go From Obscurity To Verified
While legacy power users have been less than keen to switch to the paid subscription to keep their blue ticks, many obscure users with low follower counts have now obtained the blue tick by paying for the subscription.

According to Brown's database, 4,526 Indian Blue subscribers (nearly half of our sample size) have less than 1,000 followers, while 1,360 of them have less than 100 followers. Furthermore, 217 Blue subscribers in India were found to have less than 10 followers.
Meanwhile, Twitter has recently discontinued distinguishing between legacy verified ticks and paid blue ticks (earlier hovering over the blue tick would reveal whether it is a legacy verified account or a paid user), thus blurring the lines between accounts that were authenticated, and those that paid for the tick.
BOOM used a browser extension called 'Eight-Dollars' which would reveal whether the blue tick was obtained through legacy verification or through payment.
Where Do The IT Cells Go?
IT Cell, a term used in India to denote coordinate inauthentic activities on social media, has been an overtly visible part of Twitter for years.
The platform's algorithm has been gamed time and again by large to small corporations, political entities and a list of bad actors, by using a large pool of accounts run by paid individuals to fabricate 'trending conversations' to help their respective agendas.
However, most of these accounts remain in obscurity and have no blue tick on their handles. How would the IT Cells cope with the new paid blue tick policy?
Prateek Waghre, Policy Director at the Internet Freedom Foundation, believes that Twitter Blue would have an impact in the IT Cell industry, by restricting its operations to those with the means to get their IT Cell employees a blue tick for $8 a month (currently ₹ 648).
"Social media, when it first came, was meant to be a great equaliser. Of course, it hasn't turned out as such in many ways. But with Twitter Blue, it will cue further towards those who are willing and able to pay for it," he added.
So What Does A Blue Tick On Twitter Mean Now?

The legacy blue tick was difficult to get - only reserved for those who reach a position of 'prominence'. While most were people with mass popularity and following, it also included lesser-known journalists and media outlets with lower follower counts, who were able to authenticate their reporting with an account that was verified.
Now, Twitter Blue has entirely nullified the 'verification' aspect of the blue tick - now it simply signifies that the user is a paid subscriber.
Waghre believes that there will be a transitional phase when the perception of a blue tick will gradually change.
"However, for many casual users the blue will continue to carry the tag of authenticity and verification until a change in perception happens," Waghre told Decode.
Meanwhile, Musk continues to mislead users by labeling the blue tick as 'verifying', despite no verification process involved in the subscription. When called out, he responds with a '$7'.
All queries to Twitter was responded in a similar fashion - with a poop emoji 💩.
The misleading blue tick, and Twitter and Musk's complete lack of accountability, opens up a plethora of opportunities for not just trolls and hate-mongers to spread their agenda, but for scammers to appear more authentic.

Although Twitter had cracked down on impersonators using the blue tick, immediately after Twitter Blue had rolled out last year, cybercrime investigator Ritesh Bhatia believes scammers armed with a blue tick will greatly exacerbate cybercrime on the platform.
"Many people are looking for a customer care representative for a company, and many of them come on Twitter. What if a blue tick verified person says he is the customer care executive of Maruti, or Axis Bank, and asks for a credit card number," asks Bhatia. He highlights how the blue tick, which is linked with trust on the platform, will increase the chances of the person giving away their sensitive details.
The old legacy-verified system also had its share of bad actors - many political and religious leaders, along with members of the media, have in the past shared divisive and polarising content in the past, with a legacy-verified tick.

But these bad actors had only gotten their ticks after reaching what pre-Musk Twitter deemed as a 'position of prominence' - something that created significant barriers for many others who wished to use social media for abuse and trolling with a blue tick.
Twitter Blue has, however, broken that barrier, blue-ticking anyone who could afford the eight dollars. And, according to Elon Musk, they shall soon dominate your feed.
Additional reporting by Sujith A.

Do you always want to share the authentic news with your friends?
Subscribed Successfully...
Enter Valid Email Id
---