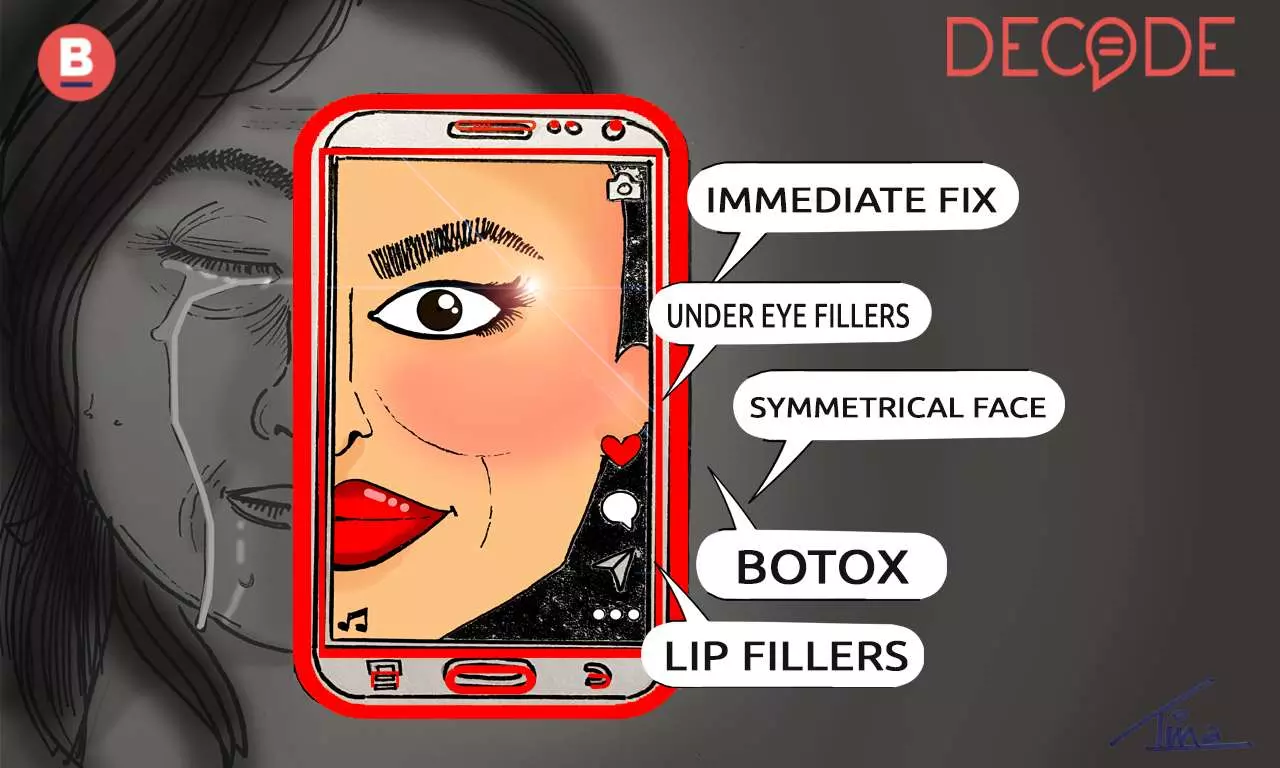 In 2014 Shraddha* was in college, studying to be a chartered accountant. She spent hours on YouTube watching vloggers like Sherry Shroff and Cassandra Banks who documented their "amazing lives, their amazing travels, their amazing skin". At that time, Shraddha had a bad case of painful cystic acne, related to her diagnosis of Polycystic ovary syndrome. The 18-year-old hated the degree she was pursuing to please her parents; desperately wanting to feel better about her life, she decided that the first step was to fix her skin. She booked a consultation with a nearby dermatologist in Chembur.
Thus began a trap that would last for three years.
"Every time I went, she would do a new procedure," she recalled. Despite having begun with the specific purpose of treating acne, over time the doctor pushed her in the direction of 'changing her face', she said.
The suggested procedures became increasingly invasive: chemical peels, laser treatments like Intense Pulse Light to treat pigmentation and 'renew skin', microdermabrasion (diamond facial) via a machine with many tiny needles, and the 'vampire facial' (PRP) made famous by the Kardashians where blood is reinjected into the face to treat wrinkles.
Each visit cost between Rs 2,000- Rs 3,000 — just affordable enough to pay for through an internship. Over three years, Shraddha estimates spending at least Rs 60,000 at the clinic — something she hid from her parents. The videos she watched made her feel that perhaps this is what she had to do to look 'normal'.
In 2023 the messaging around self-care, self-improvement, and body positivity is all over Instagram and YouTube through inspirational videos but underneath those are the familiar roots of the beauty industry that profits from marketing impossible and unhealthy beauty standards to women young and old. Fascinatingly, in the years since the Covid-19 pandemic the combination of choice feminism, increased time spent online, social media apps and the popularity of reels as a medium has created a perfect storm of conditions to usher in a new normal for appearances.
Decode investigated how a nexus of beauty influencers, dermatologists, and wellness clinics combined with grey-area regulations around online promotion has been pulling young Indian women into a cycle of injectables.
What Are Injectables?
Injectables are a soft tissue fillers injected into the skin at different depths to help provide facial volume, smooth lines and wrinkles and soften creases, or enhance different face parts. When injected, these substances can cause allergic reactions, infections, and the death of skin cells. Another risk is that improper injection technique can lead not only to swelling and lumpiness, but also more serious side effects such as death of skin cells, and embolism leading to blindness, notes a Harvard Medical School report. A lot of the procedures are not FDA approved but it's popular across the world.
What You See Is What You Want

One of the final times Shraddha visited the dermatologist, she recommended a filler for one side of her jaw to make her face symmetrical. "She said she can do it in ten minutes. It was something I had never noticed before, and then I couldn't unsee it," Shraddha said.
This kind of language describing an 'immediate fix', 'lunch-time procedure' and relative affordability through EMIs for instance— is characteristic of the rhetoric used to market 'non-invasive' treatments involving injectables. Considered less drastic and thus less taboo than cosmetic surgery, the boom in fillers and botox along with the prevalence of social media over the past decade has done much to make them palatable and push a 'new normal' standard for skincare and beauty on young women like Shraddha.
These are procedures that promise results if you get them consistently over a period of time (and consequently 'invest' a large sum of money). In Mumbai where Shraddha now works as a producer for a major media company, her friends between the age of 23 and 26 who work in advertising and media regularly get procedures like fillers and skin-lightening to keep up with the implicit pressure to look a certain way, she said.
Shraddha attributes her own foray into the quicksand of expensive skincare to her being young, vulnerable and impressionable at the time. Now 25, with a job she enjoys, Shraddha feels her sense of self is more secure. But she remembers all too well what it felt like to spend hours in front of the mirror staring at her face from different angles obsessing over all her perceived imperfections.
For a while now, filters that are available on social media platforms and as phone camera accessories have been setting beauty standard norms. Instagram in particular, as an image-focused app has been well established to be harmful to the mental health and body image of teenage girls. Facebook, which owns Instagram had kept its internal research on the issue private, the Wall Street Journal reported in September 2021. Former employees told Time Magazine that this effect was more of a feature than a bug in the platform. The algorithm is designed to show you more of what you already view, and it's easy for young women to be pulled into a vortex of damaging content.
This is exactly what happened with Disha Sharma, a 29-year-old editorial lead for a venture capital firm in Delhi, who got hooked on skincare videos when the pandemic hit in 2020. Beauty influencers started to pop up on her explore page, and over time her immersion in Instagram 'skinfluencer' accounts led her to an India-based Reddit forum where the most devoted gather.
The subreddit 'Indian Skincare Addicts' has 1,35,000 members and sports the tagline: 'In pursuit of the Chok Chok glow'. It's a nod to where the pendulum has moved — the 'clean-girl' look with seemingly minimal make-up and a dewy complexion like Korean pop stars and actors. They call it 'Chok Chok' - which indicates 'Good skin' is now mandatory.
In the subreddit, Disha says people treat skincare 'almost like a second job' in terms of time and effort. Members tend to be professional working women both from metro and tier-two cities, Disha says. A recent thread on the subreddit asked about members' beauty budgets — here, specific to skincare products. Answers ranged from Rs 2,000 per month to Rs 6,000 per month.
Several members mentioned 'payday sales' and BOGO sales (buy one, get one free) as huge temptations to overspend. Similarly, at one point Disha was caught up in a frenzy of buying products. Similar stories play out on subreddits like r/SkincareAddiction and r/IndianSkincareAddicts whre women often ask for recommendations for fillers, dermatologists, good prices on botox and when to start preventative botox.
"I know it's a black hole," Disha rues.
Gurgaon-based cosmetologist, who wanted to remain anonymous, confirmed the direct link between social media and an increase in younger clients coming in with specific ideas of how their faces 'should' look. Decode asked her about the patterns she'd observed over her six years in this field. For injectables, she said that customers fall into two age brackets:
(1) Above 40: Late thirties to 45-year-olds who come in to get age-related fine lines treated.

(2) Below 30: Young women who don't require treatment but are influenced by social media to do so.

Among younger clients, lip fillers are the most demanded procedure with clients often referencing Nargis Fakhri, she said. The second most common are under-eye fillers used to treat under-eye hollowness and darkness that comes with increased screen time. The third is nose-fillers.
The doctor explained, "Earlier you'd have to get a full-on rhinoplasty. This younger age group of MNC professionals has money but not time. Fillers and botox are expensive — the cost comes to an average of 1 lakh per sitting. A rhinoplasty would require downtime of 15-20 days when the patient has to wear a cast, whereas with fillers, it's a procedure requiring barely 15-20 minutes. You get immediate results at Rs 30,000 worth of fillers which last for a good 10-11 months."
The non-invasiveness and immediate results are both big draws for injectables.

'Fillers Are Just Like Make-Up'
Plenty of Instagram fashion or beauty influencers in India are speculated to have got fillers but no matter how loud the rumours are, the norm is to deny them. Komal Pandey for instance, arguably the most successful fashion influencer in the country, has long dodged rumours about having gotten lip fillers, although the dramatic change in her appearance was unmissable.
Aanam C, a lifestyle influencer with over 312K followers, and creator of the beauty brand Wearified is an exception. In July 2021, Aanam posted a vlog on YouTube (where she has 275k subscribers) documenting her experience of getting lip fillers for the first time.
"Lip fillers dissolve, they go away… it's a temporary treatment, let's call it that," she says in the video. Another creator, who had gotten fillers herself, encouraged Aanam to go for it, she told Decode. She said at least 15 people had messaged her since the vlog to tell her that after watching her video, they had gotten lip fillers too.
In October 2021, Aanam vlogged her experience getting under eye fillers as part of a deal with Restylane, a brand that makes dermal fillers.
The cost of the 30-minute procedure was about Rs 57,000. Again she reiterated the temporary nature of the procedure, and her attempt to be transparent: "These are not plastic surgeries — they are not permanent—injectables are like getting your nails done, they last for a few weeks or a few months. Too many people do these procedures chhupke— and I'm not… Just like skincare and make-up products I try, and review it for you. If you don't want to do it, don't do it."

But what about the critiques of social media pertaining to low self-esteem in young girls, we asked. She countered, "We can't villainise only fillers and the beauty aspects of social media. Social media at large has led to people thinking they have to fit in. Everyone wants to feel like they belong somewhere, everybody wants to belong to the cool kids group."

To Aanam, a sense of self is critical. As long as you have that you can play around with make-up or injectables without it impacting your self-esteem, she elaborated, "To me, injectables are just like an extension of make-up."
It is true that fillers can be temporary, as Aanam mentioned. Dermal fillers made of hyaluronic acid (like Juvéderm® and Restylane®) can be dissolved with an injection of hyaluronidase. However, the process isn't as low-stakes as cleansing makeup with a cotton wipe. Fillers have been known to migrate to other areas of the face — for instance creating a 'duck-lip' effect when they migrate to the gum line.
Aanam told Decode that both dermatologists involved in her lip and under-eye filler treatments, suggested she elongate her face with chin filler. This would fix the proportion of her face according to the balance of thirds, she explained. Aanam shrugged, "Life isn't fair."

A few weeks after our conversation, Aanam vlogged about getting a chin-filler consultation. The dermatologist she visited also recommended additional Botox for potential frown lines on the forehead. "If we work on these lines from beforehand, they will not get deeper with age," she said.
It's clear that Aanam is smart, confident, and knows what she is doing. Unlike Shraddha at 18, she has a robust sense of self. But now that injectibles are increasingly normal because of social media what happens when someone cannot afford a good brand or dermatologist?
A cosmetologist Decode spoke to said that she has worked with several clients who came to fix the botched procedures that they got for a cheaper price.
She said that her clients usually turn to repeat customers. Since lips and facial muscles are in constant use, lip fillers fade away faster than under-eye and nose fillers. If a client loves their new look, they keep coming back, she added.
Dr Parag Telang, a Mumbai-based cosmetic plastic surgeon and the Founder and Director of Designer Bodyz Centre for Advanced Cosmetic Surgery, confirmed these trends to Decode as well. He explained, "The choice of product and training of the injector is very important. I have seen many cases go wrong because the injector did not have the license to do it. Unfortunately, there are many so-called aestheticians who do not have the degree to do this. Doctors are regulated by the medical board but who will regulate these unlicensed practitioners?"
Telang, however, added that fillers are "very safe". "They are inert so they don't trigger an immunologic response," he said.
Dermatologists Are Now Influencers

The mainstreaming of injectables can be linked to the way in which social media has made information about it easily accessible. Dermatologists who work with celebrity or high-end clients have in recent years have themselves become Instagram phenomena with large followings.

Before being drawn to skincare subreddits, Disha mentioned keenly following @drkiransays, @derma_redefined (Dr Sampurna in Ghaziabad), @dr.anchal.md, @dr.manasi.skin among several other dermatologists on Instagram. They debunk myths and share information through reels, posts, Instagram lives. Much like any other content creator, they have collaborations with brands like Restylane which makes fillers.
Disha remarked, "There was a time when they would only recommend pharmacy products, but now their recommendations are all over the place. It's like any other content. I don't trust them anymore."

Take the case of an Instagram video titled ''Is Botox a Safe Option" by Dr Kiran Sethi (@drkiransays), the medical head of Delhi-based Isya Aesthetics. Dressed in a kurta, hair left loose, and with minimal make-up on, she speaks directly to the camera: 'When people hear Botox they think of frozen faces, they think of people looking really fake. I'm here to tell you that's all nonsense! Botox can be done very naturally, it's very safe," Sethi continues. "See, I've done my Botox, I can still move my eyebrows," she smiles, wiggling them to demonstrate. Her forehead stays creaseless. "So, don't be scared of Botox!" she says, pointing her index fingers heavenward.
Sethi's profile leads to the Isya Aesthetics website and an entire menu of wrinkle treatments: natural-looking non-surgical facelift, Clearlift 4D, Botox, dermal fillers, thread lift, ultherapy, power facial 4D, Accent ultra, microneedling, aquagold, Glow RX, Good genes therapy, PRP etc.

The information on Isya is reassuring— their treatments seem transparent, FDA-approved and even celebrity-endorsed with testimonials from actress Bani J to model Laxmi Menon. Overall the effect is undeniably influential.
Sethi has 80,500 followers on Instagram following her every word. This recasting of dermatologists like Sethi as influencers have had a palpable impact on setting the new 'normal'.
However, dermatologists differ from other influencers in one critical way. As doctors they are registered medical practitioners, bound to legal guidelines. According to the Regulations for Registered Medical Practitioners (2022) by the National Medical Commission's Ethics Board, it is prohibited for practitioners to do the following:
- soliciting patients
- advertising services (beyond an initial announcement of starting a practice or educative material)
- accepting commissions or splitting fees with others for products or treatments
- endorsing products
It's difficult to see how dermatologists acting as social media influencers are not violating these regulations.

The Department of Consumers Affairs has released guidelines that state influencers must disclose all endorsements in a manner that is "hard to miss" and in simple language, or incur a fine of up to Rs 50 lakh. But even if dermatologists do disclose their partnerships, they are not the same as social media influencers. They are an entirely new hybrid breed of our social media era: medical influencers.

"Not only are these influencers and dermatologists exploiting loopholes of laws made for a different time, but they are also doing it at the cost of young people's lives, their self-esteem, and body image. On one hand, they play up their medical qualifications and wish to be seen as doctors, while on the other hand, they wish to be governed by different rules," said Delhi-based lawyer Mihira Sood.
Why is it a grey area, we asked Sood. She said, "It's a grey area because the rules need to address the culture of medical influencers, and also specify rules for cosmetic procedures — whether the regulations extend to procedures like botox, fillers etc."
Guideline 6 of the Regulations pertaining to the conduct of RMPs on social media specifically prohibits practitioners from posting patient's photographs on social media, Sood adds — a very prevalent practice.
YouTube has policies that do now allow "content intended to sell certain regulated goods and services including pharmaceuticals without a prescription and unlicensed medical services". The trouble, in this case, is that the content creators are ones with medical licenses.
"Over the years, we've invested heavily in policies and products to connect people to authoritative content, reduce the spread of borderline misinformation, and remove violative videos. YouTube has clear policies that do not allow certain types of misleading or deceptive content with serious risk of egregious harm. This includes content that promotes harmful substances, treatments, or substances that present an inherent risk of severe bodily harm or death and content that contradicts local health authorities' or WHO guidance on certain safe medical practices," YouTube told Decode in an email response.
In March 2022, YouTube said they announced two new ways that will surface credible and relevant health information for people in India. "We added new health source information panels on videos to provide context to help viewers identify videos from authoritative sources, and health content shelves that more effectively highlight videos from these sources when you search for specific health topics," YouTube said.
Decode also reached out to Instagram but we have not got a response from the Meta-owned platform yet.
A Nexus Of Wellness That Works Like A Well-Oiled Machine
Wellness clinics in India are thriving with the help of social media platforms. The transition of their marketing focus on Justdial and keywords for Google ads to Instagram was inevitable.

"Stories, Reels, Live videos are posted every day. The marketing team approaches social media influencers making barter collaborations with them. They may get treatment or medical facial of Rs 5,000- Rs 10,000 in exchange for showing off the products from the clinic with its name on the packaging. Depending on the treatment, the barter is decided—whether it would be a post or a story, how many times they would post about it," a cosmetologist who worked at Sarayu, a popular wellness clinic in Delhi told Decode.
Higher-end celebrities like Honey Singh would not post themselves but the clinic would post a photograph with them, displaying their visit and implicit endorsement. Indeed, not one but two photos of the star, flanked by the founders of the clinic are prominent on their feed.
With 24,500 followers, Sarayu's Instagram presence is clearly a major venue for attracting clients. The wellness clinic makes heavy use of reels and posts to promote 'painless' and '15 minute' dermal fillers for lips, under-eyes, buccal fat removal, rhinoplasty and facial sculpting among others. A reel featuring Bhavya Singh, a former contestant of a reality television show MTV Splitsvilla, chronicles the process of getting her 'dream lips'.

Other influencers displayed with lip-fillers on Sarayu's Instagram include make-up artist, Shefali Nagpal and salon founder, Divya Khanduja.
Decode reached out to Sarayu for an interview. We contacted founders Dr Akash and Dr Nidhi. While Dr Nidhi initially responded to Decode, after sharing our questions with her, Sarayu stopped replying. We also contacted Bhavya Singh, Shefali Nagpal and Divya Khanduja with questions regarding the collaboration, but they declined to comment.
Divya Khanduja (with 253k followers on Instagram) is the CEO of Delhi-based Divya Khanduja Salon which uses its Instagram presence to advertise 'permanent makeup' such as 'lip-blushing', a technique where pigment is deposited with needles into the lips to give it a fuller, and redder appearance. They also advertise skin-lightening processes.
Each of these posts is full of comments asking 'pp' [price please] so it certainly seems to be an effective strategy to use Instagram posts to display the procedure (with the addition of trending reel audio).
Dr Parag Telang, who specialises in reconstructive plastic surgery and cosmetic surgery, told Decode that a lot of dermatologists are on the panel of filler companies which give them offers or discounts. "These discounts are sometimes then passed on by the wellness companies to their customers through marketing events like Women's Day and so on," he said.
The doctor described the use of preventative botox, which a lot of dermatologists that Decode came across recommend, as a "humbug money-making device". "There is not enough scientific evidence on it," he said. "We should always give clients ample amount of time to think about a procedure. Whenever a young girl comes to me I usually insist they come with a parent... There is a lot of peer pressure. I normally ask them to come back again after a few days of the first consultation [once they have taken time to think about it]," he added.

"Using facts is okay, but you should not portray it as an instant solution or as a marketing tool," Dr Telang said.

Decode contacted people who opted for non-surgical procedures (like Shraddha's friends, a cosmetologist's previous clients) with the assurance of anonymity, but we found almost no one willing to talk. Khuram, a 30 year old doctor who recently moved to Gurgaon from Kashmir and got lip-fillers, was an exception.
"I did it because I had a very thin upper lip — I didn't want a full upper lip but a natural, normal one. You can then skip make-up," she told Decode, which is important for her as a doctor with night-shifts, she added. Overall she said she was happy with the results, and it improved her self-confidence. "I hate to admit it because truly confident people don't depend upon their looks, it shines from their personality… Also I feel that good looking people do have subtle advantages in life."
Among wellness clinics in Delhi, Pachouli is remarkable for its 'organic content' i.e reviews, and before and after photos of ordinary people who comprise their clientele without identities obscured. Disha Mehra, the Assistant Vice President of the chain, who also oversees the marketing department told Decode that dermal fillers, thread lifts, and other skin-maintenance like PRP can be categorised as 'luxury', so the typical clientele of wellness clinics like Pachouli have 'good spending capacity'. And for those who can't or don't want to spend a bomb — a small chunk like students, she says — there are EMIs.
Mehra recalls recent clients — two college girls, one of whom had lip augmentation done, and one got micro botox on open pores. "They were from a middle-class family, and they would save all their money so they could visit the clinic every six months. 'For them, it became their identity. They thought they can't afford to look different," Mehra told Decode.
Pachouli's marketing department researches the age bracket and areas where potential clients are likely to live. Some high-density areas in South Delhi include Green Park, Hauz Khas, Gulmohar Park, Sainik Farms, and Vasant Kunj, Mehra said.
"There are lots of tools to help us understand what kind of market is looking at what, who is checking out similar pages [and content as ours]. Google analytics helps us understand what the audience is searching for; how many people were attracted by a specific post. If they are from Sainik farms, for instance, it would tell us the range, age group, gender, and spending capacity," she explained.

"Facebook tools help us do other things— like if we look into weight loss, people who are looking for gyms, health clubs and so on, we know we can target them with therapy for double-chin, tightening and so on. Lots of pages on Facebook like Scoopwhoop India capture who's talking about what, and what is trending. We are able to target specifically internet users who are interested in fitness or salons, and parse this by male/female, what age bracket we want, what kind of spend [capacity] they have and so on," Mehra added.

The age demographics of the clients range from the early 20s to 40s. In the 20-30 age group, are mainly college students, fresh graduates, and some in their early career life. Then there are women in their late 30s and early 40s— mothers who are very active on social media. "They like to follow all the recommendations and trends set by mommy bloggers," she said.
Mehra attributed the current popularity of non-invasive cosmetic procedures to 'accessibility'. "Five to six years ago people were not very aware [of procedures like dermal fillers]. What was available was costly and there were few clinics in Delhi that offered it," she said. She said that the women who come for treatments are "very particular" about what they want to get done. "They'll say, 'Can you do something for my chin, brows or lift my cheekbones, give me fuller lips in a natural style'. Very few would ask for our advice, thanks to social media they already know what they're looking for."
Social media, she said, has played a huge role in spreading awareness. "Now there are lots of clinics, so many dermatologists doing the procedures are talking about it — and people believe that if dermatologists are performing such procedures, it is safe. Social media means more exposure to this information," she said.

At any of Delhi's popular clinics, the cost of injectables can range from a few thousand to lakhs of rupees.
A lip augmentation, on average, starts at Rs 18,000 for a session. Patchouli's Disha Mehra told Decode, "Anybody who walks in for a first-time decent makeover it would cost Rs 1 lakh to Rs 1.5 lakh."
Decode asked Mehra her thoughts on critique regarding body-image issues. She said, "How you look and how you feel about it is a very personalized thing. I still feel one should be comfortable in their skin and how they look. But yes, we are out there if you want to look a certain way."

Considering the insidious alliance of beauty influencers, algorithms on Instagram, canny marketing tactics by wellness clinics, and the rise of medical influencers — all skirting grey-area regulations, it's difficult to see how young women might escape this desire.
*Some names have been changed to protect their identity.
Riddhi Dastidar is a writer in Delhi covering disability justice, gender, rights, and culture.

Do you always want to share the authentic news with your friends?
Subscribed Successfully...
Enter Valid Email Id
---