'Cyclone Fani Was An Indicator Of A Modi Wave' Fake Quote Attributed To HRD Minister By Parody Account
No, HRD minister Prakash Javadekar did not say Cyclone Fani was an indicator of a Modi wave. The quote is by a parody Twitter account @Anynews_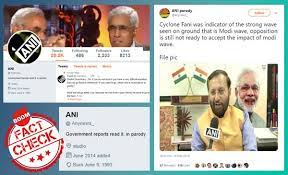 A quote attributed to Bhartiya Janata Party leader Prakash Javadekar saying 'Cyclone Fani was an indicator of a Modi wave,' is fake and was created by a a parody Twitter account of Asian News International (ANI).
The tweet has an image of the Human Resources Department minister with an ANI boom mike in the frame.
The text of the tweet reads, "Cyclone Fani was indicator of the strong wave seen on ground that is Modi wave, opposition is still not ready to accept the impact of modi wave(sic)." File pic."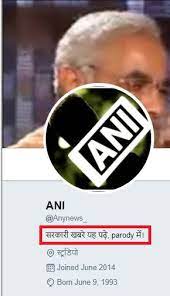 Click here to view, and here for an archived version of the tweet.
The tweet had gained around 100 retweets and close to 250 likes at the time of writing this article.
Several Twitter users lashed out at Javdekar for allegedly mocking Cyclone Fani.
About 41 people died due to Cyclone Fani and over 5.08 lakh houses were damaged when it made landfall in Puri, Odisha last Friday .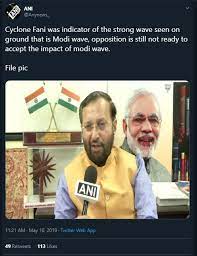 A screenshot of the tweet is now being shared on Facebook.
FACT-CHECK
BOOM first checked the ANI (@Anynews_) profile which states that it is a parody account.
The account was set up on June 13, 2014 and had over 2,233 followers so far with around 20,000 tweets by the account.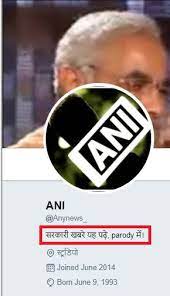 Click here to view the profile archive.
Additionally, the parody account has misused ANI's logo.
BOOM ran a reverse image search on the picture of Javadekar and found that it was taken when the HRD minister congratulated 10th standard students who cleared their Central Board of Secondary Education (CBSE) exam.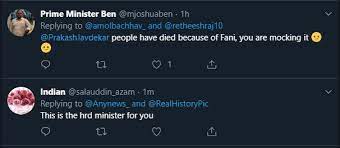 Click here to view the article.
BOOM also looked for recent media reports by Javadekar but did not find any such comment made by him on Cyclone Fani.
Parody accounts of news handles are a big menace on Twitter with several unsuspecting Twitter users routinely falling for them. Read BOOM's coverage on it here, here, and here.
Claim Review :
Tweet Show Prakash Javadekar Says Cyclone Fani Was A Indicator Of Modi Wave
Claimed By :
ANI Parody Account