Explainers
Zoom, Google Meet, Microsoft Teams: The Video Conferencing App Guide
A guide to specifications and features of the top three video conferencing apps.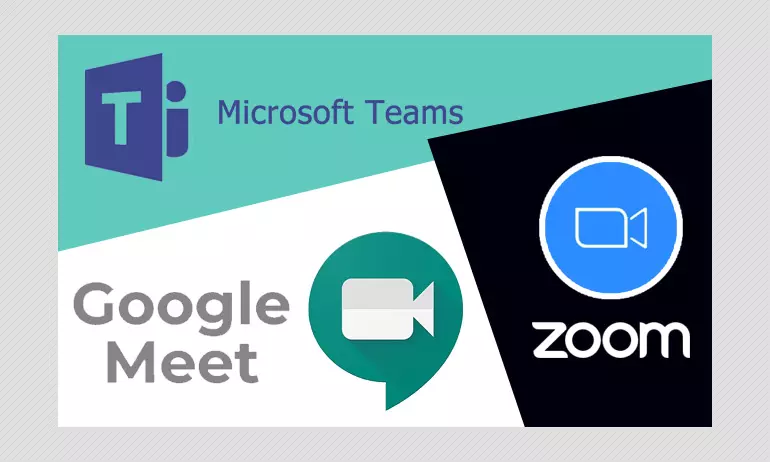 With work from home, social distancing, and the quarantine becoming norms because of the Covid-19 pandemic, there has been a rise in video conferencing. According to a report by App Annie, business conferencing apps topped 62 million downloads during the week of March 14-21. A report by Sensor Tower saw Zoom's downloads increase mid-March, and also noted that 'Zoom' wasn't a top 100 search term in the U.S. App Store before the week of March 9.
Zoom, Google Meet, Microsoft Teams are the top three choices for video conferencing, so here's a long of their comparative features:

In addition to this, all three apps have features of screen sharing, and sending files when the video call is in progress for their free versions.
Google Meet Security Features
Google users have to IETF security standards for Datagram Transport Layer Security (DTLS) and Secure Real-time Transport Protocol (SRTP). Google Meet has a unique encryption key that only exists as long as the meeting runs and it is transmitted in an encrypted and secured RPC (remote procedure call) when the meeting is set up. These calls are encrypted unlike Zoom calls. To break it down, you won't face problems like ZoomBombing, and your data will be better protected as compared to Zoom.
Microsoft Teams Security Features
If you are already using Microsoft 365 (earlier versions were known as Office 365) then Microsoft Teams is free for you. Microsoft Teams, intended for regular Microsoft 365 users combines the chat prowess of Slack with the video calling ability of Zoom. Meeting sessions are encrypted and you can use the data encryption feature if you have an Office 365 account. Microsoft also claims that its privacy and security controls are harder to crack for hackers in comparison to Zoom.
Zoom Security Features
The new version of Zoom, Zoom 5.0 offers more security features like data encryption, data routing control, improved host controls, and more. It has a new encryption shield, which will be available to all users after May 30, and will offer users more protection.
Bonus: Facebook Messenger Rooms
Facebook Messenger Rooms rolled out a few days ago in direct competition to the surge of video conferencing apps because of the pandemic. You need to head to Facebook Messenger (from your browser or the app), click on 'People' option at the bottom of the page, and tap on 'Create a Room option.' You can either restrict the invite to people who have the room link, or you can keep it open to people who you are connected to on Facebook.You can host up to 50 participants without anytime limit and you can record meetings via the broadcast feature.
Facebook Messenger Rooms Security Features
According to the security features mentioned on Facebook, you can lock the room after all the participants have joined a meeting, and even remove a participant if you need to. However, it doesn't have an end to end encryption yet.
Do you always want to share the authentic news with your friends?
Subscribed Successfully...
Enter Valid Email Id