Congress Shares Old Video Of Anti Vasundhara Raje Slogans As PM's Jaipur Rally
Congress scores a self goal on Twitter. Claims a 5 month old video is from the prime minister's rally in Jaipur on Saturday.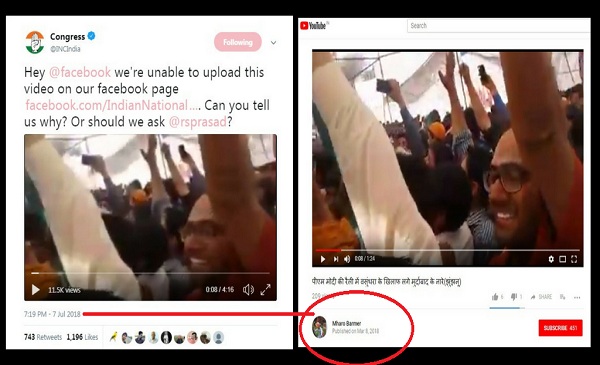 The Indian National Congress (INC) and its social media head Divya Spandana tweeted on Saturday an old video of people chanting slogans against Rajasthan Chief Minister and BJP leader Vasundhara Raje at a public event, while claiming that it was taken at Prime Minister Narendra Modi's July 7 rally in Jaipur.
Modi was in Jaipur on Sautrday to lay the foundation stone for 13 urban infrastructure projects and meet the beneficiaries of central and state run public welfare schemes.
The Congress party's official Twitter handle admitted that the video was old following the publication of BOOM's story in the early hours of July 8.
Oops..this video was taken in Jhunjhunu and not in Jaipur, where CM Vasundhara Raje and PM Modi were present, as the infighting between the BJP cadre broke out. https://t.co/Kqlt0dp0Qe

— Congress (@INCIndia) July 7, 2018
On Saturday, the party had tweeted that while the prime minister was gaining control of social networking site Facebook, he was losing control of his cadre. It also alleged that there was open infighting on display at the prime minister's rally in Jaipur.
While PM Modi is gaining control of @facebook, he's losing control of his cadre. Open infighting on display at PM Modi's Jaipur rally. https://t.co/aedJDz6aN5

— Congress (@INCIndia) July 7, 2018
"Modi, we have nothing against you. Vasundhara, you will not be spared. Vasundhara, because of you, Modi will also suffer." (मोदी तुसे बैर नहीं, वसुंधरा तेरी खैर नहीं और वसुंधरा तेरे चक्कर में, मोदी मारा जायेगा…") several people can be heard raising slogans against the Rajasthan chief minister.
The clip was also tweeted by Divya Spandana, who handle's the party's social media and digital communications strategy.
Tried uploading this video on @facebook but for some strange reason, Facebook is not publishing it. Can you guys try and revert?
It's a video from @narendramodi rally today in Jaipur. pic.twitter.com/t5SSIZpnsW

— Divya Spandana/Ramya (@divyaspandana) July 7, 2018
After BOOM's story was published, Spandana apologised but did not shy away from firing against the BJP once again.
Apologies: apparently this video is from March and not yesterday…gosh Rajasthan BJP lost it that long back??

— Divya Spandana/Ramya (@divyaspandana) July 7, 2018
Rajasthan Congress President Sachin Pilot also claimed that the video was from the rally in Jaipur. Pilot also rhetorically asked if anyone was surprised that the video was not telecast by any news channel on Saturday. Sachin Pilot has since deleted his tweet.
Parts of today's allegedly "successful" rally in Jaipur.
Is anyone surprised that this bit was not telecast by ANY news channel? https://t.co/eO5v6BDgQJ

— Sachin Pilot (@SachinPilot) July 7, 2018
Watch the anger of those who attended Modi's rally in Jaipur today! https://t.co/3zFkSDZY6i

— Prashant Bhushan (@pbhushan1) July 7, 2018
But BOOM traced the video back to March 8, 2018 at a public event in Jhunjhunu, Rajasthan where in addition to Vasundhra Raje being there; the prime minister was present to launch the National Nutrition Mission and extend the Beti Bachao, Beti Padhao campaign. Black flags were waved at Raje at the event.
"As Raje got up to speak, some people started hooting and waving black flags and banners. Raje continued her speech despite the protest. Several BJP leaders, including MLA Shubhkaran Chaudhary, and police officials were seen rushing to the corner to pacify the crowd," an article in the Hindustan Times from March stated.
The below video posted by website Janta Ka Reporter about four months ago shows the same scene from a different angle.
The video shared by Congress can also be found on YouTube where it was uploaded in March.
---
Note: This story has been updated with Congress and Divya Spandana's responses following the publication of BOOM's fact-check.