Congress' Divya Spandana Shares Photoshopped Pic; Says It Was Sarcasm
Congress's social media head Divya Spandana shares a photoshopped picture targeting the BJP. Tells BOOM it was 'sarcasm'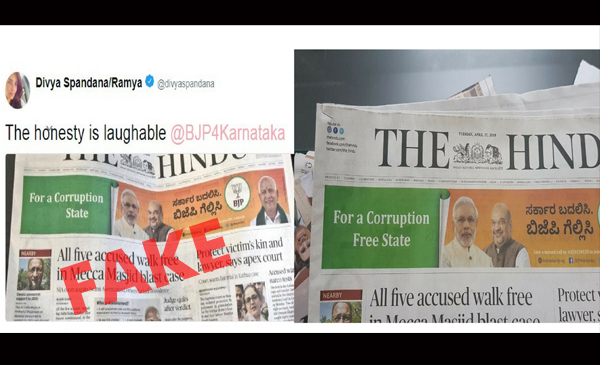 Divya Spandana, the Indian National Congress' social media and digital communications head, on April 17 tweeted a picture that contained a photoshopped print advertisement aimed at the Bharatiya Janata Party (BJP).
The actor turned politician, better known as Ramya, posted the picture with text which read 'The honesty is laughable'. The ad, which contained images of Prime Minister Narendra Modi, BJP President Amit Shah and BJP's Chief Ministerial candidate for Karnataka B.S. Yeddyurappa, had the line 'For a Corruption State.'
The honesty is laughable @BJP4Karnataka pic.twitter.com/o4jLRJr7tX

— Divya Spandana/Ramya (@divyaspandana) April 17, 2018
When contacted, Spandana admitted to knowing that the image was photoshopped and that her tweet was meant to be treated as sarcasm.
"I received it on WhatsApp and I know it is photoshopped. It was meant to be sarcasm as all three of them are corrupt," Divya Spandana told BOOM.
The text in Kannada roughly translates as 'Change the government. Bring in the BJP') Click here to view an archived version of the tweet.
Apart from the sentence being grammatically incorrect, the picture when magnified shows clear signs of being edited. Here the word 'free' after the word 'corruption' has been removed thus changing the meaning of the sentence.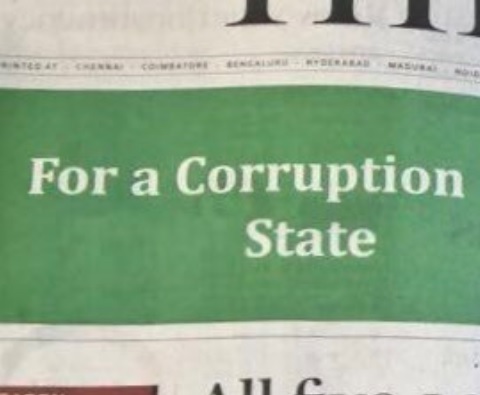 Below is an actual photo of the newspaper's April 17, 2018 edition from Bangalore.