Child Kidnapping Rumours: Mob Beats Up Woman In West Bengal
Police tell BOOM that fake messages on social media are causing mobs to attack innocent people.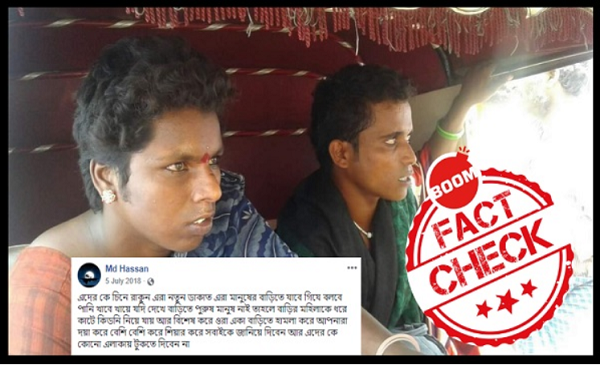 A violent mob attacked a woman in West Bengal's Tikiapara area in the wee hours of Thursday morning, suspecting her to be a child kidnapper. The mob believed fake messages and 'warnings' doing the rounds on WhatsApp groups and seeing an unfamiliar face in the locality, assaulted the woman.
Wanting to 'teach the child kidnapper' a lesson' the mob surrounded the woman and disbanded only after the police resorted to lathi charge. The local police also resorted to using tear gas and combat force to disperse the mob.
The incident is in the wake of a slew of fake Whatsapp messages and Facebook posts, which have resurfaced alleging that child kidnappers and kidney sellers are on the hunt. Similar rumors claimed more than 30 lives in 2018 alone.
BOOM spoke to a senior police official from Howrah police division who was present at the spot after the incident occurred. He said, "At around 1 a.m. on Thursday morning, an unidentified woman was seen roaming around in Tikiapara. When she stopped to buy something at a shop, a mob of around 1500 to 2000 gathered and started assaulting her. She had sustained injuries before the police rushed to the spot. We had to then apply force and rescue her." Till now two men have been arrested under Section 353, 506 and 307 of IPC.
The woman, who is supposedly a beggar, is from Hooghly district in the state. He added, "She is a middle-aged woman who has separated from her family. I personally spoke to the family members and asked them to come and take her. She is now at an undisclosed location."
Reportedly, the woman was carrying a sharp object too. "She had a broken hammer and I suppose it is for her own safety. I don't know what else can a broken hammer be kept for," the officer explained.
Aftermath Of Viral WhatsApp Messages
The messages are in continuation of a rumour that spread like wildfire and resulted in more than 30 deaths last year. BOOM had earlier debunked several such fake messages doing the rounds warning people about child kidnappers. BOOM had also previously reported about how the messages with the same narrative and pictures were viral in Bangladesh before making its way to West Bengal.
The CID, West Bengal had also appealed to people to not fall prey to the hoax messages through a Facebook post and also set up a helpline at the District Police Control Room (033-2497 8465) to curb the spread of the rumours.

Check the archived link of the message that went viral in Diamond Harbour, South 24 Parganas regarding rumours on child kidnappers.
The police have in the last week distributed posters and handbills in areas like Tikiapara and Howrah, where such rumours were at its peak
"We have been raising awareness among people by holding meetings, doing on grounds campaigns. In fact, three meetings were held before Thursday's incident. But there has been no fruitful result. It is like a mass hysteria now, and it needs to stop," said the officer in charge, Howrah Police Control.
Updated On:
2020-09-09T14:36:52+05:30