Fact Check
Child Kidnapping Rumours Fuelled In Madhya Pradesh With Unrelated Videos And Images
A host of old and unrelated videos and images are being used to spread rumours of child abductions across the state.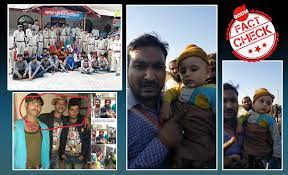 A slew of old videos and images fuelling rumours of child kidnappings are going viral on social media in the Hindi heartland of India where multiple innocent people have been lynched by mobs in separate incidents since 2017.
Rumours of child abductors particularly on WhatsApp have had brutal real world consequences in India. Over 30 people have been killed over child kidnapping rumours since 2017, data shows. In all cases, the victims were attacked on mere suspicion with police finding no evidence of the victims being child kidnappers.
BOOM lists the social media posts that are once again stoking these rumours.
An old video of a group of men confronting an alleged child abductor in Pakistan's Karachi is viral with false claims that the little boy was rescued from child kidnappers in Madhya Pradesh.
BOOM was able to ascertain that the video is originally from Baloch Colony, Karachi, Pakistan and not India.
We looked for videos with similar keywords and found that the video with the description 'child lost in Baloch Colony' has been on the internet since December, last year.
We also found that multiple messages with unrelated content were falsely attributed to the Chief Superintendent of Police (CSP), Bhopal.
BOOM reached out to Yogesh Deshmukh, Inspector General, Bhopal Zone.
"Messages are being circulated on multiple platforms as a warning from Bhopal Police about child kidnappers and there is no truth in those," Deshmukh said.
"We are patrolling the sensitive areas to avoid the spread of such rumours. We have also registered a case. As teams, we are going into various localities and counselling anybody who is spreading rumours," he added.
Image of sex racket bust passed off as kidnappers caught
An image of a sex racket bust by Ratlam (Madhya Pradesh) Police is viral with the same claim on social media.
BOOM ran a keyword search with Ratlam Police and was directed to a news report by Hindi newspaper Patrika.com , which reported about a sex racket bust in the city earlier this week.
Incident of child abduction from Delhi railway station falsely pinned on Rohingya Muslims
CCTV footage of an actual abduction of a child from Delhi's Hazrat Nizamuddin by an Indian couple is also being passed off as child kidnapping by Rohingya Muslims in Bhopal.

BOOM had debunked the video when it was viral as 'footage of child kidnapping from West Bengal's Madhyamgram railway station premises.'
ALSO READ: Child Kidnapping Caught On CCTV At Railway Station In Delhi Passed Off As West Bengal
Graphic video of Brazil prison riot shared to stir rumours
A horrifying video showing the aftermath of a barbaric prison riot in Brazil is being shared on WhatsApp and on social media in India stoking rumours of child kidnapping and organ harvesting gangs on the prowl.
ALSO READ: Grisly Brazil Prison Riot Video Shared To Stoke Child-Kidnapping Rumours In India
Mentally challenged man falsely accused of abduction
In another video, earlier debunked by ALT News, a mentally challenged man was falsely accused of being a child kidnapper. In the video, a disoriented man can be heard giving incoherent replies to an enraged mob.
Old images on child abduction resurface
A set of four images, three of which were earlier debunked by BOOM, are also being used to stoke these rumours through WhatsApp.
ALSO READ: Child Kidnapping Rumours In India Being Spread With Syria Image, Pak Video
Do you always want to share the authentic news with your friends?
Subscribed Successfully...
Enter Valid Email Id