Why The Move To Cap Cash Donations To Political Parties Is A Big Hogwash
Political parties who have lakhs of cadres around the country are hardly going to find it difficult to break down large donations to escape scrutiny.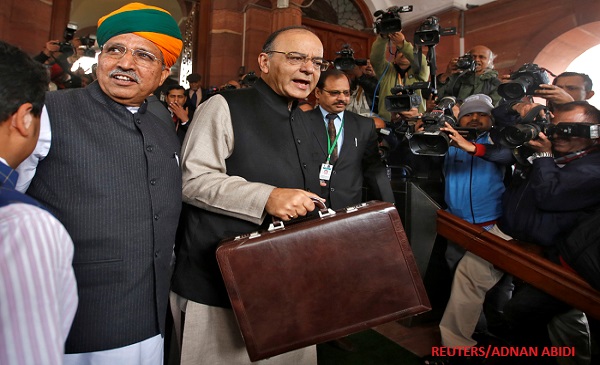 Finance Minister Arun Jaitley
At first look, finance minister Arun Jaitley's latest move in Budget 2017 to cap cash donations to political parties to Rs 2,000 from the earlier figure of Rs 20,000 seemed to be a master move. But scratch the surface and it is not too difficult to understand why the move, though right on paper does little to trouble political parties.
Basic calculation shows that, earlier if a party wanted to raise Rs 1 crore without disclosing the sources of funding, all it needed were 500 individuals/entities, whether they are genuine or ghost. But with the latest cap, the same political parties will have to source Rs 1 crore from 5000 individuals/entities.
This means, Jaitley has made the task 10 times difficult for political parties, at least in the literal sense. Also while the finance minister clearly stated that this Rs 2,000 cap will be applicable for each individual donor, there is no clarity yet on how this will be monitored. Though political parties are required under the law to keep records of donors who provide cash donations with the books audited, they rarely come under scrutiny. Hence, multiple donations from the same person is another way to ensure the cap is not breached.
But, is it not obvious that parties who must have anticipated this move may have also found a way around this bottleneck? Even under the current rules, more than two thirds (70%) of political funding used to come from unknown sources out of the clause of anonymous cash donations up to Rs 20,000, reports Association for Democratic Reforms (ADR), an NGO that works toward political and electoral reform.
Political parties who have lakhs of cadres around the country are hardly going to find it difficult to break down large donations to escape scrutiny.
Basically, the move is outwardly aimed to cleanse political funding and make it more transparent. How will this change dynamics and funding situation of the major national and regional political parties is yet to be seen.
As per the ADR's analysis of political funding of parties between 2004-05 to 2014-15, the total income of political parties amounted to Rs. 11,367.74 crore. Out of this, only 16% was from known donors, 15% from party's own income of membership fees, bank interest and so on. The largest proportion of 69% was from unknown donors.
The two largest national parties, Indian National Congress and BJP received around 84% and 65% respectively from unknown sources as political funding. Among regional parties, anonymous political funding of Samajwadi Party amounted to 94% and that of Shiromani Akali Dal to 84%. Validating the argument of untraceable political funds, Mayawati's Bahujan Samajwadi Party stated zero funding from known sources showing that the party derived its funding only from unknown sources in cash donations below Rs. 20,000.