BOOM Verified
Ever since India has seen spike in influenza cases, this year, people have been equating it to Covid-19 and anticipating a similar, if not a more intense, wave.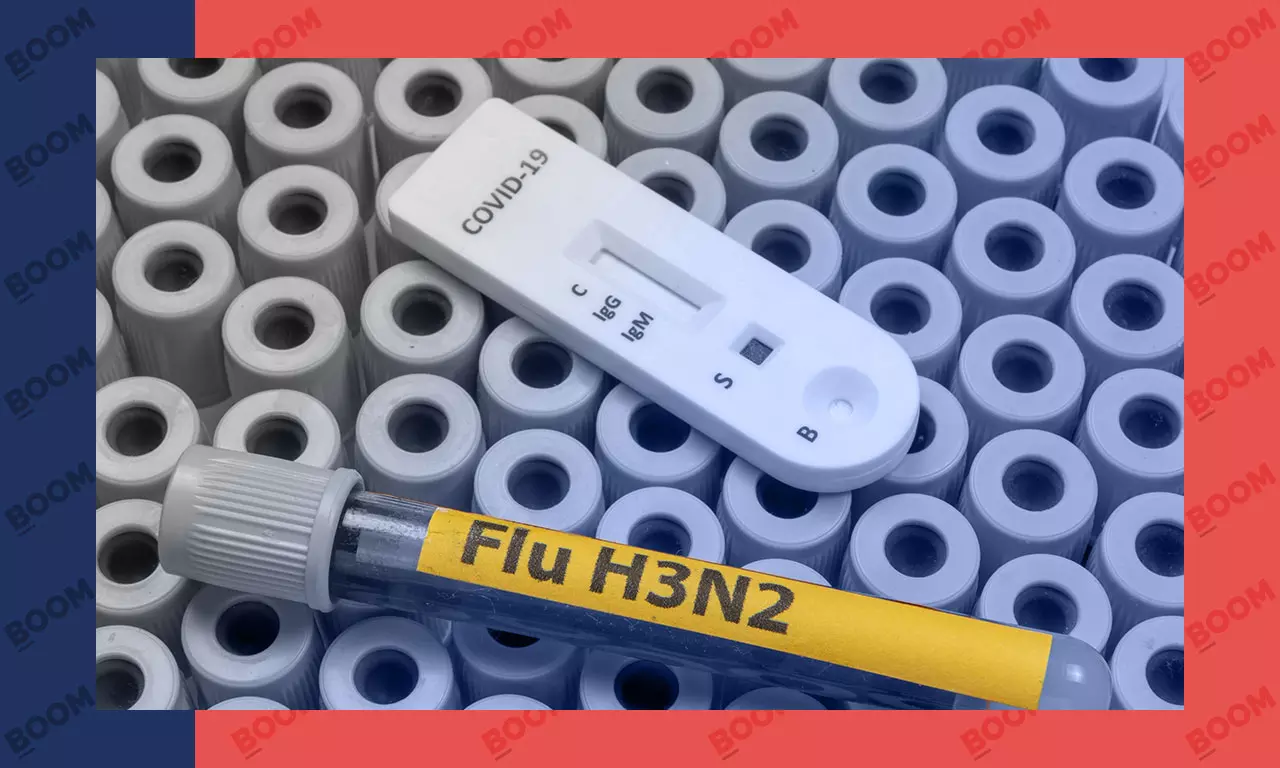 India reported its first two deaths due to the influenza virus H3N2, on March 10. From January 2 to March 5, 451 cases of H3N2 infection have been reported across the country, according to data shared by the Union health ministry.
India witnessed a spike in influenza cases in the past few weeks, with people on social media claiming that H3N2 was spreading like Covid. Some users claimed that H3N2 was spreading like "wild fire".

"India every year witnesses two peaks of seasonal influenza: one from Jan to March and the other in the post-monsoon season. The cases arising from seasonal influenza are expected to decline from March end," the Ministry of Health and Family Welfare had said last week.
BOOM spoke to experts to find out if there was truth to the theories floating on social media and the difference between the two viruses.

How are Covid-19 and Influenza different from each other?
Speaking to BOOM, virologist Shahid Jameel explained the difference between the H3N2 and the coronavirus. He said, "Though both are respiratory viruses, they belong to different virus families – H3N2 is an influenza virus, SARS-CoV2 (the Covid-19 virus) is a coronavirus."
Differentiating between the symptoms, Narender Saini, microbiologist and chairman of Indian Medical Association Antibiotic Resistance Committee, said, "Influenza A virus, H3N2 causes fever which lasts for five to seven days, residual cough and running nose and might take a little more time to heal. Apart from these, there is not much to worry about." The deaths due to influenza are very less and are mostly seen in people with co-morbidities, he added. A co-morbidity is defined as the existence of more than one disease or condition within your body at the same time. They are usually long-term, or chronic.
Unlike H3N2, SARS-CoV2 causes infection beyond the upper respiratory tract. According to Saini, "People who are infected with Covid-19 develop a lower respiratory tract infection which results in breathing difficulty. They may also get diarrhoea."
Is H3N2 capable of causing a pandemic?

According to pulmonologist Randeep Guleria, H3N2 will not cause a pandemic like Covid-19 as it has been in circulation for quite some time, although it was the H1N1 which was the dominant strain earlier. "We have had influenza outbreaks since centuries. First in 1918 and then 2009, so we have immunity against the infection," he said.
Guleria further explained the difference between outbreaks and pandemics. "Outbreaks occur due to antigenic drifts in the virus, which are caused due to mild changes within the virus, while pandemics occur when there is an antigenic shift in the virus. Antigenic shifts refer to drastic changes within the virus which brings in a new virus against which we do not have any immunity." For outbreaks, like influenza, we have annual vaccines which give us immunity but for a pandemic, like Covid-19, we can never be prepared with vaccines, he added.
Experts said that H3N2 was a seasonal virus and was unlike to cause a Covid-like wave. Saini said, "It spreads in two seasons, which are, after monsoon and between January to March. The chances of survival of this virus are lesser now as we are approaching summer." On the other hand, the Covid-19 virus, he said, survived the seasonal change and hence, caused the pandemic.
Saini added that the chances of H3N2 causing a wave was unlikely till it underwent a drastic mutation like the Covid-19 virus. "The influenza virus has been around for years and many of us already have immunity against it, by means of vaccination or prior infection from the same virus."
However, there are certain concerns regarding the current spike in influenza cases, according to Jameel. "While it appears to be another seasonal flu virus that was first seen in 2010, over time it has evolved in other mammals such as pigs. This variant carries one gene from the swine flu virus (H1N1) and spreads more readily," he said.
Explaining further, Jameel said, "Studies have shown that children born in this century, that is, people in their teens and 20s have very little immunity to this variant H3N2 virus. Adults seem to have more immunity due to prior exposure. The seasonal flu vaccine also gives only about 30% protection."
Air pollution has also been blamed for the prolonged infection of influenza this year. Delving into why it should be of particular concern to India, Jameel said, "To what extent air pollution might play a role in this is not fully understood, but anything that affects lung health increases the severity of respiratory viruses."
Do you always want to share the authentic news with your friends?
Subscribed Successfully...
Enter Valid Email Id