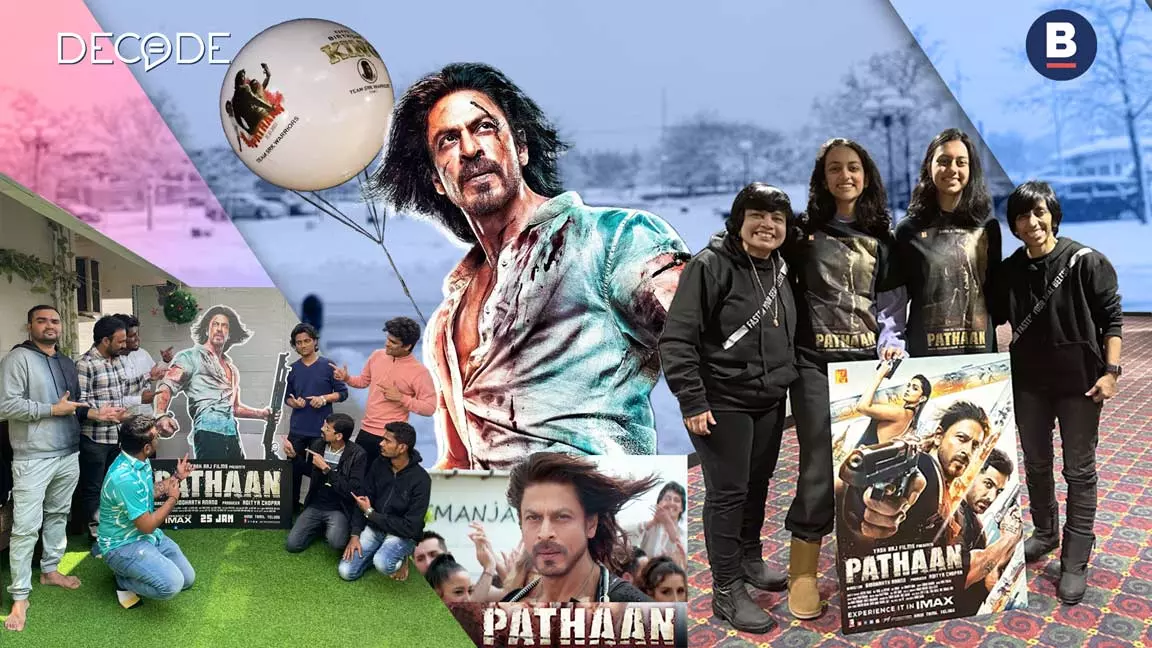 On November 1, a group of about 170 youngsters met outside a single-screen theatre in Champaran, Bihar. Over cups of tea and biscuits, the group came up with a list of plans — the aim was to create so much excitement for 'Pathaan' that it would overtake all the boycott and hate messages against Shah Rukh Khan.
"It was after all Shah Rukh Khan's first movie in four years. How could anyone even speak about boycotting it?" asks 21-year-old Shafi Quzzama, a student who was spearheading the meeting.
The Shah Rukh Khan, Deepika Padukone and John Abraham starrer 'Pathaan' opened to audiences on January 25, 2023. But before its release, the movie made headlines after it got embroiled in a slew of made-up controversies. In December, when the first song of the film 'Besharam Rang' was released, there was online outrage over Deepika Padukone sporting an orange bikini.
The colour of a piece of clothing became so controversial that even Madhya Pradesh Home Minister called it "highly objectionable" and said that it hurt religious sentiments. The Uttar Pradesh Child Welfare Commission also sought the removal of certain scenes from the song alleging that it would have an adverse effect on children. Jagadguru Paramhans Acharya, a seer in Ayodhya issued a death threat against Shah Rukh Khan for the song. Meanwhile, extreme right and Hindutva groups joined the fray, asking for a boycott of the film. Some of them went around vandalising malls and issuing threats that they would not allow 'Pathaan' to be screened.
The outrage was from all corners. While right groups trended #boycottPathaan, the All India Muslim Tehwar Committee of Delhi sought a ban on the film claiming the title Pathaan showed the community in a poor light. The Central Board of Film Certification (CBFC) ordered ten cuts to the film and while some changes were made, the orange bikini remained in the final theatre release of 'Pathaan'.
Through these controversies, the stars of the film including SRK stayed mum. The usual press conferences, city visits, or marketing strategies that are a part of every big Bollywood release did not happen for 'Pathaan'. And this is where the many fan clubs of Shah Rukh Khan stepped in.
"We knew that the BoycottPathaan voices were not loud. Not louder than the impact Shah Rukh sir has on people. But we wanted to leave nothing to chance," Quzzama says. Quzzama is the head of the Champaran chapter of Team SRK Warriors, a fan club for the actor.
Present in 35 cities across India and 11 countries, the fan club functions like any corporate office - with city heads, core team members, a social media team and on ground volunteers.
"Hamare liye Shah Rukh sir ki movie release Eid ya Diwali aane jaisi hi. Toh kyun na hum sab ke liye waisa hi mahaul banaye? (For us, every Shah Rukh Khan movie is like festivals - Eid or Diwali. So why not create the same kind of atmosphere for everybody?)"

This thought became the unsaid motto for SRK fan clubs in India and across the globe.
'Pathaan' has made Rs 22 crore on day seven of release on January 25, 2023 as reported by Indian Express. The report quoted trade analyst Taran Adarsh and said the day seven earnings has 'pushed the movie's domestic haul to around Rs 318.5 cr nett in Hindi, plus another Rs 11.75 crore in the dubbed Tamil and Telugu version. It witnessed a 15 per cent drop in its collections on a working day.' With these numbers, Pathaan has reportedly, become the fastest Hindi-language film to cross the Rs 300 crore mark domestically.
Talking about the success of their campaigns, Lalita Kambhampati, 52-year-old IT professional from Michigan in the US who heads the US chapter of SRKUniverse fan club says, "We did not ask people whether they were going to watch Pathaan; instead we asked them, 'Are you going to celebrate Pathaan?"
"Shah Rukh Khan and his movies bring positivity to our lives. Yes, we love him, but there is also a lot of joy and happiness attached to his presence. He is loved in so many countries. But sometimes you take this positivity for granted. This is when we realised that we have to revive what SRK actually means for so many of us. We had to sow the positivity seeds again and for that one needs a community. We, his fan clubs, are that community," she explains.
Team SRK Warriors started by printing about 1,000 posters of 'Pathaan' with the logo of the fan club. "We had organised a special First Day First Show event with cake cutting and dancing. And the posters had details of the event," Quzzama says. The posters were distributed to about 15 area heads in Champaran. "The area heads gathered the members and went around cafes, tea stalls, and hotels to stick these posters. To add vibrance, they got LED displays added in various neighbourhoods in the city too.
A student and a business owner, 34-year-old Sudhir Kothari started SRKChennai Fan Club in 2013. Nearly a decade later, the Twitter handle of the club has nearly 2 lakh followers from across the world. Kothari says the SRKChennai fan club has a presence in 120 cities in India and 35 countries including Egypt, Australia, Nigeria, Iran and Afghanistan.
Kothari's SRK fan club started planning promotional activities for 'Pathaan' on November 1, a day before the Bollywood star's birthday. On SRK's birthday, many of the members of the fan club gathered in Mumbai and cut cakes with 'Pathaan' posters printed on them. "Once we were back, we mobilised the city heads to start planning activities around the film. These included bike rallies, distributing t-shirts with the 'Pathaan' posters and booking theatres for the first day first show," says Kothari.
When asked about the #BoycottPathaan trends on social media, Kothari says, "We knew people would go watch a Shah Rukh Khan movie. But we wanted it to be a celebration" adding that a wave of 'Pathaan' is now taking over the country.
A smart trick that the fan club's social media team deployed to get to more people was to use the boycott and hate trends on the film to put out factual information. "The #BoycottPathaan tweets were getting a lot of traction. So we put out memes and jokes about those against 'Pathaan' using the same trend. It was a huge hit. People used memes made by us to mock the groups calling for a ban and they had no reply," Kothari recollects.
Some of the hashtags that trended against the boycott Pathaan trends were #Pathaan_Dekhega_Hindustan, #SRKPrideOfIndia, #PathaanAdvanceBooking and #AagayaPathaan and #ShahofHearts.
Kothari says in Tamil Nadu and many South Indian states, a movie release is almost like a festival and the film stars are celebrated like they are gods. Fans dress up in traditional clothes and visit theatres with garlands to be put on giant cutouts of the stars. "We wanted the same level of frenzy that is shown for stars like Rajinikanth or Ajith Kumar. So for the first-day shows, we put up giant cutouts of Shah Rukh Khan in theatres. We also did the traditional pouring of milk (abhishekam), adorning it with a garland and playing music and dancing in front of the theatres," he says.
Pritesh Dedhia, who founded Team SRK Warriors with his friend Javed Sheikh, says that it is only the love for Shah Rukh Khan that drives them. What started out as two friends starting a Facebook page in June 2019 now has one lakh 28 thousand members with a presence in 35 cities and 11 countries.
"We also have a social media team that manages our Instagram, Twitter and Facebook accounts. The WhatsApp admins organise physical events when there is no SRK movie release," Dedhia explains.
The fan clubs have the top layer of core members which includes the founders. Then comes the umpteen number of WhatsApp groups - city and country-specific. If there are too many fans in a city, multiple groups are created for different localities. The group admins are city heads and run things - getting everyone together, holding meetings, coming up with plans for on-ground activities, and organising funds.
The heart of these fan groups is made up of those who are always ready to step out and be a part of the events including promoting an upcoming Sha Rukh Khan movie.
Dedhia's Team SRK Warriors started work the day the title of the film was released in March 2022. "We held a meeting with all the group admins and the social media team to ideate on activities - both online and offline. We started using hashtags with the word Pathaan in them to gain traction. We also kept putting out the release date and little trivia about Shah Rukh Khan and the movie itself," Dedhia says.
The offline events organised by the fan club involved similar plans for the First Day First Show — distributing t-shirts and cutting cakes.
But where does the money for these activities come from? Dedhia laughs and says, "Like every group, we have people who are ready to donate money for these activities. In some places the fans themselves raised money."
Quzzama of the Champaran wing of Team SRKWarriors agrees. "We raised a total of Rs 20,000 among ourselves to get t-shirts, posters printed and the cake ready. We looked for the cheapest possible manufacturers so that we could more quantity for lesser prices."
Yash Paryani, the India head for SRKUniverse, says that they have a presence in 200 Indian cities and 50 countries. "These fans meet up regularly in their own cities and organise not just old Shah Rukh film screenings but also charity events," he says.

SRKUniverse was started in 2014 by Maldives-based Mohammed Ashraf and has over four lakh 95 thousand followers. It has a full-fledged social media team that tracks Shah Rukh's daily public activity and regularly interacts with its followers.
Divya, a 26-year-old student in Texas, USA who is a part of the social media team summarises the fan clubs' work and says, "the last few weeks have been crazy".
"The strategy we followed was not to respond to Boycott Pathaan trends but to just keep doing what we have always done - show our love for Shah Rukh Khan. One of the hashtags we trended was 'SRKPrideOfIndia' which included the various roles he has played in his movies, his global presence and the love that he showers on his fans," says Divya. "Shah Rukh sir was not responding to these boycott trends, so why should we? And in the end, the silence has proven that there was no way these trends could have touched our star," she says with glee.
With their on-ground members organising first-day first shows in over 200 cities including in the US, Canada and India, the social media team constantly put out photos and videos showcasing these. "It was time sensitive but so satisfying to see the huge crowds and the celebrations for the movie," says Divya.
"All of us are bound by one thing - our love for Shah Rukh Khan. Wherever we are, in any part of the world, we know we have someone who loves Shah Rukh Khan as much as us. And if that is not the most beautiful bond, what else is?"
The same sentiment is echoed by Vatsala Upadhyay, a 52-year-old from Michigan who is part of the US chapter of SRKUniverse. "The BoycottPathaan trends were forced but they were loud in several places. Reasoning with these people, and asking them why were calling for a ban was useless but we could not ignore them completely so we decided to make 'Pathaan' a personal celebration," she says.
From putting out daily countdowns to the release date on WhatsApp and Instagram, appearing on radio shows to asking people what their plans were for January 25, Upadhyay says they treated it like a massive upcoming event. "There is this term that youngsters use - FOMO (Fear of Missing Out). We wanted to create that FOMO in people who were not interested in the movie. We would ask them do you know it is an action movie, do you know about this song, do you know it is his first movie in four years? Towards the end, those who would never go watch a Shah Rukh Khan movie were curious to see what the talk was all about."
Quzzama says while there was excitement in his team to put up posters and gear up for the release, there was also a sense of fear. "The groups calling for the boycott were hooligans. You could not sit down and make them understand. So for the first day first show and any events we planned in public places, we took prior police permission and got signed letters from the local authorities. If a protest can get permission, why shouldn't celebrations get one?"
"And in today's times, a movie is a celebration - especially our Shah Rukh sir's movie," he adds.

Do you always want to share the authentic news with your friends?
Subscribed Successfully...
Enter Valid Email Id
---