BJP Link Surfaces In Zomato Beef-Pork Delivery Protests in WB
BOOM found that a slash in salaries paid to the executives, was the crux of the protest.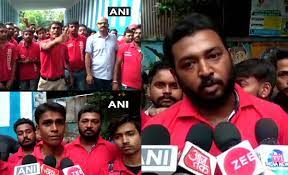 Zomato's services in West Bengal's Howrah city are paralysed after the company's food delivery executives went on an indefinite strike for being "compelled to deliver beef and pork dishes against their will."
While the national media covered a protest staged by the executives on strike on August 11, BOOM found that the strike has links to the Bharatiya Janata Party (BJP). Further, the news articles cited the reason for the strike delivery executives "delivering beef and pork dishes", but did not throw light on the the host of other concerns including reduction in the commission rate to the delivery staff.
BJP Link To Zomato's Beef-Pork Delivery Protests
BOOM ran a keyword search on Facebook using the terms ' Zomato Protest Howrah' and found several live recorded videos from the protest. Some of them had been broadcast live by a Sanjiv Kumar Shukla on Saturday.
We scanned through Shukla's profile and saw that he was visible in the protest videos and was also seen interacting with mediapersons covering the protest.
Shukla's Facebook bio reads 'in-charge BJP membership programme and secretary BJP Uttar Howrah Mandal 2.'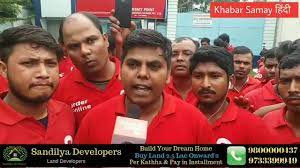 BOOM got in touch with Sanjiv Kumar Shukla, who stated that the protests are in the "best interest of the religious sentiments" of the Zomato staff. When asked, Shukla confirmed he is not a delivery executive with Zomato.

Shukla said, "The strike is on because Zomato has been exploiting the religious sentiments of the delivery executives. The company claims that there is no religion of food, but a lot of us are religious and refrain from touching or eating which isn't permitted in our religion."
In a statement, Zomato said, "In a country as diverse as India, it is impossible to ensure that vegetarian and non-vegetarian preferences are factored into delivery logistics. Delivery partners are unequivocally made to understand the practical nature of the job as they choose to enter the workforce. All our partners understand this fully."
Delivery staff unhappy with the revised rate cards
However, in an internal email to his staff, Zomato's founder Deepinder Goyal urged them to not give in to the "false outrage about religion and personal food choices. This 'protest', confined to a handful of delivery partners, is limited to the Howrah area of Kolkata and not across West Bengal, as some wildly exaggerated reports make it out to be. The issue was primarily related to a recent rate card correction in that area, something which we routinely do." Read more here.
Shukla reiterated the rate card issue to BOOM that was stated by Goyal in his email. "Earlier we were given rupees 25 per delivery on bikes and rupees 20 per delivery on bicycles. Now, the rates have been slashed suddenly, and a delivery on a bicycle would only earn you rupees 14. Not all the delivery staff can afford fuel so most of them use a bicycle to deliver food. And the amount is too less," Shukla said.
Shukla alleged that a restaurant in Howrah's Belilious Road, New Real Hotel, famous for its beef recipes has recently tied up with Zomato to deliver food. "A lot of our Hindu executives were asked to pick up food from New Real Hotel. They eventually objected to deliver its beef dishes."
Furthermore, according to Shukla, Muslim delivery executives had problems delivering pork dishes from a Pizza Hut outlets as it hurt their religious sentiments.
BJP Karyakartas' participation, a mere conincidence
On further probing, Shukla said that most of the staff who work with Zomato are also BJP karyakartas of the area. "A lot of the delivery staff work for the party after office hours."
When asked about this, BJP West Bengal president Dilip Ghosh stated that it was a mere coincidence that the protesters are also BJP supporters. "They have every right to protest if they are asked to deliver beef. It is unfair for Zomato to treat its delivery staff like this. They should address the issue immediately and refrain from sending Hindu riders to deliver beef."
ALSO READ: 'Fake Zomato' Cyber Fraud Case From Haryana Goes Viral With Misleading Claim
Viral Quote Twists Zomato Founder's Statement On Delivery Rider Row
Beef and pork: Tip of the ice-berg
"If we refuse to deliver food, they stop our commission and also threaten to take legal action against us. We want our accidental coverage amount to increase as ours is a high risk job. We also want provident fund services. We survive on commissions. We want to be made employees of the company," said Shukla.
A video featuring the Zomato delivery staff of Siliguri (North Bengal) state the same concerns.

Background of the protests
Last month, a customer took to Twitter to complain that he had been assigned a Muslim delivery executive and had to cancel his order after Zomato refused to assign a Hindu rider. The customer, Amit Shukla complained that since it was the month of Shravan, considered holy for Hindus, he had asked that only a Hindu driver deliver his food. After the issue snowballed, Zomato took to Twitter and replied that 'Food did not have religion.'