Fact Check
Anti-Rohingya Propaganda Increasingly Relying On Fake Images Of Children
As the anti-Rohingya rhetoric on social media rises, photographs of children are being misused in the divisive propaganda.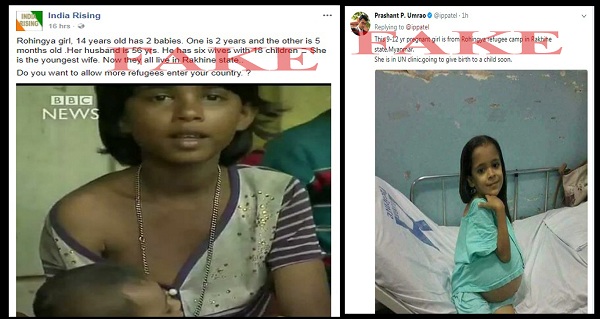 As the anti-Rohingya rhetoric on social media in India grows, fake narratives are being spun around photographs of children as part of a divisive propaganda.
This is likely to get worse in the coming days as India woke up to news that Myanmar's army had discovered a mass grave of 28 Hindus in Rakhine. The Burmese army has blamed Muslim Rohingya militants for the killings. (Read - Mass grave of 28 Hindus found in Myanmar: army)
BOOM came across two instances in the last 24 hours where fake stories were weaved around actual photos of children. The reactions and comments on these posts show that they have been extremely effective in stirring religious bigotry.
Ravinder Sangwan, who goes by the Twitter handle @Shanknaad and who is followed by Railways Minister Piyush Goyal, tweeted the below image of a little girl holding an infant. The image appears to be a screenshot from a BBC News video
Look at her innocence!!

Rohingya girl, 14 years old has 2 kids. Her husband is 56 yrs. He has six wives with 18 children ။ pic.twitter.com/9aqHly7viF

— Ravinder Sangwan (@Shanknaad) September 24, 2017
Sangwan claimed that the girl was 14 years old and had two children. He also claimed she was married to a 56-year old man who had six wives and 18 children.
But Sangwan's story is a figment of imagination. BOOM traced the screenshot to BBC News' video - 'In the jungle with Rohingya refugees feeling Myanmar ' uploaded on YouTube on September 4th.
In the video, BBC's correspondent Sanjoy Majumder is seen trekking alongside people fleeing Myanmar. The girl in the image can be seen at 2 minutes and 06 seconds. The girl is not mentioned in the clip proving that the backstory given to her by social media is fake.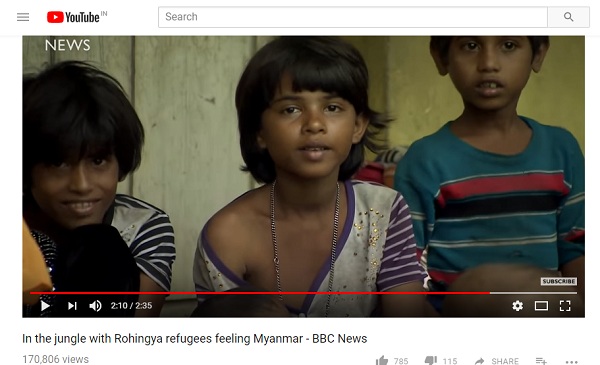 Screenshot of BBC New's video
We found the exact same fabricated story on a right-wing Facebook page called 'India Rising'.
As India's Supreme Court hears a petition challenging the government's decision to deport 40,000 Rohingyas living illegally in India, some nationalists are leaving nothing to chance and are turning out a near constant drip of vitriol.
Advocate Prashant P. Umrao tried to pass off the image of a sick child in Brazil as that of a pregnant Rohingya refugee girl at a UN clinic.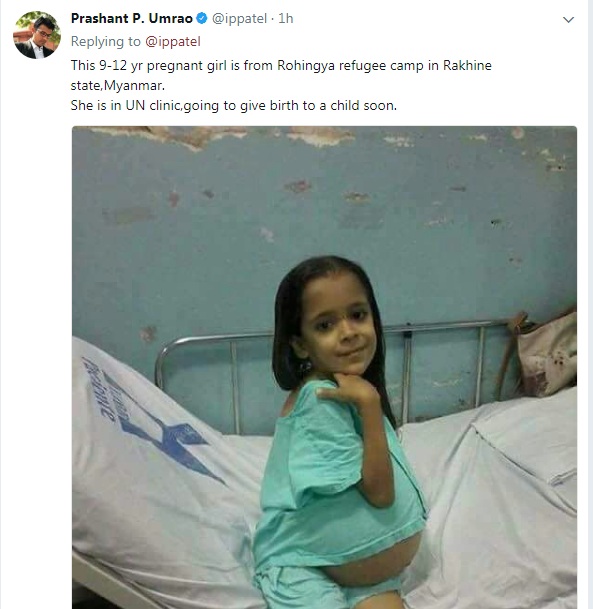 Once again, his story turned out to be fake. Umrao subsequently deleted his tweet when called out by BOOM on Twitter.
BOOM found a Facebook post going back to November 2016 which contained several photos of the girl. The post in Portuguese states that Sandy Brandão da Cruz, 12, a resident of the city of Garrafão do Norte, Pará (Brazil) was hospitalized at the Barros Barreto Hospital in Belém. She was suffering from a problems of the liver and spleen.
A video where Sandy speaks in Portuguese about wanting to meet Brazilian actor, singer, dancer and TV presenter Rodrigo Faro proves that the child has no connection to Myanmar.
It's not just Hindu or Buddhists nationalists who are guilty of using fake images online to rally support.
The fresh outbreak of violence in Rakhine since August 25th has sparked a steady stream of inflammatory but nevertheless fake images from both sides that are muddying public opinion about the conflict.
(Also Read: Rohingya Crisis: Fake Images Are Sowing Distrust And Fueling Bigotry On Both Sides)
Do you always want to share the authentic news with your friends?
Subscribed Successfully...
Enter Valid Email Id