Explainers
9-Month Revenue of Statue Of Unity At ₹52.9 Cr, Footfall Above 19 Lakh: RTI Reply
This RTI reply to BOOM also shows that while the statue is making an average monthly surplus of ₹2.8 crore, it will take 42 years to breakeven at the current revenue pace.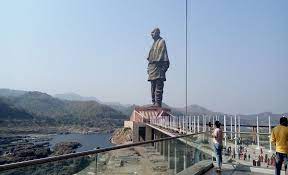 The Statue of Unity has generated a revenue of ₹52.9 crores during a 9-month period from November 2018 to July 29, 2019 , the Sardar Sarovar Narmada Nigam Ltd. (SSNNL) told BOOM in a response to an RTI query. BOOM sought the information from the Gujarat state government body, asking them to provide details of the revenue, the costs incurred and the footfall at the monument.
In the same period, the Statue of Unity has witnessed a footfall of 19,36,582 persons, counting sales from bus tickets, entry tickets, express entry sales and selling tickets to access the viewing gallery. Further, the Statue of Unity has been operational for 232 days, and has witnessed an average daily footfall of 8,347 people, the RTI reply stated.
The footfall figures seem to have missed the mark if earlier projections by the body are considered. According to a report in The Print from November last year during the launch, Rajendra Kanungo, superintendent engineer at the SSNNL said that they expected an average footfall of 15,000 people daily. But the RTI figures reveal that the actual footfall may have just crossed 50% of the original projection. In early December last year, Gujarat Chief Secretary JN Singh had put the number of daily visitors for a few days at 30,000.
The statue is the tallest in the world, standing at 183 meters in height. It was inaugurated on October 31, 2018 by Prime Minister Narendra Modi and was thrown open to the public the next day.
The Statue of Unity was constructed by the Sardar Vallabhai Patel Rashtriya Ekta Trust (SVPRET), whose chairman is the Chief Minister of Gujarat. SVPRET has executed the construction through the SSNNL.
Given below are the numbers revealed by the RTI.
Total Revenue At ₹52.9 Crores
The cumulative revenue earned by the statue is ₹52,86,58,705 for the period of Novermber 2018 to July 29, 2019. The RTI has provided a monthly average figure of ₹6,00,15,331 including goods and service tax (GST).
Additionally, the RTI also revealed that the Statue of Unity generates ₹10 lakhs on average by way of parking revenue.
While not given in the RTI reply, BOOM calculated that at the current pace of revenue, Statue of Unity would need around 42 years to break even given its known cost of approximately ₹3,000 crore.

Do you always want to share the authentic news with your friends?
Subscribed Successfully...
Enter Valid Email Id