₹2000 Note To Be Discontinued From Oct 10? WhatsApp Forward Is A Hoax
A message claiming that the ₹2000 banknote will be discontinued by the RBI from October 10 is fake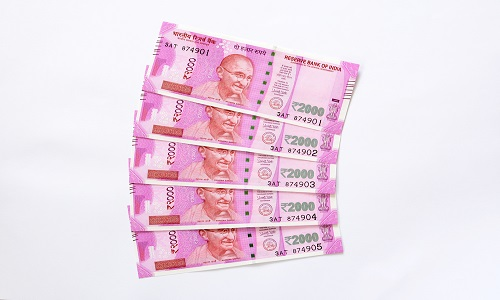 A viral message claiming the ₹2000 banknote will be discontinued from October 10, 2019 onward, is fake.
The message, which is viral over WhatsApp, further states that there is a supposed limit on withdrawals, fixed at ₹50,000 in 10 days; thus urging readers to exchange their ₹2000 banknotes at the earliest.
All of these changes will take place due to the alleged introduction of a new ₹1000 banknote on January 1, 2020, according to the message.
BOOM received the same message multiple times on its WhatsApp helpline (7700906111).
BOOM also found that this is also viral on Facebook
Certain users have also fallen for this message on Twitter.
BOOM spoke to a spokesperson of the RBI, who was aware of this message. The spokesperson said:
"The RBI has issued no such order. The message on the notes is factually incorrect. For all verified information, refer to official RBI channels."
₹2000 Note Has A 3% Share In Currency Circulation: RBI Report
The ₹2000 banknote was first introduced after demonetisation on November 8, 2016. The RBI has revealed data on these notes pertaining to:
The ₹2000 note's share in the volume of all banknotes in circulation
The ₹2000 notes' share in the value of all banknotes in circulation
The data has been released for end-March; 2017, 2018 and 2019, in the RBI's annual reports.
The RBI's annual report for 2019, has shown that while the ₹2000 note's share in volume is 3%, its share in the circulation value is 31.2%. These values have actually fallen from their 2017 shares, which stood at 3% and 50.2% respectively.

The message blends well into the year-on-year declining trend in the share of the ₹2000 banknote.
Even though the share of the ₹2000 note in volume and in value of total circulation may be falling, there is no indication of its withdrawal by the RBI - as reinforced earlier in the story - or by the Government of India.
A Wave Of Fake News Around Banks
Since the Punjab and Maharashtra Cooperative Bank (PMC Bank) issue started first on September 24, BOOM has debunked several stories around the banking system in India.
This story is the latest that BOOM has debunked in among these stories around banks. Read:
For a primer on the PMC Bank fiasco, read:
Claim Review :
₹2000 note to be discarded from October 10, 2019
Claimed By :
Messaged on Whatsapp and social media