Fact Check
Fake: Viral Social Media Messages Claim RBI To Shut Down 9 Public Banks
The RBI, its spokesperson and Ministry of Finance have denied any shutdowns of state-run banks, many of which are due to be consolidated into larger banks.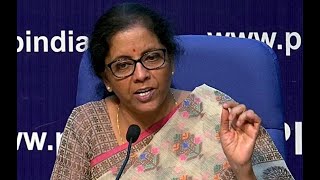 The Reserve Bank of India (RBI) and the Ministry of Finance have refuted viral social media claims about the impending shutdown of 9-state owned banks by the central bank. The viral message that has come in the form of an image further states this shutdown is at the behest of the Supreme Court of India.
The message further urges readers to save their money by withdrawing their deposits in these banks and salvage any savings in advance.
The following 9 government-owned banks that will be shut down by the RBI have been named in rumours circulating on social media:
Corporation Bank
UCO Bank
IDBI Bank
Bank of Maharashtra
Dena Bank
Indian Overseas Bank
Central Bank of India
United Bank of India
Andhra Bank
BOOM was tagged in this image on Twitter.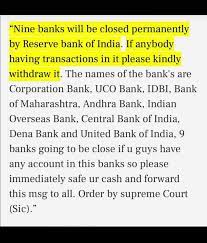 BOOM has also received the same message on its helpline (7700906111).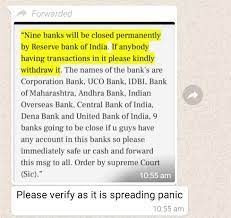 This message blends well into the panic among customers after the RBI imposed banking restrictions on the Punjab and Maharashtra Bank (PMC Bank).
Also Read: Customers Panic As RBI Puts Curbs On PMC Bank: All You Need To Know
RBI, Its Spokesperson And The Ministry Of Finance Have Denied These Rumours
Through a separate set of tweets, the RBI, one of its spokespersons Yogesh Dayal and the Finance Secretary Rajeev Kumar have all tweeted that the reports are false.
BOOM contacted Dayal who confirmed that they have noticed the rumours floating on social media
4 Of These 9 Banks Will Merge Or Are Merged Into Larger Banks
While Dena Bank has already been merged into the Bank of Baroda; Andhra Bank, United Bank Of India and Corporation Bank will soon be merged into larger banks.
As of April 1, 2019, Vijaya Bank and Dena Bank have been merged into the Bank of Baroda, in India's first three-way bank consolidation. This can be read here.
Further, Finance Minister Nirmala Sitharaman recently announced four sets of banking mergers among various different state-owned banks on August 30 this year. This will consolidate 10 banks into 4 combined entities.
Among these mergers:
Andhra Bank and Corporation Bank will be merged into the Union Bank of India
United Bank of India will be consolidated into Punjab National Bank (along with the Oriental Bank of Commerce)
Rajeev Kumar has made a reference of these consolidations in his tweet added earlier in this story. Post these mergers, India will have a total of 12 state-owned banks.
Sitharaman's announcements can be viewed in the video below.
This Piece Of News Is Not Going Viral For The First Time
In 2017, Whatsapp and social media were filled with rumours that the RBI was going to shutdown 9 banks due to a mounting non-performing asset problems.
Even then, the RBI had clarified that this news was untrue.
BOOM had debunked a similar story then, which can be read below.
Claim :
RBI To Shut Down 9 Banks
Claimed By :
Social media
Do you always want to share the authentic news with your friends?
Subscribed Successfully...
Enter Valid Email Id