Yadav vs Yadav: SP Heads For A Split As Mulayam Expels CM Akhilesh
Mulayam Yadav also blamed his cousin Ram Gopal Yadav for instigating his son Akhilesh against him and said he has 'spoiled his career'.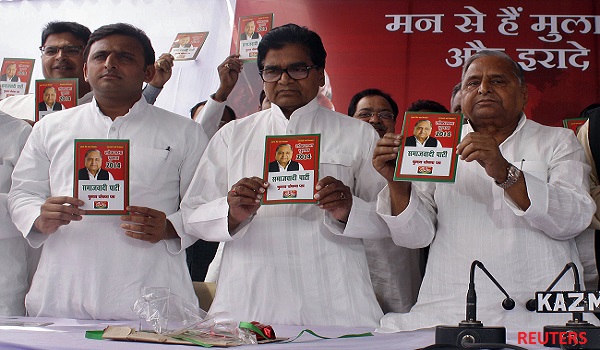 Samajwadi Party (SP) chief Mulayam Singh Yadav (R), Chief Minister of Uttar Pradesh state Akhilesh Yadav (L) and the party's national general secretary Ramgopal Yadav
Will he, Won't he? Finally Samajwadi supremo Mulayam Singh Yadav has bit the bullet. Stamping his authority over the party he founded, Mulayam Yadav expelled his son and Uttar Pradesh Chief minister Akhilesh Yadav and senior party leader Ram Gopal Yadav from the party for six years. The senior Yadav also blamed his cousin Ram Gopal Yadav for instigating his son against him and blamed him for 'spoiling his career'.
As the battle lines were drawn between Akhilesh Yadav and his uncle and party unit chief Shivpal Yadav over selection of candidates for the upcoming UP elections, it was clear that Mulayam Yadav was once again siding with his brother over his own son. Mulayam made his intentions clear that he was in no mood to tolerate any challenge to his authority when he showcaused Akhilesh and Ramgopal Yadav over indiscipline earlier in the day.
Ramgopal who has stood with Akhilesh as he battles his cousin Shivpal in the party, had called an emergency meeting of the party on January 1 citing his rights as General Secretary.
"I made Akhilesh chief minister, and now he does not even consult me," said the visibly hurt father as he announced his son's expulsion.
While Akhilesh Yadav and his uncle Shivpal Yadav were battling each other since many months, the fight aggravated after Mulayam announced the list of candidates for 325 seats which left several of Akhilesh's loyalists out. Stung by this move, Akhilesh Yadav's camp announced another list of 235 candidates for the upcoming assembly polls in UP. The Uttar Pradesh assembly has 403 seats.
Akhilesh, buoyed by the rising support of young party cadres has projected himself as the protector of good governance and has opposed several candidates chosen by his uncle on the grounds of them having criminal cases against them. Chief among them being a gangster-turned-politician who faces 44 serious criminal charges.
But Shivpal Yadav has already made it clear that the candidates for the polls have been chosen on the basis of winnability of the candidates.
It is not clear yet if Akhilesh will split the party ahead of the elections. Many political experts are of the opinion that the wily Mulayam may have taken the extreme step to call the bluff on his son's growing ambitions to grow out of his shadow. There are 187 candidates who are common in both the lists and their support will also prove to be crucial for both the warring factions.
Either ways, Akhilesh's actions in the coming days will define his political future. If he chooses to take the fight to the logical finish, he will have a tough task ahead of him to convince the party's large voter base that he is the true heir of his father's Samajwadi legacy. But in this family fight where the odds are stacked against him, Akhilesh knows that he has much to lose if he is seen surrendering to his uncle. And that explains why even a meeting between the father and the son that would have been enough in the past could not resolve the matter peacefully.