"Was It Okay To Kill This Tribal?" India Today Slammed For Insensitive Tweet
India Today expresses regret for asking an insensitive question but is yet to delete the tweet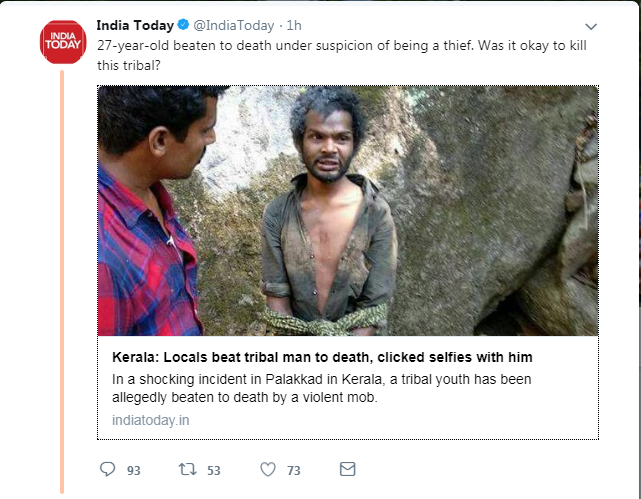 Media group India Today came under heavy criticism after it tweeted a story about a tribal man killed in Kerala by locals who accused him of theft. India Today's Twitter handle decided to spice up the story by asking a rhetorical question, "Was it okay to kill this tribal?"
The 30-year old tribal man called Madhu, living in Kerala's Attappadi region was beaten up by a mob who suspected him of theft. An image of a man clicking a selfie with Madhu being questioned in the background also led to a lot of online anger. Read the full story on The News Minute here.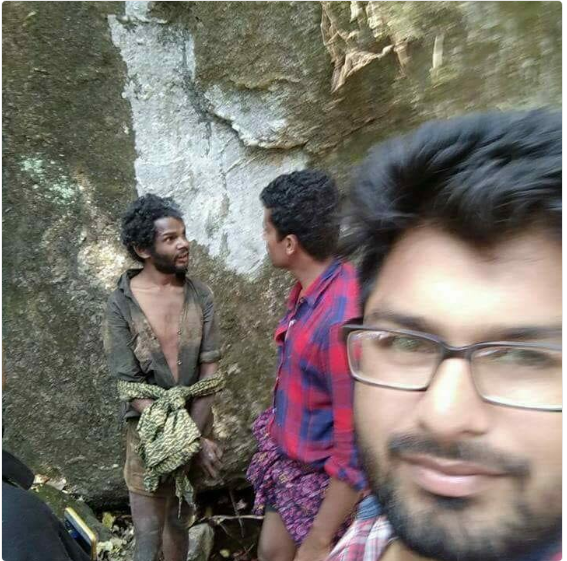 Man clicking selfie with 30-year old Madhu in the background.
India Today's tweet was met with disbelief as Twitteratis sought clarity on why such a questioned was framed?
What's definitely not OK is for your SM team to put out tweets with headlines like that.

— Pablo Chaterji (@pablochaterji) February 23, 2018
Whats wrong with @IndiaToday ?

— shivaprasad (@shivaprasad56) February 23, 2018
BOOM wrote to India Today on Twitter as well as the channel's Managing Editor Rahul Kanwal, seeking their clarification.
India Today later tweeted that it regretted how the question was framed as it sounded 'insensitive to a few'.
We regret that the headline in the tweet is sounding insensitive to a few. No killing can be justified. The objective here is only to question those who did this ghastly deed by taking law into their own hands and, also to call attention to this tragic incident.

— India Today (@IndiaToday) February 23, 2018
Surprisingly, India Today is yet to delete its original tweet. Many on Twitter decided to offer sane words of advice and asked them to apologise unconditionally rather than expressing regret.
To whoever is handling this account: look, we all make mistakes. Just apologise unconditionally and move on. Don't try to twist words with "to a few" etc. This clarification is not helping.

— Siddharth Singh (@siddharth3) February 23, 2018
Please apologise without justifying... This certainly doesn't read like one... Insensitive to a few? Please do not justify a mistake. 🙏🏾

— MARavinder (@rednivaram) February 23, 2018
Interestingly, India Today's reluctance to delete the tweet comes after its own drastic action against its website DailyO's political editor Angshukanta Chakraborty ten days back. Chakraborty was sacked for tweeting that news organisations shielding journalists who spread fake news should be tried in court. Chakraborty had also retaliated by going public and publishing her entire account of the incident on Twitter.
Promoters turning a blind eye to hate-mongering, fake news spreading news anchors, editors, reporters and writers, or hiring them in the first place, must be tried in courts as hate speech enablers-profiteers. Must be boycotted socially by secular politicians & Industrialists.

— Angiography (@angshukanta) February 4, 2018
India Today had then defended their actions by saying that Angshukanta Chakravorty's services were terminated due to breach of editorial conduct and that the group prides itself in being the gold standard of credible journalism.