Was An MOU Signed Between India And Japan For The Bullet Train Project? A FactCheck
A PIB release dated 13th December, 2015 clearly states that an MoU was signed on 12th December 2015 between India and Japan for the Bullet Train Project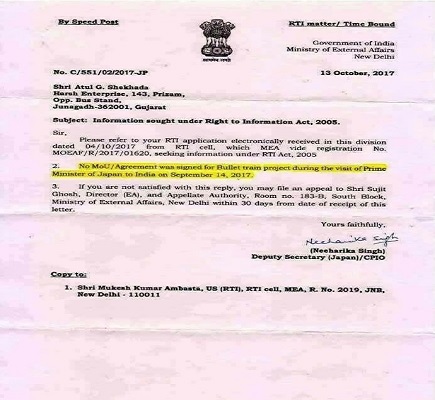 CLAIM: No MOU signed between India & Japan for the Mumbai-Ahmedabad High Speed Rail Project
FACT: No MOU was signed on 14th September, 2017 as it was already signed in 2015.
RATING: FALSE.
An RTI reply dated 13th October, 2017 is doing the rounds on Twitter with some very prominent Twitteratis sharing it. It is a reply to a query whether an MoU was signed between India and Japan for the Mumbai – Ahmedabad High Speed Rail Project or commonly called as the Bullet train project, during the recent visit of Shinzo Abe, Prime Minister of Japan
.
Lalu Prasad Yadav, Gaurav Pandhi, Shakeel Ahmed were among those who pointed out that the news of MoU signed was spread to gain the votes from Gujarat as the election is in December.
झूठे कहीं के, जुमलेबाज़ कहीं के! बुलेट ट्रेन को लेकर कोई MoU साइन ही नहीं हुआ और गुजरातियों से वोट माँग रहे है। pic.twitter.com/ItheTzOUrc

— Lalu Prasad Yadav (@laluprasadrjd) November 17, 2017
Modi Govt didn't sign any MoU for Bullet Train with Japan, reveals an RTI.

See, I told you, PM was never serious about Bullet Train, it was all just for the show-off !! pic.twitter.com/jXuKXy2T9c

— Gaurav Pandhi (@GauravPandhi) November 16, 2017
Is it true ? RTI reply says, no MoU or Agreement with Japan on Bullet Train . PM Modi can do anything to win Gujarat ? pic.twitter.com/Zmm0KxRu6o

— Shakeel Ahmad (@Ahmad_Shakeel) November 17, 2017
So was an MOU for this over Rs 1 lakh crore project actually signed or was it a political stunt as claimed by several people on Twitter?
Yes, it is true that India and Japan did not sign an MoU on 14th September, 2017 as it was already signed in 2015.
A PIB release dated 13th December, 2015 clearly states that an MoU was signed on the 12th of December 2015 between India and Japan on cooperation and assistance in the Mumbai – Ahmedabad HSR Project.
It also states that Japan has offered an assistance of over Rs. 79,000 crore for the project and that the loan is for a period of 50 years with a moratorium of 15 years, at an interest rate of 0.1 per cent.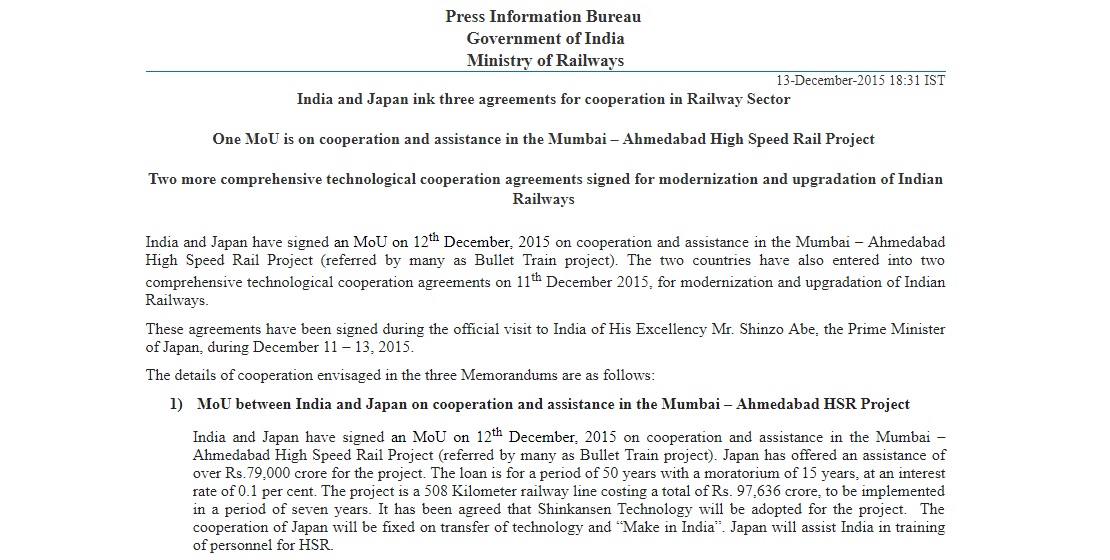 Screenshot of the PIB report
In a story published on 10th September, the Indian Express wrote about the 10 MOUs expected to be signed during the Japanese Prime Minister's visit. The report also mentions, "An MoU has already been signed between Japan International Cooperation Agency (JICA) and India's Railway Ministry for the 508-km corridor, of which two-thirds is expected to fall within Gujarat."
An RTI reply only answers the question that has been asked and gives no other information. That explains why the reply only states that no MOU was signed on 14th September, 2017 but does not reveal that the MOU was already signed in 2015. But this does not imply that an MoU between India and Japan was never signed for the high profile Mumbai – Ahmedabad Bullet Train Project.
https://www.sharethefacts.co/share/09214975-3b1d-4524-bae3-6f8e4ba0edcb
Claim Review :
No MOU signed between India & Japan for the Mumbai-Ahmedabad High Speed Rail Project
Claimed By :
Lalu Prasad Yadav