Viral Video Of A Motorcycle Swallowed By A Flooded Drain Not From Mumbai
BOOM found that the viral video was from Jalna, Maharashtra.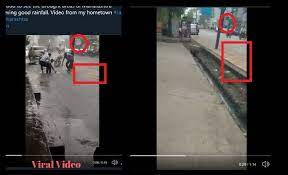 A video of a motorcycle being pulled out of a flooded drain in Jalna, Maharashtra has gone viral with a false claim that it shows a large pothole in Mumbai's Chembur area in the eastern part of the city.
Several Twitter users shared the video lashing out at the city's municipal body - Brihanmumbai Municipal Corporation (BMC). The fifty second clip shows three men try to pull out a motorcycle that is nearly submerged in the open drain.
Mumbai's crumbling infrastructure is exposed every monsoon as heavy rains bring the city to a standstill. Images and videos documenting the plight of Mumbaikars during the moonsoons from June to September have become a regular feature online.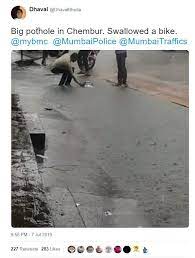 Click here to view the tweet, and here for an archive.
The BMC on its part replied to the tag on Twitter and questioned whether it was from Mumbai.
Viral on social media
The same video was viral on Facebook also.
Click here to view an archive.
Viral on Facebook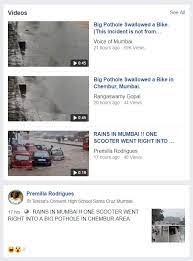 ScoopWhoop and CNN News 18 run video without verifying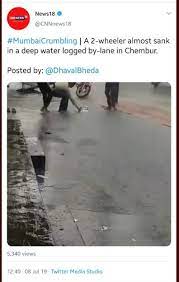 Click here to view the article, and here for an archive.
Scoop Whoop and news outlet News 18 too carried the video and claimed it was from Chembur.
CNN News 18 posted the same video with the caption, "#MumbaiCrumbling A 2-wheeler almost sank in a deep water logged by-lane in Chembur"
The tweet was later deleted.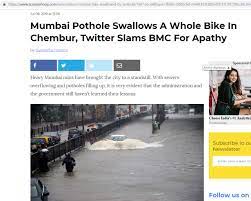 Fact-Check
The video was earlier fact-checked by India Today on July 8, 2019.
BOOM found that the viral video was not from Chembur, but from Jalna in Maharashtra, which was initially pointed out by many Twitter users.
We spoke to Ashwin Agarwal, a resident of Jalna who recognised the location in the video.
"The place where it happened is Model Town Jalna, in front of Annapurna dosa center near SB High School, Kacheri Road," Agarwal responded to BOOM in a message.
Abhijit Deshmukh, a freelance sports journalist tweeted another video which was shot by his nephew Vedant Deshmukh to prove that the video was from Jalna indeed.
BOOM crosschecked the video put out by Deshmukh with the viral video and found that both matched.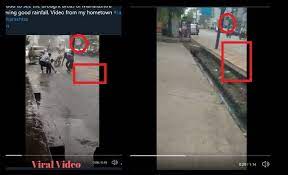 BOOM also reached out to Deshmukh about the second video.
"I saw this video on my school WhatsApp group and recogniszed it is from Jalna as it is my hometown," freelance journalist Abhijit Deshmukh said.

"Later on I saw that the video was falsely being shared as from Chembur, so I asked my nephew to shoot another video from the same spot to dispel rumors," added Deshmukh.
The BMC later on tweeted requesting citizens to avoid spreading rumors and misinformation, especially unverified videos.
Claim Review :
Big pothole in Chembur. Swallowed a bike
Claimed By :
Facebook Posts