Viral Message Claiming RBI Cancelled Leaves Of Its Officers Is False
The RBI dismissed the viral message and said no such order cancelling leaves had been issued by the central bank.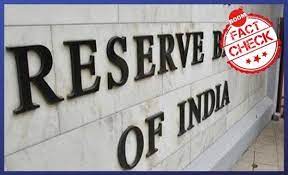 A message claiming that the Reserve Bank Of India (RBI) has cancelled the leaves of its officers and is gearing up to make a big announcement is false with the central bank itself rubbishing the message.
RBI officially denied the rumor clarifying that no such order had been issued, after messages went viral on WhatsApp and social media.
The RBI tweeted on Saturday night stating that there had been no cancellation of RBI officers' leave / Leave Fare Concession (LFC).
The statement further read that, "It is clarified that this information is not correct and no such order has been issued by the RBI."
The viral message claimed, "RBI all officers leave cancelled …..Something too BIG is going to happened in short due."

BOOM received it on our WhatsApp helpline number (7700906111) inquiring whether the message was true.
BOOM Reports
It was also viral on Facebook.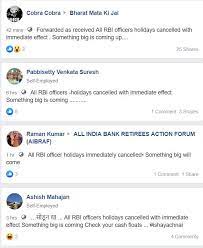 Claim Review :
RBI All Officers Leave Cancelled
Claimed By :
Facebook Posts