Viral Message Claiming Constitutional Discrimination Against Hindus Not Backed By Facts
A Whastapp message has gone viral, which bundles opinion and various claims to project a bias against Hindus by the Indian Constitution.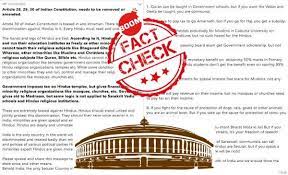 A viral message falsely claiming that articles 28, 29 and 30 of the Constitution propagates Islamic and Christian religious texts while shunning Hindu texts is false. These articles do not make differentiation on the basis of religion, nor make any specific mention of religious texts such as the Bible, Quran or Gita.
BOOM received a long Whatsapp message multiple times on its helpline(7700906111), which is displayed as below.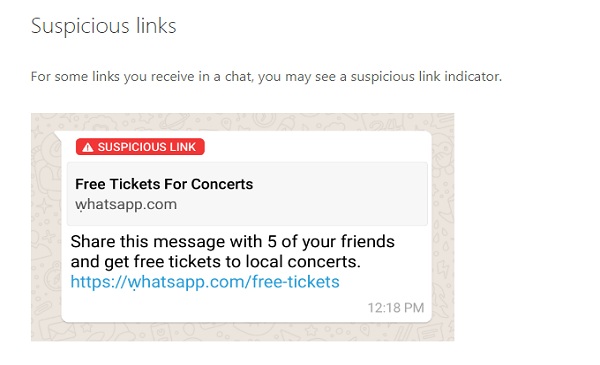 The message largely accuses the government of using article 28, 29, and 30 of the Constitution under the cover of secularism to initiate welfare schemes specifically for minorities. The message claims that these schemes have the ulterior motive of creating a vote bank.
The initial parts of the message has also been tweeted separately by several Twitteratis.
BOOM took a look at the multiple claims made in this viral message. Given below are our findings.
Does The Constitution Of India Give Preference To A Particular Religion?
Articles 28, 29 and 30 of the Constitution of India does not give preference to the instruction of any religious texts at the expense of others. A section 30(A), as claimed by these tweets, that prevents the reading of Gita in schools, does not even exist.
These articles deal with religious and linguistic minority communities, affiliated institutions of such communities and its relation with the State.
Speaking to BOOM, Supreme Court advocate Sanjay Hegde refuted the claim that these provisions had elements of exclusivity towards a religious or linguistic group in them.
No it doesn't. These articles protect any group including linguistic minorities with a distinct language, script or culture. TMA Pai Judgment, distinctly protects Hindu minorities as well. Tamil speakers in Karnataka, can have their own educational institutions & vice versa. There is nothing exclusively religious about these articles.

Sanjay Hegde to BOOM
Separating Other Claims From Opinion In The Message
The message also lists 10 points, whose claims and opinions are unrelated to each other, but are intertwined into the greater theme of the message.
BOOM individually verified these points, and found 4 out of these 10 points (numbers 1, 8, 9 and 10, corresponding to the message) as opinion.
The remaining claims are being clarified below:
Claim: You have to pay tax to go Amarnath, but if you go for Haj, you get a subsidy.
Fact: The vehicles carrying pilgrims to Amarnath Yatra in Jammu and Kashmir had to pay taxes in 2010, which can be read here. The government had then clarified that no additional taxes were being levied. However. the vehicles have been exempted from paying toll this year, according to reports by various news outlets.
Also, the Haj subsidy was ended by the government in 2018.
Also Read: Haj Subsidy Controversy: All You Need To Know
Claim: There are four hostels exclusively for Muslims in Calcutta University on Government expenditure, but no such hostel for the Hindus.
Fact: Calcutta University does list one hostel exclusively for Muslim students - the Carmichael Hall - among its 16 hostels. While the list of hostels can be found here, the hostel rules laying down the regulations for Carmichael Hall can be found here. One hostel is exclusively for Buddhists, and another for students of economics. No mention of 4 hostels for Muslim students have been made.
Calls to the superintendent of Carmichael Hall remained unanswered till publication.
Claim: The viral message points towards a discriminate number of scholarships and grants being available for Muslim girls at the expense of Hindu girls.
Fact: According to scholarship data released by the National Scholarship Portal of the central government, in academic year 2018 - 2019:
80.4% of scholarship applications received were of Muslims, compared to 4.8% Hindus. 80% of all verified applicants were Muslim, compared to 4.7% Hindus.
₹1031.21 crores were disbursed to Muslims, while ₹127.75 crores were disbursed to Hindus.
However, the data makes no mention of the gender of scholarship recipients. The data also shows in the same academic year:
₹6.86 crores in pre-matriculation scholarship disbursements and ₹4.12 crore in post-matriculation, achiever and means-cum-merit scholarship disbursements to females.
75.5 lakh scholarship applicants and 58.5 lakh verified applicants were female.
The data has not been further broken down into religion of the female applicants and disbursement recipients. Further, no mention has been made of handouts or grants.
The data can be viewed here.
Claim: There are arrangements for special interest-free loans for Muslims, not any such for Hindus.
Fact: The Reserve Bank of India does not allow interest-free loans. Therefore, banks and regulated credit institution need to charge interest and pay taxes on it. However, Muslims run their own charitable interest-free credit institutions such as the Muslim Trust Fund in Uttar Pradesh which is not affiliated to the State.
Point 7 Claim: Temples will pay revenue on their income, but no mosques or churches need to pay tax on their income
Fact: Tax-exemptions for income and for voluntary donations obtained by trusts used for charitable and for religious purposes have been covered by sections 11 and 12 of the Income Tax Act, 1961 respectively, subject to certain thresholds. No religion specific tax exemption is given to any institution.
The claims of discrimination are also not true with respect to the levy of goods and services tax as clarified by the finance ministry.
Claim :
Articles 28. 29 and 30 are discriminatory towards Hindus
Claimed By :
A Whatsapp user