Viral Message Claiming 10-Year Jail Term For Attack On Christians Is False
But the second part of the message about a helpline for Christians who are victims of communal violence is true.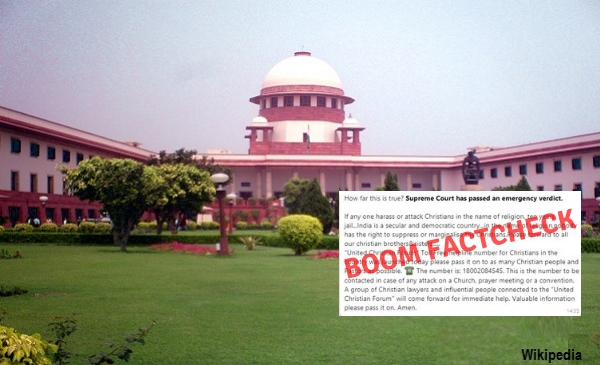 CLAIM:
Supreme Court has passed an emergency verdict to give 10 years jail for those guilty of attack on Christians
FACT:
False. The Supreme Court has not passed any such verdict.
IPC sections
that tackle attack on religious groups are, sections
295
,
295A
,
153A
which attract 2 years, 3 years and 5 years of jail term, respectively. This message is being widely shared along with a toll free number
18002084545
of the United Christian Forum for Human Rights (UCF), an inter-denominational Christian organization. However, the spokesperson of UCF has clarified to BOOM that this message is not from the organisation and that the Supreme court verdict mentioned in the message is false. Below is the text of the message that is being circulated on WhatsApp and Facebook:
Supreme Court has passed an emergency verdict.
If any one harass or attack Christians in the name of religion, ten years jail...India is a secular and democratic country...in the name of religion,nobody has the right to suppress or marginalise the Christians.Please forward to all our christian brothers&sisters.....
"United Christian Forum" Toll Free helpline number for Christians in the country was launched today please pass it on to as many Christian people and Pastors as possible. ? The number is: 18002084545. This is the number to be contacted in case of any attack on a Church, prayer meeting or a convention. A group of Christian lawyers and influential people connected to the "United Christian Forum" will come forward for immediate help. Valuable information please pass it on. Amen.
BOOM received the following message on its helpline for verification.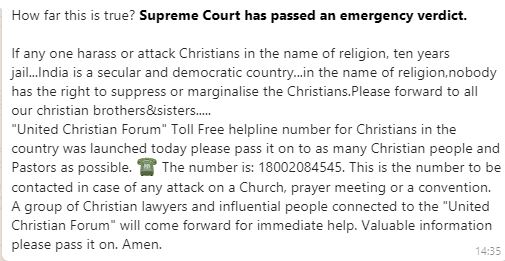 Below is a Facebook post sharing the message.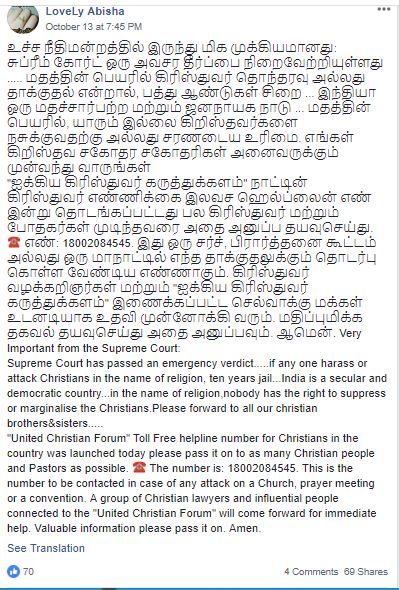 BOOM reached out to Dr John Dayal, spokesperson of UCF, who said that the first part of the message about the Supreme Court verdict is false. He said that UCF does not know of the origin of the message. However, he said the second part of the message about the UCF helpline is true. UCF had
launched
a 'persecution helpline' in January 2015. The national helpline was created to tackle communal violence against Christians and to facilitate legal help for the victims. BOOM contacted the helpline number and spoke to a volunteer who confirmed that the helpline is available for receiving calls from Christians who are being targeted. Based on the nature of the attack the caller is either
advised
to approach police or given further help by getting in touch with local authorities. UCF was officially launched in January 2015 with the purpose of coordinating legal and adv
ocacy assistance to the Christian community when targeted with communal violence. The organization brings together different Christian groups including the Catholic, Protestant, Evangelical and Pentecostal churches as well as by non-denominational and independent churches.
UCF's Facebook post on January 31, 2015 quoted Dayal, "The UCF has commissioned a 24-hour National Helpline (Number 1800-208-4545) so that lawyers and experts can assist victims of violence, intimidation, coercion and illegal confinement by any criminal or political group".
Why do India's Christians need a dedicated "persecution" helpline?: https://t.co/vJy7gtLLYq via @YouTube

� UCF (@UCFHR) January 31, 2015
Claim Review :
Supreme Court Has Passed An Emergency Verdict To Give 10 Years Jail For Those Guilty Of Attack On Christians
Claimed By :
Social Media