Video Of UP Couple Self-Immolating Over Police Apathy Shared With Communal Claim
BOOM found that the incident originally happened in Mathura district when a middle-aged couple set themselves on fire at the police station premises for failing to take action against harassers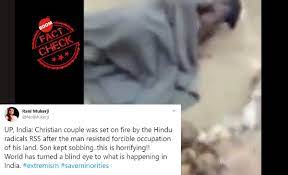 A gruesome video of a couple setting themselves on fire in front of a police station in Uttar Pradesh for alleged police apathy is viral on social media with false claims that a Christian couple was burnt alive by Rashtriya Swayam Sevak (RSS) workers over a land dispute.
The 47 second long footage shows the couple and onlookers dousing the flames, as their teenage son wails in the background and records the shocking incident.
The video has been tweeted by a fan account of actress Rani Mukerjee with the caption, "UP, India: Christian couple was set on fire by the Hindu radicals RSS after the man resisted forcible occupation of his land. Son kept sobbing..this is horrifying!! World has turned a blind eye to what is happening in India. #extremism #saveminorities."
BOOM has chosen not to include the video due to its graphic nature.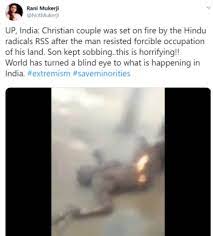 The video was viewed more than 98,000 times at the time of writing this article. The account had peddled misinformation earlier as well.
The same video has been tweeted by multiple Pakistani handles with a similar narrative.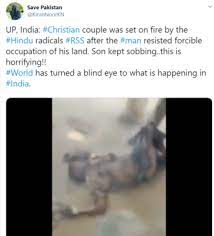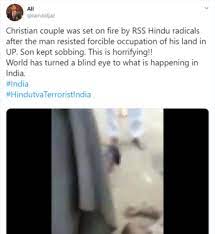 The incident happened in August this year, when a middle aged couple - Jogendra Singh, 40, and his wife Chandrawati - doused themselves with kerosene after arriving at the Surir police station of Mathura district. They set themselves afire as the police failed to take any action against a local goon and their neighbour Satyapal Singh for allegedly harassing them.
BOOM reached out to the Surir police station who rule out any communal angle to the incident. The Surir police informed that the couple were Rajputs and upset over muscleman Satyapal Singh's repeated harassment.
Bystanders stood shell shocked as the son sobbed and shot the couple burning. An excerpt from the Times Of India report reads, "A 55-second video, purportedly shot by their 14-year-old son, who can be heard crying in the background, has been shared widely on the social media. The video shows that the man and woman set themselves on fire and a cop and another man rushing to douse the flames with a table cloth and a blanket."
Times of India quoted the couple's son alleging that Satyapal Singh used to publicly humiliate the couple and had molested the woman. However, police did not register an FIR against the accused when the family sought help.
Following the incident the main accused was arrested and three policemen were suspended for failing to take timely action against the accused, according to TOI.
Claim Review :
Christian couple set on fire by RSS goons in UP
Claimed By :
Twitter users and Facebook posts